Below and right: table explaining the available Mini-UV Series Lamps, and their replacement parts (25,930 bytes).
To the right is a Mini-UV lamp with battery compartment open to show the AA batteries.

Form
Wavelength(s)
Power
Model
Replacement Tube
Portable Pocketable
254
Battery, 6 volt (4-AA)
UVG-4
34-0003-01
Portable Pocketable
365
Battery, 6 volt (4-AA)
UVL-4
34-0003-01
Portable Pocketable
365 & White
Battery, 6 volt (4-AA)
UVL-4F
34-0003-01
Portable Pocketable
254 and 365nm
Battery, 6 volt (4-AA)
UVSL-14P
34-0003-01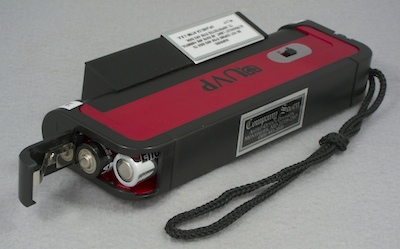 ---
SL-2M Signature UV Lamp
When a portability is required then the UVL-4 (described above) is also suitable for this work.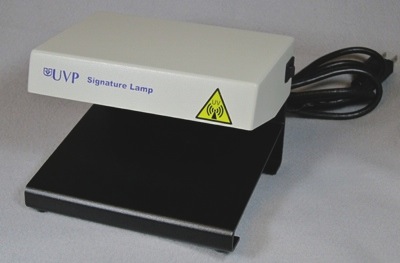 The SL-2M Signature Lamp offers a cost-effective solution to security problems as the ultraviolet detects invisible markings and alterations made to documents. The lamp is compact, safe and easy to operate. Simply pass the item in question under the longwave ultraviolet. Invisible inks or altered documents fluoresce when exposed to the UV, so ultraviolet lamps are used to detect security features or fraud of items including currency, credit cards, and Passports. The ultraviolet light will cause built-in devices or logos to appear that might otherwise be invisible to the naked eye. For readmission control to an event the SL-2M makes it a simple matter to observe a fluorescent ink stamp and verify whether or not that person should be allowed to pass. Since chemicals or bleach used to alter documents may fluoresce, the SL-2M can give away the perpetrator of the attempted fraud.
Right: The UVP Model SL-2M Security Lamp facilitates the detection of fluorescence in currency, credit cards, identification badges (23,044 bytes).
For example consider how the US Treasury Department has gradually been updating America's paper currency with higher technology features to defeat counterfeiting. Some of these devices are incorporated in paper fibers that are not obvious to the naked eye under ordinary light but that fluoresce under black light (long wave) sources. When the currency is examined under longwave fluorescent light then a security ribbon embedded to the left of the portrait of President Benjamin Franklin on the $100 bill fluoresces red, the thread to the right of President Ulysses Grant on the $50 note fluoresces yellow/orange, while the thread on the left side of the portrait of President Andrew Jackson on the $20 bill fluoresces green, the thread of the $10 bill with President Alexander Hamilton is red, and that of the $5 bill with President Abraham Lincoln is blue. Even though the fluorescence intensity of the security threads appears to decrease with use and handling, the security ribbon emission bands are wide and clearly distinguish each bill.
The security thread is the only component of authentic U.S. currency that will fluoresces under black light. If the ink, the paper, or other feature fluoresce then the bill is a counterfeit or has been altered. Credit cards too often incorporate devices that are visible to the eye only when fluorescing under ultraviolet light: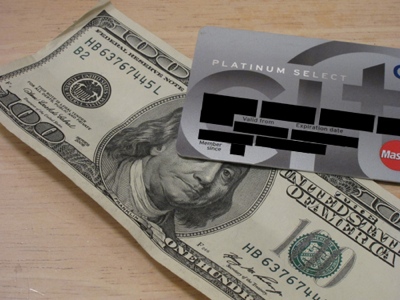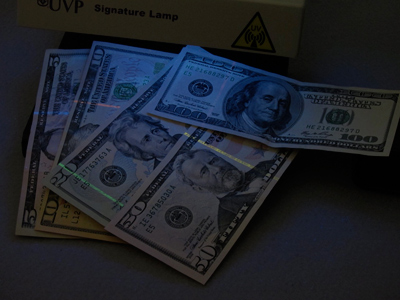 Above: at left is natural light view, to the center is image of fluorescing features in currency and credit card under a SL-2M Security Lamp at Company Seven.
To better illustrate how differences of fluorescing colors can appear we show an assortment of US currency illuminated by our SL-2M lamp at Company Seven.
Images were taken by a common pocket digital camera, so some of the fluorescence is not as intense as seen with the eye (129,806, 363,342 and 65,311 bytes).
The SL-2M has a compact form (6.5W x 5.75D x 4.5H inches, or 165 x 146 x 114mm) and so this is well suited for use at security checkpoints, cashier's terminals, anywhere that currency is exchanged. Some operational advice though, the lamp in the SL-2M is intense enough to do its job but subtly fluorescing details will stand out better when observing in a subdued location. Place the SL-2M in an area where sunlight from the outdoors or bright interior lights do not shine onto the observing area under the lamp. Ideally the SL-2M should be used in an enclosure with an area open at the front just large enough for the operator of the unit to hold the sample under the lamp of the SL-2M.
Form
Wavelength(s)
Power
Model
Replacement Tube
Desktop Compact
365 BLB
AC (specify 115 or 220v)
SL-2M
34-0010-01
Other lamps that are suitable for fraud detection include: UVL-23RS 'Compact' UV lamp, and the UVL-4 'Mini' UV Lamp.

Longevity
Company Seven can provide customers with information about lamp longevity upon request. This is usually expressed in terms of continuous hours of operation. While it is usually a simple matter to replace a UV lamp bulb, and we provide instructions with each lamp about how to do so, longevity is of a concern when the lamp is to be used installed into some hard to access location where it may be inconvenient to replace the bulb. So whenever time or labor costs to change a bulb are factors in the decision making process then we recommend:
some UV bulbs have service ratings as short as 450 to 2000 hours, so particularly for mission critical uses (law enforcement forensics, critical experiments, prospecting expeditions) keep replacement tubes or bulbs close at hand. Order at least one spare bulb to keep on hand for every one to three lamp units in active use.

Or in the case of modest cost lamps, including the Mini and Signature lamps featured here, simply keep a spare new unit in reserve.

Additional Reading:
Company Seven hosts numerous articles and users guides at our UVP Notes & Interesting Articles page and in our Library including:
UVP Lamps Overview, a review of UVP ultraviolet sources and their differences.

Mini UV Lamp Models UVG-4, UVSL-14P, and UVL-4 Users Guide illustrated two page brochure describing the use of these UVP battery powered portable UV lamps. Includes explanations of how to install the four AA batteries, and change the bulbs. UVP publication No. 81-0116-01 Rev. A. Download size is 407,335 bytes (in Acrobat Reader ".pdf" format).

Mini UV Lamp Model UVL-4F Users Guide illustrated one page brochure describing the use of this UVP battery powered portable UV lamp and its flashlight. Includes explanations of how to install the four AA batteries, and change the bulbs. UVP publication No. 81-0165-01 Rev. B. Download size is 45,067 bytes (in Acrobat Reader ".pdf" format).



---

WARNING Infrared and ultraviolet wavelengths are invisible to the human eye yet these electromagnetic waves bear energy and other information. So any structure that absorbs the light can be damaged by this energy; note how sunlight exposure tans the skin while prolonged exposure fades or breaks down materials. The photons of shorter wavelength carry greater energy therefore, these have the greater potential for causing biological damage. These wavelengths can penetrate the eye or skin cells and can produce heating and energy related biological changes that will modify or destroy cellular DNA; this is among the reasons why some UV light sources are used for germicidal (sterilizing) applications.
As amazing as it can be to explore the ultraviolet spectrum, this is not child's play! For a good overview of working in the UV and explanations of proper precautions consult Ultraviolet Spectrum Primer, the illustrated article by Company Seven explaining the ultraviolet (UV) spectrum as it applies to photographing or imaging objects in the UV and about observing fluorescence, phosphorescence, and tenebrescence. The article explains the different portions UV spectrum including UV-A (long wave), UV-B (mid) and UV-C (short wave). This also goes into a discussion of imaging gear including lenses, films and filters. Then refer to our article Ultraviolet Personal Safety Gear.
---
Ordering UVP Products
Company Seven stocks some of the more popular UVP lamp and cabinet products, and we accept orders for their other products by numerous means. You can also bring your UVP item to Company Seven for repair, or contact us to obtain user-serviceable items (bulbs, grids, etc.). The ways by which you may order products or parts are outlined at , or click here to read that page now.

Company Seven has not become convinced that on-line ordering is always beneficial for the customer, particularly when making a more complicated choice. While on-line ordering certainly is convenient and time effective for the merchant since they do not have to spend time with the customer, the customer is not always making the best choices when buying solely after reading what may be "propaganda" on line. The best ways to make the better choices are to either visit our showroom, or telephone 301-953-2000. This way you can obtain prompt and competent concise assistance which will address your particular needs and concerns.