UVP High Intensity B-100 Series Lamps
Brilliant ultraviolet longwave irradiance, and Mercury lines lamps too
Company Seven offers the complete broad selection of lamps made by UVP including the Display and Bench series and others suitable for coverage of large areas. The High Intensity B-100 series differ from most other UVP lamps in that these are designed to provide intense illumination over a comparatively small area, an area as small as five inches (13cm) diameter when 18 inches (46cm) from the subject. This series includes the Blak-Ray® longwave (365nm) lamps B-100AP, B-100AP/R, B-100SP, B-100A, and B-100A/R. This series also include the B-100Y and B-100YP Mercury lines (543, 574 and 576nm) lamps. We classify the B-100 series lamps as a desktop units that are also suitable for handheld use.
Right: UVP B-100AP ballasted High Intensity longwave UV lamp. Note how the lamp head can be swiveled left, center or right (97,521 bytes).
Since the B-100 series lamps are so often employed for the inspection of fluid leaks, here we also describe the BL-15 Inspection Lamp. The BL-15 is a slim, 365nm black light lamp made especially for applications where the lamp must be able to fit into confined spaces.

B-100 Series High Intensity Lamps
The Blak-Ray® High Intensity lamps series incorporate either a ballasted 100 watt or self-ballasted 160 watt long-life Mercury vapor PAR38 bulb that emit longwave UV at 365nm. The bulb's reflector directs the beam into a high energy focused 'spot' coverage pattern, an angular field of about 8 degrees wide. This is a comparatively narrower area than that provided by most conventional UVP lamps, though it is a more intense illumination. To direct the beam into an even narrower spot we offer the optional Beam Focusing Tunnel and the Exposure Box, illustrated in the options section below.
The design of the lamps heads permit them to be hand held and easily managed. The heads are light weight, and with numerous grated vents they are well ventilated for heat exchange. Several of the B-100 series lamps are made with a durable aluminum black finished lamp housing: B-100A, B-100A/R, B-100Y. Those lamps with a "P" in the model designation (B-100AP, B-100YP, etc.) feature the UVP Cool-Touch™ head constructed of a light-weight, durable, and heat resistant plastic. The Cool-Touch™ housing remains comfortable to handle even after the lamp has been on for hours. These aluminum housings conduct heat away from the lamp less efficiently, and become too hot to handle without heavy gloves but these are a bit lighter and not as wide as the P series lamps.
The High Intensity series model B-100AP and B-100AP/R are 100 watt 365nm longwave portable lamps that produce an intensity of 21,700 µW/cm2 at 2 inches from the object or 8,900 µW/cm2 at 10 inches to target. The Mercury vapor bulb in these lamps has a service life of about 5,000 hours.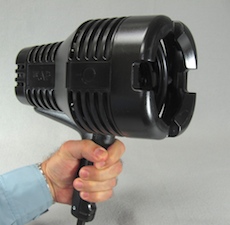 The B-100SP is a self-ballasted 160 watt 365nm longwave portable lamp that produces an intensity of some 11,600 µW/cm2 when 2 inches from the object, or 5,000 µW/cm2 at 10 inches to target. The compact hand held R-52G Mineralight® quartz grid lamp compares at 1,250 µW/cm2 2 at six inches. The self-ballasted Mercury vapor bulb in the B-100SP lamps has a service life of about 450 to 2,000 hours depending on use and environmental factors.
Left: UVP B-100SP self-ballasted High Intensity longwave UV lamp, hand-held by a Company Seven employee (24,061 bytes).
Click on image to see enlarged view (150,251 bytes).
Wattage ratings alone can be a somewhat misleading indicator since this specification alone does not always correlate to the UV output of the lamp. Instead, UV lamp output ratings are more accurately expressed as in terms of Microwatts per Square Centimeter at a set distance. Unfortunately the µW/cm2 ratings are not often published, and when they are then comparative working distance from the lamps to target are not always consistent; there is no standard working distance rating of these UV lamps. Furthermore, the µW/cm2 ratings vary dramatically with distance, and the relationship of µW/cm2 to distance varies dramatically.
The B-100Y and B-100YP lamps at first glance appear identical to the B-100 externally ballasted UV lamps and share the same Mercury bulb, but the B-100Y series lamps are filtered so that they will block light below 500nm while emitting intense light in the yellow-green portion of the spectrum. These lamps are ideal for uses including particle inspection since this light can reveal debris as small as 10 microns.
Right: UVP B-100Y externally ballasted High Intensity Mercury lines lamp. Note the yellow-green light (26,639 bytes).
These lamps are AC powered and plug into a conventional power outlet drawing up to a 2.5 Amps source. The ballasted lamps are made in the customers choice of either 115 volt (USA, areas in the Caribbean, etc.) or 220 volt (Europe, Asia, etc.). These lamps are controlled by a simple toggle switch and will turn on nearly instantaneously like a household fluorescent lamp and reach their peak of UV emissivity in seconds.
The arrangement of the lamp can determine the suitability of the lamp for some tasks. For example, for performing inspections under an automobile a B-100 series lamp may be preferred as this can easily be hand held and pointed to the areas of interest. These B-100 series lamps are ballasted lamps.

UVP Mercury Lamp employed in B-100A Series Lamps.
This is an easy to find bulb that simply threads in and out of the B-100 lamp housing.
Ballasted lamps rely on either a separate transformer ballast chassis connected to the lamp by a cord, or some incorporate an internal ballast so these are referred to as a 'self-ballasted' bulb. The Self Ballasted Mercury Vapor (SBMV) bulb relies on a filament inside the bulb that works as a ballast to ignites the Mercury arc tube; in this sense these are a hybrid lamp. As with any tungsten filament bulb this is sensitive to shock and vibration, even more so than the bulbs used in the ballasted lamps, so for applications where the lamp is to be subjected to shock and vibration the conventional ballasted lamp may be preferred. The ballasted lamps with an external transformer base will usually incorporate a brace upon which the lamp may be stored:



B-100AP, B-100AP/R, B-100YP Ballasted Lamp




UVP B-100SP Self-Ballasted Lamp




UVP B-100SP Self-Ballasted Lamp at Company Seven
disassembled to show included components (L to R):

Lamp Housing with bulb socket, UV Filter (rear view),
and Front Bezel. Note the self-ballasted UV lamp bulb
is optional, not included with the B-100SP.
Click on image to see enlarged view (168,336 bytes).
The lamp housings are made so that the bulb can be quickly and easily exchanged by the user, and with no tools. By gently pulling the tabs along either side that secure the front bezel in place, this piece comes off to reveal the glass bulb protecting filter element. The bulb protector too is retained by two metal pins on this assembly that fasten onto the metal spring clips at either side of the house. Once the bulb protector is removed then it is a simple matter to unscrew the old bulb and thread in another. Company Seven recommends you 1. insure the lamp has been off for long enough so that the bulb inside is cool to the touch, 2. handle bulbs with clean protective gloves so that you do not leave fingerprints on the new bulb, 3. dispose of the old bulb properly.
The self-ballasted B-100SP lamp allows one to reach and illuminate a target area to wherever the provided AC power cord length allows, or even longer with an optional extension cord attached. The length of the power cord for standard lamps models is eight (8) feet (2.44m), the length of the cord from the ballast to the lamp is similar. To allow the user some additional freedom of travel when working over longer distances from the AC mains outlet, those lamps with model numbers ending in a '/R' incorporate an even longer length twenty (20) foot (6.1m) long primary and secondary power cord. The cords of these B-100A/R lamp can be wrapped and stored on the 3 inch wide (74mm) hook built onto the side of the lamp ballast housing.
Left: Images taken at Company Seven of B-100SP self ballasted hand held lamp, note AC power cord and on-off switch conveniently on the handle.
Mouse-over the image to swap the front and rear views of this lamp (48,792 and 49,712 bytes).
These ballasted lamps are provided with two power carrying cords; a primary cord connecting the ballast to the wall outlet, and the other cord spanning from the ballast to the lamp head. The externally ballasted lamps can be used hand-held, away from the ballast. When stored on the ballast then the lamp head can be rotated throughout a full 360 degrees for hands-free operation. Furthermore, any of these lamp heads may be used while attached onto the mounting bracket of their ballast. The lamps can be employed in a laboratory setting where intense longwave is required for photochemistry, for phosphorescence, for inspection for grease or oil leaks, for reptile warming (at a safe distance), and in lapidary applications.