The dimensions of the lamp is: R-52G Lamp: 7.8H x 16L x 7.8W inches (198 x 406 x 198mm), weight 9.5 lbs. (4.3 kg)
Form
Wavelength
Power
Model
Replacement Tube/Grid
Replacement Filter
Desktop
254
AC
R-52G
77-0002-02
98-0004-03
---
225D Mineralight® and UVGD Mineralight® Lamps
Right: UVP UVGD-68, a high output shortwave quartz grid Display series lamp (35,793 bytes).
Most of these are higher intensity AC powered lamps that incorporate multiple tubes so that the user can work in one or either of two wavelengths of the ultraviolet: 254nm, or 365nm, or 254 and 365nm. At first glance a UV tube lamp such as the UVL-225D Mineralight® resembles a conventional fluorescent fixture with two or more tubes. The lamp may have a wider profile when it incorporates a grid element. The UVGD-68 differs from the other lamps in this series since its source is a 254nm quartz grid element; the 'G' in it model code indicates this is a grid lamp. Grid lamps are mercury photochemical lamps with glass tubing bent back and forth to form several parallel bars, typically in either a rectangular or square form. They are designed for applications where shortwave 254nm UV energy is needed. The Grid Lamp can be formed so that it concentrates the energy into the specific area required. The illumination provided is uniform across the gird; without hot spots or diminished areas of output. And these generate less heat that a comparable coverage tube array. Their comparatively high power output combined with their longevity makes these lamps an idea choice for illuminating displays over a long term, curing epoxies, removing trace amounts of organic contaminants, electronic component cleaning, ozone generators, erasing Eproms and other scientific and environmental uses. These lamps may require up to five minutes of warm up time to reach full output capacity.
Each 225D series lamp will incorporate either two 25 watt tubes or a 254nm quartz grid element. The UVSL-225D is a a multi wavelength ultraviolet lamp that can emit either of two wavelengths of ultraviolet light either 254nm or 365nm illumination.
All display lamps are AC powered and plug into a conventional power outlet. Each is turned on and off by means of a single toggle switch. Most lamps turn on nearly instantaneously, like a household fluorescent lamp, and reach their peak of UV emissivity in seconds. The UVGD-69 reaches its peak intensity after a warm up period of about five minutes.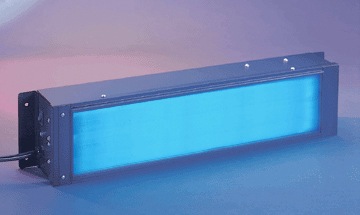 The dimensions of these lamps are:
225D Lamps: 18.5 x 4.5W x 3.5H inches (470 x 114 x 89mm), weight 10 lbs. (4.6 kg)

UVGD-68: 18.5 x 4.75W x 5H inches (470 x 121 x 127mm), weight 10 lbs. (4.6 kg)
Left: UVL-225D Mineralight® lamp (16,104 bytes).
Form
Wavelength(s)
Power
Model
Replacement Tube/Grid
Replacement Filter
Display Installation/
Germicidal
254
AC
UVGD-68
77-0001-04
38-0006-04
Display Installation/
Germicidal
254
AC
UVS-225D
34-0073-01
38-0207-01
Display Installation
302
AC
UVM-225D
34-0072-01
38-0207-01
Display Installation
365
AC
UVL-225D
34-0060-01
38-0207-02
Display Installation
254 and 365nm
AC
UVLS-225D
34-0060-01 & 34-0073-01
38-0207-01

Longevity
Company Seven can provide customers with information about lamp longevity upon request. This is usually expressed in terms of continuous hours of operation. While it is usually a simple matter to replace a UV lamp bulb, and we provide instructions with each lamp about how to do so, longevity is of a concern when the lamp is to be used installed into some hard to access location where it may be inconvenient to replace the bulb. So whenever time or labor costs to change a bulb are factors in the decision making process then we recommend:
some UV bulbs have service ratings as short as 450 to 2000 hours, so particularly for mission critical uses (law enforcement forensics, critical experiments, prospecting expeditions) keep replacement tubes or bulbs close at hand. Order at least one spare bulb to keep on hand for every one to three lamp units in active use.

Shortwave filters are subject to deterioration due to solarization, as such these components need to be replaced periodically. Depending on the application, you can expect to attain a useful operating lifetime of as little as 500 hours, or more typically 1,000 hours or maybe longer. The best way to know the condition of this component is to employ a radiometer to periodically measure the lamp output; for this we offer the optional UVX Digital Radiometer. Lacking a radiometer* you may be able to detect the deterioration subjectively by inspecting the display looking for a reduction in the fluorescence of samples exposed to UV.

* Whenever a shortwave lamp is employed in matters of health including sterilization and germicidal applications, biology research, then your facility should invest in the Radiometer.

Additional Reading:
Company Seven hosts numerous articles and users guides at our UVP Notes & Interesting Articles page and in our Library including:
UVP Lamps Overview, a review of UVP ultraviolet sources and their differences.

Mineralight Display Lamps Users Guide illustrated two page brochure describing the use of UVP 225D series AC-powered UV lamps. Includes explanations of how to change bulbs, and clean the components, warranty terms. UVP publication No. 81-0119-03 Rev. C. Download size is 424,896 bytes (in Acrobat Reader ".pdf" format).

Mineralight Handheld Grid Lamp Users Guide illustrated two page brochure describing the use of UVP R-52G UV grid lamp. Includes explanations of how to change bulbs, and clean the components, warranty terms. UVP publication No. 81-0018-02. Download size is 1,031,774 bytes (in Acrobat Reader ".pdf" format).

Solarization When many optical components are exposed to ultraviolet radiation they undergo changes that reduce their ability to transmit UV light, this phenomenon is called solarization. This is particularly a problem in those few elements that lose the ability to transmit UV rapidly. This three page illustrated article helps the reader to understand how solarization affects the different types of lamps. UVP Application Bulletin A-l 12, download size is 224,078 bytes (in Acrobat Reader ".pdf" format).

UVGD-68 Grid Lamp Users Guide four page brochure describing the use of UVP UVGD-68 series AC-powered UV grid lamp. Includes explanations of how to change the shortwave grid and filter, and clean the components, warranty terms. UVP publication No. 81-0019-02 Rev. E. Download size is 727,730 bytes (in Acrobat Reader ".pdf" format).



---

WARNING Infrared and ultraviolet wavelengths are invisible to the human eye yet these electromagnetic waves bear energy and other information. So any structure that absorbs the light can be damaged by this energy; note how sunlight exposure tans the skin while prolonged exposure fades or breaks down materials. The photons of shorter wavelength carry greater energy therefore, these have the greater potential for causing biological damage. These wavelengths can penetrate the eye or skin cells and can produce heating and energy related biological changes that will modify or destroy cellular DNA; this is among the reasons why some UV light sources are used for germicidal (sterilizing) applications.
As amazing as it can be to explore the ultraviolet spectrum, this is not child's play! For a good overview of working in the UV and explanations of proper precautions consult Ultraviolet Spectrum Primer, the illustrated article by Company Seven explaining the ultraviolet (UV) spectrum as it applies to photographing or imaging objects in the UV and about observing fluorescence, phosphorescence, and tenebrescence. The article explains the different portions UV spectrum including UV-A (long wave), UV-B (mid) and UV-C (short wave). This also goes into a discussion of imaging gear including lenses, films and filters. Then refer to our article Ultraviolet Personal Safety Gear.
---
Ordering UVP Products
Company Seven stocks some of the more popular UVP lamp and cabinet products, and we accept orders for their other products by numerous means. You can also bring your UVP item to Company Seven for repair, or contact us to obtain user-serviceable items (bulbs, grids, etc.). The ways by which you may order products or parts are outlined at , or click here to read that page now.

Company Seven has not become convinced that on-line ordering is always beneficial for the customer, particularly when making a more complicated choice. While on-line ordering certainly is convenient and time effective for the merchant since they do not have to spend time with the customer, the customer is not always making the best choices when buying solely after reading what may be "propaganda" on line. The best ways to make the better choices are to either visit our showroom, or telephone 301-953-2000. This way you can obtain prompt and competent concise assistance which will address your particular needs and concerns.