Company Seven offers the complete broad selection of ultraviolet (UV) sources of made by UVP including the EL Series described on this page. The EL Series includes lamps that provide one wavelength of UV, or a combination of one or more wavelengths of UV and white light.
The EL Series also include the 2UV and 3UV™ Multi-Wavelength lamps. The 2UV lamps incorporate two tubes so that the user can work in any one of two wavelengths (254 and 302, 254 and 365nm, or 302 and 365nm) of the ultraviolet. The 3UV™ lamps incorporate two or three tubes so that the user can work in any one of three wavelengths (254, 302, 365nm) of the ultraviolet.

Right: EL Series lamp models UVL-14, UVLS-28, and UVLMS-38 (64,071 bytes).

The EL Series White/UV lamps include two tubes with one being a UV tube and the other a white light component.

Each EL Series lamp is AC powered, available to operate from one of either 115 volt or 220 volt AC. However, they may be used in the field from a portable AC power generator or when connected to a DC to AC power converter powered by a battery pack or solar array.

The lamp will incorporate either 4 watt, or 6 watt, or 8 watt tubes. The differences of wattage are easily distinguished since beyond reading their labeling the lamp housings lengths vary with the wattage rating: 4 watt lamps are about 9.5 to 9.7 inches long, 6 watt are 12 to 12.5 inches long, and 8 watt are 14.8 to 15.5 inches long. The UV source incorporates a dark colored filter panel, this and the tube(s) can be replaced by the user with no special tools or skills. The lamps are constructed of an extruded metal chassis that is finished with a scratch-resistant powder paint.

Left: UVP 3UV™ Multi-Wavelength lamp, note wavelength-selecting rotary dial at the top.

The 3UV™ Multi-Wavelength lamps incorporate three tubes, one tube to emit each ultraviolet wavelength (254, 302, and 365nm). The 3UV-3x series lamps incorporate a mechanical manually operated tube rotating mechanism so when the power switch of the 3UV™ lamp is turned on then the tube in position nearest the filter illuminates. As the rotary dial is turned the tube is moved out of position and simultaneously turns off, as the next tube comes into position by the filter it turns on. The 3UV™ lamps too are made with the customers choice of 4 watt, or 6 watt, or 8 watt tubes. Each lamp tube is backed by a reflector optimized to provide the maximum fluorescence from that one lamp.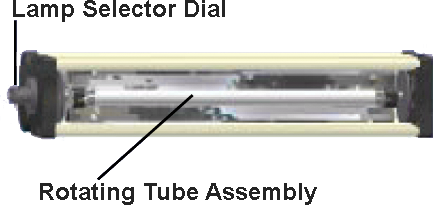 Above: UVP 3UV™ Multi-Wavelength lamp arrangement
The UVLMS-38 is a three UV lamp model too, but made in a conventional way with tubes alongside one another with the operator selecting the desired wavelength at the power toggle switch. The UVLMS-38 differs from the 3UV-38 3UV™ Multi-Wavelength lamp not only in how the UV wavelength is selected, but also in dimensions with the 3UV-38 having a narrower but deeper profile. The UVLMS-38 and most other 8 watt EL series lamps fit onto the optional J-138 Lamp Stand, and onto the Chromato-Vue® C-65 viewing cabinet.
The output intensity of the ultraviolet emitted from a multi-wavelengths lamp, even when each tube that lamp has the same wattage rating, will vary with wavelength. In the case of the model 3UV-38 each of the three tubes is rated at 8 watt current draw, yet note how the intensities vary:
the longwave UV-A ultraviolet intensity measured at 2 inches from the source is 1,570 µW/cm2

the mediumwave UV-B ultraviolet intensity measured at 2 inches is 1,839µW/cm2

the shortwave UV-C ultraviolet intensity measured at 2 inches is 1,670µW/cm2

For greater UV illumination effect or for coverage of larger areas you may choose the EL Series Twin Model lamps; these incorporate two bulbs of the same UV wavelength. You may array several lamps to provide for greater effect too, this can provide an added benefit of more uniformly illuminating a target from several angles. For imaging applications (not for direct viewing without safety precautions) some of our customers employ a Transilluminator (such as models we sell to illuminate gels) as back-lighting. UVP observing cabinets feature a removable bottom panel so that a Transilluminator may be attached, or this may be built into custom cabinet installations.

EL Series UV Lamp Models Designations
Each UVP EL Series lamp bears a label that indicates its designed working spectrum, the model number, and serial number for ready identification. The model letter scheme for the lamps models indicate their designed wavelength(s):
365nm Long Wave (UV-A) = L
302nm Medium Wave (UV-B) = M
254nm Short Wave (UV-C) = S

When you need to know the output intensity of a system then please inquire.

UVS-14 Twin EL Series UV Lamp
4 watt white light and UVS



UVL-28 EL Series UV Lamp
8 watt Twin UVL Model



EL Series UV lamp on
optional J-138 tabletop stand

Four Watt Models:

Form
Available Wavelengths
Power
Models
Typical Applications1
Handheld/Tabletop
254, 302, or 365nm
AC
UVL-24, UVM-24, UVS-24
FLI, MIN, SEC
Handheld/Tabletop
365 and 254nm
AC
UVLS-24
FLI, MIN, SEC
Handheld/Tabletop
white and 365 or 254
AC
UVL-14, UVS-14
FLI, MIN, SEC





Six Watt Models:

Handheld/Tabletop
254, 302, or 365nm
AC
UVL-26, UVM-26, UVS-26
FLI, FOR, MIN, SEC
Handheld/Tabletop
white and 254 or 302 or 365
AC
UVL-16, UVM-16, UVS-16
FLI, MIN, SEC





Eight Watt Models:

Handheld/Tabletop
254, 302, or 365nm
AC
UVL-28, UVM-28, UVS-28
FLI, FOR, MIN, PCR, SEC
Handheld/Tabletop
white and 254 or 302 or 365
AC
UVL-18, UVM-18, UVS-18
FLI, MIN, PCR, SEC
Handheld/Tabletop
365 and 254 or 302nm
AC
UVLM-28, UVLS-28
FLI, FOR, MIN, PCR, SEC
Handheld/Tabletop
365 and 254 or 302nm
AC
UVLM-28, UVLS-28
FLI, FOR, MIN, PCR, SEC
Handheld/Tabletop
254 and 302 and 365nm
AC
UVLMS-38
FLI, FOR, MIN, PCR, SEC
Notes:
CHR = Chromatography, ART = Art, FLI = FL Inspection, FOR = Forensics, INT = Interferometry, MIN - Mineralogy
MRS = Monochromatic Reference Source (for optical systems or reference studies), PHI - Photometric and Fluormetric instruments,
PCR = Photochemical Reactions (curing, etc.), SEC = Security, SPS = Spectroscopic Wavelength Calibration, STZ = Sterilization

Options for EL Lamps: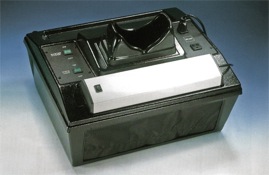 1. UVP Chromato-Vue® Observing/Imaging Cabinet, Model C-65: this brings convenience and safety to an ultraviolet observing or imaging session. The cabinet is a self-contained ultraviolet laboratory where a sample may be introduced through the curtain flap at the front and into the enclosure for visual observing or for imaging through with a camera. This is similar in concept to the photographic light box, but optimized for ultraviolet applicatons. The Chromato-Vue® C-65 is designed to accommodate one or two of most EL Series 8 watt lamps: UVL-18, UVM-18, UVS-18, UVL-28, UVM-28, UVS-28, UVLMS-38, UVLM-28, or UVLS-28. So you can mix and match wavelengths, or dedicate all four possible 8 watt tubes to increase the intensity of the illumination at one wavelength. Note the 3UV-xx EL lamps are not compatible with the Chromato-Vue® C-65.
Right: the C-65 cabinet provides white light and works with one or two of most optional EL Series 8W lamps
2. J-138 Lamp Stand (shown in the image above left): is a sturdy fixed metal frame that can support any one of the EL Series lamps. The lamp slips into the C-shaped grip of the stand.
3. Replacement lamp tubes and fllter (see below).
EL Series Replacement Lamps:
| | | |
| --- | --- | --- |
| Lamp Model | Wavelength | Lamp Part Number |

EL Series Replacement Filters:
| | |
| --- | --- |
| Lamp Model | Filter Part Number |

Longevity
Company Seven can provide customers with information about lamp longevity upon request. This is usually expressed in terms of continuous hours of operation. While it is usually a simple matter to replace a UV lamp bulb, and we provide instructions with each lamp about how to do so, longevity is of a concern when the lamp is to be used installed into some hard to access location where it may be inconvenient to replace the bulb. So whenever time or labor costs to change a bulb are factors in the decision making process then we recommend:
choose a lamp that has multiple bulbs (two or more) so that if one burns out then even while output is diminished the exhibit can continue until a replacement bulb is installed.

for displays that are to be illuminated by one spectrum to another (254nm to 302nm, then to 365nm for example) it may be best to rely on a rotating array, this can be more cost effective than an arrangement that relies on a timer turning lamps on and off frequently.

for 254nm applications choose a long-life 'quartz grid lamp' based model. These can be rated for up to 20,000 hours (2.28 years!) of continuous use, and will have unlimited on/off capacity.

some UV bulbs have service ratings as short as 450 to 2000 hours, so particularly for mission critical uses (law enforcement forensics, critical experiments, prospecting expeditions) keep replacement tubes or bulbs close at hand. Order at least one spare bulb to keep on hand for every one to three lamp units in active use.
Note that some types of UV sources and filters can lose some of their output capacity over time (as mentioned above).

Additional Reading:
Company Seven hosts numerous articles and users guides at our UVP Notes & Interesting Articles page and in our Library including:
UVP Lamps Overview, a review of UVP ultraviolet sources and their differences.

3UV Ultraviolet Lamps illustrated two page brochure describing the use of these selectable three-way (254, 302, and 365nm) lamps including models: 3UV-34, 3UV-36, 3UV-38. Includes explanations of how to change bulb, clean the components, and includes a replacement parts guide. UVP publication No. 81-0203-01 Rev A. Download size is 718,875 bytes (in Acrobat Reader ".pdf" format).

EL Series Ultraviolet Hand Lamps Users Guide illustrated four page brochure describing the use of UVP AC-powered four watt, six watt, and eight watt UV lamps. Includes explanations of how to change bulbs, and clean the components. Accessories (stand, cabinets, etc.) for these lamps are also discussed. UVP publication No. 81-0117-01 Rev. C. Download size is 156,125 bytes (in Acrobat Reader ".pdf" format).
---

WARNING Infrared and ultraviolet wavelengths are invisible to the human eye yet these electromagnetic waves bear energy and other information. So any structure that absorbs the light can be damaged by this energy; note how sunlight exposure tans the skin while prolonged exposure fades or breaks down materials. The photons of shorter wavelength carry greater energy therefore, these have the greater potential for causing biological damage. These wavelengths can penetrate the eye or skin cells and can produce heating and energy related biological changes that will modify or destroy cellular DNA; this is among the reasons why some UV light sources are used for germicidal (sterilizing) applications.
As amazing as it can be to explore the ultraviolet spectrum, this is not child's play! For a good overview of working in the UV and explanations of proper precautions consult Ultraviolet Spectrum Primer, the illustrated article by Company Seven explaining the ultraviolet (UV) spectrum as it applies to photographing or imaging objects in the UV and about observing fluorescence, phosphorescence, and tenebrescence. The article explains the different portions UV spectrum including UV-A (long wave), UV-B (mid) and UV-C (short wave). This also goes into a discussion of imaging gear including lenses, films and filters. Then refer to our article Ultraviolet Personal Safety Gear.
---
Ordering UVP Products
Company Seven stocks some of the more popular UVP lamp and cabinet products, and we accept orders for their other products by numerous means. You can also bring your UVP item to Company Seven for repair, or contact us to obtain user-serviceable items (bulbs, grids, etc.). The ways by which you may order products or parts are outlined at , or click here to read that page now.

Company Seven has not become convinced that on-line ordering is always beneficial for the customer, particularly when making a more complicated choice. While on-line ordering certainly is convenient and time effective for the merchant since they do not have to spend time with the customer, the customer is not always making the best choices when buying solely after reading what may be "propaganda" on line. The best ways to make the better choices are to either visit our showroom, or telephone 301-953-2000. This way you can obtain prompt and competent concise assistance which will address your particular needs and concerns.