Since 1932 UVP has been involved in developing solutions, particularly for those who work in the ultraviolet portions of the spectrum. Since the 1980's in particular, owing to the dramatic growth of the genetics industries, UVP developed devices that back illuminate subjects in portions of the spectrum including: ultraviolet, visible, or near infrared. These devices are termed Transilluminators.

The Transilluminator is an illuminating platform that incorporates a flat window below which are ultraviolet and or other lamps. These AC powered devices were developed as a backlighting source for DNA gels. However, the Transilluminator can be used for studies of any transparent subject, or to backlight opaque objects so that their perimeter areas between the front and rear of a sample may be more clearly studied. All UV Transilluminator models incorporate an adjustable UV blocking cover, stainless steel frame for easy cleaning, fast start, flicker free lamps, and the UVG long life filter, and uniformity screen to insure consistent illumination across the panel. We are so confident in the reliability and quality control of these systems that all UVP transilluminators sold by Company Seven are accompanied by a two year warranty.

Examples of Back Illuminated Gel Imaging:
stained DNA Gel, in
UVP PhotoDoc-It™ Imaging System

Ethidium Bromide stained DNA Gel,
taken on transilluminator

SYBR stained DNA Gel, image
taken on transilluminator

Coommassie Blue stained DNA Gel,
white light on transilluminator

Transilluminators And Their Differences:

Most Transilluminators for gel applications incorporate multiple UV source tubes of 302nm, these may each be 6 watt or higher capacity. But we also offer higher output models, and models in 365nm, or 254nm, or visible light. Some Transilluminator models can provide two or more wavelength sources for example, the 3UV Transilluminators provide the user with the choice of selecting 254, 302, or 365nm. While the 2UV Transilluminators (LM-20 and LM-26) provide the choice of 302 and 365nm sources. The Model Number will usually* include a designation indicating which portion of the spectrum the set is made to provide with 'S' indicating shortwave, 'M' midwave, 'L' longwave. The White Transilluminators bear the prefix 'TW'. The White/UV Transilluminators incorporate a partioned top plate where one side shows white light while the other shows UV; these bear the 'TW' prefix. The 'V' Visi-Blue™ prefix indicates a model specially made to convert UV light for use with 460-470nm excitation samples, SYBR green, SYPRO orange, and GFP stains.
* Firstlight™ models ('FI-2x') are each 302nm.
Some Transilluminators feature the capability to vary the brightness of the source, these units (the M-26V for example) will bear a letter 'V' suffix in the model code. This should not be confused with the Visi-Blue Transilluminators that have a 'V' prefix in their model designations.

The Transilluminators also differ in size, we offer compact models with moderate output sources and we also offer larger models. The largest models will bear will bear a letter 'X' in the model code (the FI-26X for example). The available standard production* illumination panel dimensions are listed in the summary below, but note custom sizes can be produced depending on desired quantity, please inquire.
Standard Benchtop UV Transilluminators:

10 x 10cm: M-10E 'Mini Benchtop'

15 x 15cm: M-15 and M-15V 'Benchtop'

20 x 20cm: FI-20 'Firstlight™', LM-20 '2UV', LMS-20 '3UV', M-20 and M-20V 'Benchtop'

21 x 26cm: FI-26 'Firstlight™', LM-26 '2UV', LMS-26 '3UV', M-26 and M-26V 'Benchtop'

25 x 26cm: FI-26X 'Firstlight™', M-26XV 'Benchtop'


High Performance & Specialized UV Transilluminators:

20 x 20cm: TFML-20 '2UV', TFM-20V, TFS-20V, TLW-20, TMW-20, LMW-20

21 x 26cm: TFML-26 '2UV', TFM-26V, TFS-26V, TW-26, VB-26, VB-26V

25 x 30cm: TFML-30 '2UV', TFM-30V, TFS-30V,

20 x 40cm: TFML-40 '2UV', TFM-40V, TFL-40V, TFS-40V, VB-40V

36 x 42cm: TW-43

Mini Benchtop Model M-10E
10.25 inch wide x 4.5 tall x 7.25 deep

Firstlight™ Models FI-20, FI-26, FI-26X
14 inch wide x 5.63 tall x 11 deep

2UV™ Benchtop Models LM-20, LM-26
single intensity, includes UV 302 or 365nm
14 inch wide x 4.8 tall x 11 deep
3UV™ Benchtop LMS-20, LMS-26 models
single intensity, includes UV 254, 302 or 365nm
14 inch wide x 5.4 tall x 11 deep

High Performance 2UV TFML-20, TFML-26,
TFML-30 and TFML-40 models
all: 19.13 inch wide x 5.63 tall x 13.25 deep

High Performance Variable TFM and TFS series
variable intensity source in any one UV band
all: 19.13 inch wide x 5.63 tall x 13.25 deep
White only Models: TW-26, TW-43
TW-26: 13.25 inch wide x 4.25 tall x 9.5 deep
TW-43: 16 inch wide x 4.25 tall x 19.1 deep

White/UV Models: TLW-20, TMW-20, LMW-20
white/UV 302 or 365nm, or white and 302/365
19.13 inch wide x 5.64 tall x 713.25 deep

Visi-Blue™ Models VB-26, VB-40V
VB-26: 14 inch wide x 4.8 tall x 11 deep
VB-40V: 19.13 inch wide x 5.64 tall x 13.25 deep

Transilluminator Converter Plates:
These plates are specially designed to convert the ultraviolet radiation produced by a UVP Transilluminator from one wavelength to another or to white light.
UV to White Light Plates convert ultraviolet to white light

The Visi-Blue™ Converter Plate converts ultraviolet 302nm to 460-470nm UV

The UV/UV Converter Plate converts 302nm to 365nm UV
With convenient grab handles at either end of each plate, simply place the appropriately sized plate over the emitting panel to increase the versatility of your UVP Transilluminator. The patent pending phosphored glass is stimulated by ultraviolet radiation from the Transilluminator and this fluoresces emitting the desired resulting light.
UV/White Converter Plates
Converter plate incorporates phosphored glass, when stimulated
by UV this produces White light. For viewing protein stains,
Coomassie blue stained or silver stained media.

PN 38-0191-01: 21 x 26cm
PN 38-0191-02: 20 x 40cm
PN 38-0191-04: 25 x 26cm


Visi-Blue™ UV/Blue Converter Plate
Convert UV 302nm to 460-470nm for viewing various
stains including SYBR Green, SYPRO Orange and GF.
Includes amber camera filter used when photographing gels.

Visi-Blue™ PN 38-0200-01: 21 x 26cm
Visi-Blue™ PN 38-0200-02: 20 x 40cm
Visi-Blue™ PN 38-0200-04: 25 x 26cm


UV/UV Converter Plate
Convert UV 302nm to 365nm for
preparation and gel excision work.

UV/UV PN 38-0325-01 25 x 26cm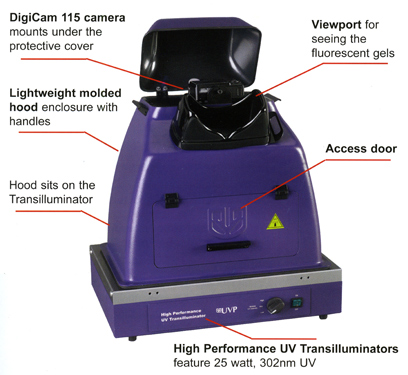 Beyond their conventional applications...
UVP has engineered their Transilluminators to be compatible with:
Chromato-Vue® UV Observing Cabinets: the bottom panel of each cabinet may be removed so that the cabinet may be placed onto a Transilluminator to provide back illumination.

Some DigiDoc-It® systems (TFM-26V or TFV-30V), and all PhotoDoc-It™ systems incorporate a Transilluminator.

The DigiDoc-It®, MultiDoc-It™ , and VisiDoc-It™ imaging systems too are compatible and can be used with an optional UV Transilluminator.
Right: UVP DigiDoc-It® system designed for imaging gels shown with Transilluminator. Components labeled for convenience (75,581 bytes).