NP127is - f5.2 Nagler-Petzval Imaging System Apochromat Refractor (5.0 inch aperture)
TeleVue's first 'Class A' 5 inch Apo, per Martin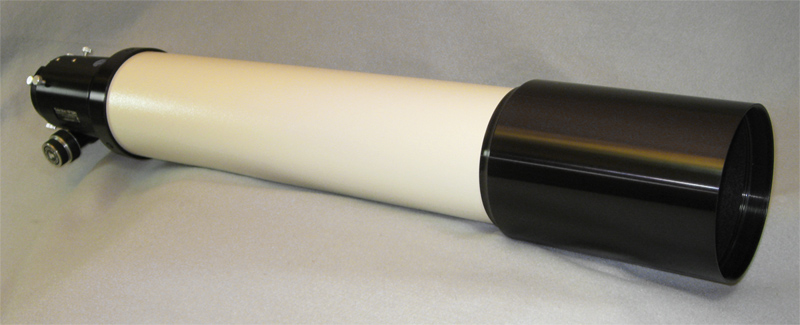 Above: TeleVue NP127is telescope optical tube assembly at Company Seven 8 Oct. 2010.
With dew cap/lens shade extended the new model's shows an even better balanced proportion.
Provided with carrying case although this is not shown (107,138 bytes).
Click on image to see enlarged view (239,288 bytes).

The original NP127 telescope was introduced to the world by Al Nagler at Company Seven in January 2003. That model with a 2 inch focuser was replaced in 2006 by the NP127is, a version geared for visual uses but with features that make it more capable for imaging applications. That NP127is was further refined and came available in 2010; this revised NP127is is the model discussed here.

OK - WHAT WE REALLY THINK
The TeleVue NP127is in its 2010 incarnation is a first rate f5.2 flat field, four element apochromatic refractor that evolved from the original NP127 5 inch Apo telescope. These 'is' series telescopes have been engineered for astronomers who seek that very high performance and versatility that can be provided only by fast apochromatic refractors. The original NP127 and NP127is telescopes performed identically in terms of visual applications, but the NP12is added features that have direct impact on the instrument's suitability for astophotography and CCD imaging while taking nothing away from its visual usefulness and portability. In the Spring of 2006 TeleVue discontinued production of the original NP127 telescope in order to focus their production resources on building the NP127is.
In the Fall of 2009 TeleVue discontinued production of the NP127is telescope in order to develop the improved 2010 model NP127is. Company Seven allocated the first 2010 model NP127is in April 2010, but this first of the new NP127is telescopes was not completed and ready for delivery until October 2010. The improvements we see provided with this third generation NP127is include:
the color correction of this NP127is system has been improved so that it equals the perfection of the TeleVue NP101 4 inch Apo telescope. The new lens prescription delivers smaller spot sizes over a broader wavelength range than that provided on prior generations of these telescopes. The telescopes show no trace of false color and textbook diffraction patterns even at silly high magnifications on the most demanding artificial star and sub-micron resolution tests that we routinely use to evaluate every newly arrived telescope destined for our customers.

the focuser has been completely redesigned, sculpted to form a more beautiful and curvaceous appearance - just like Marlene!. As a part of this process a substantial improvement has been made to the TeleVue FocusMate dual speed geared focusing mechanism replacing this with a 10:1 focuser pinion assembly made for TeleVue by Starlight Instruments!

We are not yet certain if we will be able to offer this new focuser as a retrofit for customers who bought their NP127is, but rest assured if it is technically feasible then Company Seven will support our clients with this choice.

compared to the original NP127is telescope the 2010 production NP127is weighs a bit less and shaves some one inch of length off.

the front lens cell and lens shade/dew cap have been redesigned; we find this aesthetically and practically an improvement. With the lens shade extended the telescope is about the same overall length as its predecessor, but it no longer appears so 'stubby'. With no machined lens cell protruding back beyond the extended lens shade there is a greater span of tube length onto which one may attach options.

We appreciate the proportions so much that we will work to develop a limited production brass tube version of this NP127is telescope. If this is successful then look for SN 001 at you know who's 'Memorial Telescope Museum Collection'.
DEVELOPING THE IS SERIES
The 'is' suffix indicates defines this as one of TeleVue's recently developed 'Imaging Systems' series telescopes, produced to suit to the demands of those who in addition to visual uses are also seeking an astrographic instrument with features more commensurate with instruments of this higher performance class. The NP127is telescope is provided with a more massive Focuser than the TV127, this provides greater payload handling (up to about 6 lbs.) and longer focus travel. The focuser has a large enough clear aperture that it is suitable for use with most popular digital camera systems (integrating CCD/CMOS, DSLR, etc.). These are valuable traits for users who may wish to attach devices in line including a Color Filter Wheel with CCD Camera for example, but more about this later. The Imaging System concept revolves around Televue's vision to develop an integrated, sole source, comprehensive solution for CCD imaging and astrophotography. This consists of numerous 'is' series accessories tailored to meet the needs of almost anyone who is pursuing CCD imaging in particular.