LOSMANDY HOLLYWOOD GENERAL MACHINING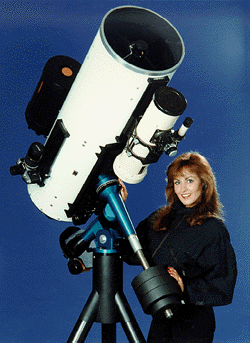 Scott Losmandy's "Hollywood General Machining" (yes, the REAL Hollywood) has deservedly earned a reputation among the international astronomical community of providing the best value in high quality precisely machined German Equatorial mounts, and mechanical components.
Losmandy's firm is first and foremost an accomplished precision house serving the needs of medical and aerospace communities. Losmandy emerged as a serious factor in the astronomical hardware community during the late 1980's when the standards in German mountings were either the mass produced Japanese made mountings (of reasonable value and modest performance, or were very expensive and yet yielded few Earth shattering innovations); the other option being the then few relatively expensive American made precisely machined mounts incorporating unsophisticated electronics. Scott, an amateur astronomer himself developed an understanding that the mass of a mount did not necessarily equate to rigidity, and gear size did not necessarily afford tracking precision. His mounts helped to explode these myths.
The Model 492 control electronics, and the Gemini Go To Computer Control system of the Losmandy mounts incorporate very reliable, state of the art electronic circuitry to allow the precise regulation of tracking and compensate for minor gear irregularities; they also provide a variety of desirable control functions. These improved electronics, with a smaller gear can deliver tracking unequaled by large systems. And since this all requires a smaller housing, then the mass and bulk of a mount can be reduced. Indeed, some of the first Losmandy German Equatorial mounts that came to our attention (such as the Model 100) at first glance seemed to be so lightweight and unique in appearance that we at Company Seven were hesitant at first to consider bringing in the mount for evaluation!
Adding to the mechanical design features were concepts that facilitated production. Conventional mount manufacturers placed most effort and expense on manufacturing the Right Ascension gear and housing of their mounts, while the Declination aspect is secondary in size and sophistication. Most of the Losmandy mounts are designed sharing many common components in Right Ascension and Declination including the premium Hurst geared stepper motors, the worm and main gear, and bearing systems.
This philosophy of innovative mechanical design, manufacture by in-house computer controlled manufacturing equipment operated by an experienced staff, explains why Losmandy delivers a high degree of consistency and performance that is unmatched in its respective price ranges.