Leica TELEVID and APO-TELEVID 77 Telescopes
Discontinued in Fall of 2007, please refer to our TELEVID models index page to see current models.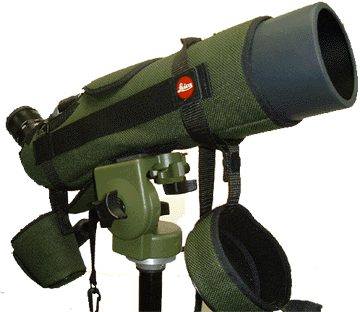 Leica Angled APO-TELEVID 77 Telescope in our optional Field Case
shown ready for use on our optional matching tripod fluid head.
The "Ferrari" of spotting scopes, evolving to meet a goal of offering a bright, virtually aberration free view from a compact and lightweight (1695g for the 77mm Televid), shock proof (to 100 g's), corrosion and water resistant telescope. The Leica TELEVID and APO-TELEVID spotting telescopes offer the top optical and mechanical quality. These are superbly well suited to hiking in any environment, for visual and photographic uses in ornithology, for observing nature, long distance inspection and surveillance, and for some applications in astronomy.
The Magnification and Field of View provided by these telescope are determined by 1. the telescope focal length (choice of either 62mm or 77mm telescope), and 2. the optional eyepiece which is attached to the spotting telescope body; a weather tight seal is maintained at that coupling. The obvious differences between the Leica TELEVID spotting telescope bodies are aperture (77mm and 62mm), and eyepiece (or photo adapter) orientation:
Eyepiece Position: this is provided by either a straight (in-line), or a 45 degree angled telescope body. Basically speaking, if you intend to observe objects overhead (in a canopy of trees for example), or for limited uses in astronomy, or for the convenience afforded when sharing the telescope among people who vary notably in height, or for using the telescope on shorter more compact tripods, then we suggest the angled body. For quicker sighting when using the camera adapter, or for observing from a car window mount, then we suggest the straight through view body.


Clarity and Apparent Brightness: due to the differences between the available "Achromatic" and "Apochromatic" objective lens.

Apparent Brightness and Magnification: due to the differences between the objective lens diameters of the TELEVID 62 and TELEVID 77mm telescopes.


Look at What's Inside a TELEVID 77 Telescope!
Each factor is just as important as the other to assuring long term satisfaction of the customer. Regardless of those choies, each TELEVID telescope incorporates many unseen technological innovations only hinted at in the following cutaway:

Click Here to See a Larger View in Color (55K) and Learn More About Their Design Features
Our Apo TELEVID 77 and Apo TELEVID 62 telescopes employs fluorocrown optical glass in an air spaced three element (triplet) apochromatic configuration designed to provide precise optical color correction. Colors of the spectrum have differing wavelengths; in a normal optical glass prism the red and blue rays are bent at slightly different angles as they pass through. This dispersion results in color fringing and less sharpness. In normal to wide-angle lenses this is imperceptible or is corrected with other techniques, but telescopic lenses magnify the variation in focus between red and blue light rays; this glass technology had to evolve to solve this problem.
Both the Apo and standard Televid's employ the multi-layer coating process to prevent light reflection off the surface of, or between the lenses; this process and internal baffling virtually eliminates ghost images and flare, and it improves color rendition. All of this achieves a dramatic increase in image contrast and actual light throughput, with a corresponding reduction in flare that could otherwise be caused by internal reflections.
All TELEVID models feature a unique dual transmission focuser; this allows a coarse rapid, and a fine focus control. A 3/8" and 1/4" threaded base accepts a variety of tripods although we really believe the ultra lightweight Gitzo carbon fiber Mountaineer tripod with a Gitzo magnesium Ball Head (or other choice of your preference) such as that described in our Gitzo section is an excellent match in terms of technology, ultra lightweight, and appearance for these telescopes.
Additional eyepieces, a protective and superbly engineered Ever Ready Field Case, color and polarizing filters (the filter thread is on the retractable dew cap), solar filters to safely view the Sun by Company Seven, and Photographic Camera Adapter are among the available options for our customers. With the optional camera adapter, you can employ the TELEVID Apo as an 800mm f10.4 ED ultra telephoto lens of Leica quality.
Our TELEVID 77 field telescopes include our international Lifetime Warranty against failure due to defects in workmanship or materials. And to help you build up your confidence about how much these telescopes can tolerate we also include the unique Lifetime "No-Fault" protection plan.
Leica offers a selection of oculars* each with distinct attributes:
20 x to 60 x Zoom (focal length 22 to 7.3mm):
Convenient flexibility of first viewing an overall subject, then with a twist of the wrist, to zoom in on the finest details. Ability to vary exit pupil to meet observing needs, conditions.
B 20 x Wide Angle (22mm) :
Superb imaging performance, and breath taking wide apparent field of view with uncompromising detail resolution and brilliance.
B 32 x Wide Angle (13.75mm):
Excellent imaging performance, and wide apparent field of view with better detail resolution by enlargement. About the highest magnification if one were to select only one ocular to start with.
B 40x (11mm):
Tailor made for the observation of fine details in the distance. Will reveal fine details better than other most telescopes of similar aperture operating at higher magnification. Suitable for viewing the moon, and Sun (with safe filter), and just identifying the major Planets!
The following table illustrates fields of view in Degrees, and in Meters (at distance to target of 1000 meters):
*In addition, for the year 2000 Company Seven introduced an optional mechanical fitting for our TELEVID 77 telescopes that will permit customers of ours who already own other telescopes that use the American Standard 1.25 inch diameter eyepieces, to use those 1.25 inch oculars in the TeleVid telescopes. This accessory is particularly suggested for use with the TELEVID Apochromat telescope, less so for the Achromat.

How about using our Leica B20-60x, B32X W, or other Leica oculars on your own telescope?:
Company Seven is now offering an optional machined Slip Fit Adapter which will permit those who bought their Leica TELEVID and oculars at Company Seven to employ these eyepieces on other telescopes which accept 1.25 inch diameter slip fit eyepieces. This accessory is not compatible with all telescopes, and so you should call us to discuss your intended applications.

Company Seven provides a detailed report with the Leica TELEVID telescopes characterizing their photo-visual potential (magnifications, fields of view, etc.) with Leica and after market oculars. But as a brief example, to calculate the magnification when using 1.25 inch oculars on the Televid, simply divide the 440mm effective focal length of the TELEVID 77 by the focal length of the eyepiece.

Back to our Leica products page