Zoom eyepiece B20-60x for Leica Televid 77 and Apo-Televid 77 Spotting Telescopes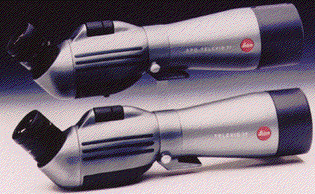 Leica Angled Apo-Televid 77 (top) and Angled Televid 77(bottom)
The Leica Televid and Apo-Televid spotting telescopes offer the top optical and mechanical quality; these are superbly well suited to hiking in any environment, for ornithology, some applications in astronomy, surveillance, and for observing nature. The telescope provides one basic magnification, and optional eyepieces enlarge the image presented by the telescope to varying degrees. This is how one can change the magnification, and the actual field of view that may be observed. Or the optional Photographic Adapter may be put in place (with an optional adapter ring for the make of camera) to employ the telescopes as ultra-telephoto 800mm lenses.
For visual uses there are several Leica oculars (sometimes referred to as "eyepiece"): 20X Wide Angle, 32X Wide Angle, 40X, and the 20x to 60X Zoom eyepiece. The Zoom eyepiece extends the telescopes' range of magnification and may facilitate centering an object in the field of view because of the ability to reduce magnification and increase the actual area to be observed (actual field of view). The 20x magnification provides a larger field of view for initially scanning the surroundings. Then when the object of interest is spotted, the telescope can be "zoomed in" with a flick of the wrist, and the object studied at higher magnifications. Even in twilight, the image is radiantly bright thanks to the large exit pupil. Most users therefore choose the B20-60x zoom as their standard eyepiece.
For the year 2000, Leica Camera AG has now revised the previous zoom eyepiece for Televid and Apo Televid scopes, resulting in a new optical and mechanical design. Minimizing coma and field curvature has led to even greater edge-to-edge brilliance and contrast. The new enlarged field of view of 34 meters at a distance of 1000 meters at 20x magnification or 20 meters at a distance of 100 meters at 60x magnification gives an even better overview. As the eye relief distance (from lens to the eye) setting remains virtually constant when zooming, eyeglass wearers enjoy a full view of the entire field of view. The new easy-to-use adjustable height eye cups rotate into the desired position - even when wearing bulky gloves this is simple to do.
The new zoom eyepiece B20-60x is adapted to the Televid bayonet mount in the same quick and precise way as the other eyepieces: a 30 degree turn locks the eyepiece in position or removes it for using a different eyepiece or the photo adapter for photographing and documenting the observed object.
Technical Data:

Number of lens elements:
Eight (8)
Focal length at 20X
22mm
Focal length at 60X
7.3mm
Exit Pupil at 20X
3.9mm
Exit Pupil at 60X
1.3mm
Actual Field of View at 20X
34m at 1000m (2 degrees)
Actual Field of View at 60X
20m at 1000m (1.2 degrees)
Eye Relief at 20X
18.5mm
Eye Relief at 60X
18.2mm
Field of View for Eyeglass Wearers
100 percent
Ocular Weight
280 g.
Ocular Length (eye cup retracted)
80mm
Ocular Diameter
53mm
How about using the Leica B20-60x on your own telescope?:
Company Seven is now offering an optional machined adapter which will permit those who own our Leica Televid oculars to employ these on a number of popular telescopes which accept 1.25 inch diameter slip fit eyepieces. This accessory is not compatible with all telescopes, and so you should call us to discuss your intended applications.