SkyQuest™ XT10 - 10"/25.4cm Dobsonian Telescope
This model was discontinued in August 2003 when it was replaced by the new SkyQuestª XT10 Intelliscope™. But then due to popular demand for a more fundamental option, it was reintroduced as the Classic XT series in January 2004.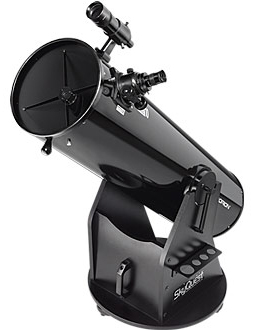 The product developed by Orion that came to dominate this area of the market,
introducing many amateurs to their first glimpses of the deep sky wonders!
- IMPROVED OCTOBER 2002!
The Orion SkyQuest™ Dobsonian telescopes are designed for beginners who seek the best possible view of the faint Deep Sky objects while on a constrained budget. These telescope benefit from years of study and refinement of those Dobsonian style telescopes already on the market; they include advanced design and materials to keep them lightweight and simple to use. Furthermore, the accessories included are common sense items to insure a good first night out; these are items that would normally be optional for competing telescopes.
Right: Orion SkyQuest™ XT10 10"/25cm f4.9 Dobsonian Reflecting Telescope with standard 9x 50mm Finder, 2" Focuser,
Navigation Knob, 2" and 1.25" Eyepiece Holder, four vane thin profile Secondary Mirror Spider (34,859 Bytes).
Radical Resolution: The XT10 Will Dazzle You!
Light Gathering Power! The XT10's 49.4 inch (1,255mm) focal length (f4.9 focal ratio) helps to keep the telescope manageable and portable, and yet it will still provide good high as well as low magnification observing. The XT10 is our most popular Dobsonian Reflector among those who desire a manageable telescope with the light gathering and fields of view potential for the observing many of the most popular deep sky objects. With about 920X the light gathering power of the unaided eye, the XT10 telescope provides an increase of about 1.55X over the light gathering power of the better 8" Dobsonian models. Keep it in mind however, the XT10 is a big telescope for big celestial appetites! Before you buy a telescope such as this, consider carefully its size (48" tube length) and weight (base 23 lbs., tube 35 lbs.) before you buy. You may be better served to buy it's smaller cousin the Orion XT8 - 8"f6 Dobsonian telescope.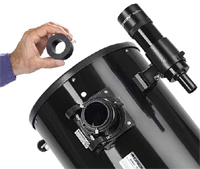 Left: Orion XT10 2" Focuser with 2" to 1.25" reducer shown (23,649 bytes).
Click on image to see enlarged view (84,638 bytes).
Adjustable 2" Focuser Another feature of the XT10 over most other competing and smaller Dobsonian models is the standard smooth 2" focuser. This aluminum focuser accepts low magnification, wide field of view 2" eyepieces as well as the common 1.25" diameter eyepieces. The Focuser Base Plate incorporates user adjustable set screws to facilitate collimation (aligning the optical path) of the telescope. And with an optional high quality low magnification eyepiece, one could reach 23X observing areas as large as 2.1 degrees across! Keep in mind that at such a low magnification the Exit Pupil (the diameter of the cone of light coming out of the eyepiece) is 11.13mm and so this may not be as good a choice as using an eyepiece that provides 36X showing 1.77 degrees with a 7.08mm Exit Pupil. If this telescope were equipped only with a 1.25" focuser, then the maximum Field of View would be only 1.23 degrees at 31X - but with 8.1mm Exit Pupil; a more practical 32mm eyepiece would provide 1.23 degrees at 39X with a more practical 6.48mm Exit Pupil.
The factors of aperture and the 2" focuser are particularly important to people who seek better views of the extended, faint deep sky objects (nebulae, star clusters, galaxies, comets, etc.). In effect the stellar magnitude reach is extended from about 13.8 of an 8" telescope to 14.3. And still this telescope affords the contrast and clarity qualities required to observe the moon, and planets; the XT10 actually can reveals changes through out the observing season! With a comparatively small central obstruction, and fewer optical surfaces, the contrast and brightness can actually surpass more expensive designs such as some 8" and 10" Schmidt-Cassegrain telescopes.
What characterizes a reflecting telescope?: The Optical Tube Assembly (OTA) is an arrangement of the classic Newtonian reflecting telescope. An English mathematician originated this optical design although Sir Isaac Newton first made it. This system employs two mirrors. The Parabolic "Primary" mirror is the factor by which most telescopes are described; hence an 10" telescope has a primary mirror of 10 inch (25cm) in diameter. The Primary mirror of the telescope is precisely mounted in a Cell at the rear of the telescope. The light entering the telescope is gathered and then reflects forward in a converging beam, to the Secondary Mirror that is positioned near the front of the telescope. The light from the Primary mirror is then reflected out to the side of the telescope achieving focus at a point beyond the focuser. An eyepiece to enlarge the image for viewing, or a camera for photography is placed at the focuser.
Left: Pyrex® Parabolic Primary Mirror of an Orion Dobson telescope in it's Cell (16,559 bytes). Click on image to see enlarged view (68,383 bytes).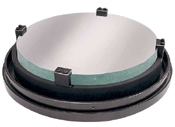 In a departure from most imported reflecting telescopes, the Primary Mirror of the XT10 is made of Pyrex®. The American firm Corning Incorporated developed Pyrex® a well proven material which has been marketed since 1915. Pyrex® is a sophisticated borosilicate glass composition made of Silicon, Boron, Sodium and Aluminum. It provides good chemical, thermal, mechanical and optical properties. Its density (g/cm3) is 2.23. This material can be polished to provide and hold a high quality of view, and provides stability and optical performance better than mirrors in most telescopes sold anywhere near this price range. Continuing its tradition of innovation and product improvement, Orion chose to make the change from Borosilicate crown glass to Pyrex® in October 2002. The Mirror is made in China and by 2002 we became aware of how the rapid pace of modernization of industry in China was providing suppliers who could quite consistently churn out good optics at modest prices. Of course, if you wish to pay a little less then the factory can spend less time in polishing or figuring the optics or trim some cost of elsewhere. And so the same factory may manufacture a telescope that appears similar for one buyer while making it to a better specification for another. We have been quite pleased with how Orion has used its influence to engineer trendsetting products, and then have them made to a very good spec.
Among the considerations of a reflecting telescope is that the mirrors be precisely positioned within the OTA in terms of centering, tilt, and spacing. The overall alignment ("collimation") of the one optical element to the other, and their placing the focal plane (the point where the image comes to focus) at the correct position beyond the focuser are critical. The optical axis of the telescope should be closely parallel to the mechanical axis of the tube assembly too. Company Seven chose Orion's SkyQuest™ telescopes in part because of their consistently good quality mechanical components and assembly at the factory that facilitate collimating these telescopes precisely upon delivery, if needed.
And since October 2002, the XT10 Primary Mirror is marked in the center with an indicator, and the 2" Focuser Base is adjustable to facilitate collimation by even the most inexperienced persons! Incidentally, since the Center Spot is located at the center of the Primary in an area obstructed by the Secondary Mirror, this mark has no adverse impact on the optical performance.
Right: XT10 showing Secondary Mirror holder, four vane Spider, Adjustable Aluminum 2" Focuser with Eyepiece, 50mm finder, Navigation Knob. (17,089 bytes).
A well made reflecting telescope can offer the best view per the dollar of the faint, deep sky objects where light gathering power is essential. Light gathering power increases are more important and come quicker than one may think; consider that a 6"f8 - a 48" (122cm) long reflecting telescope may show objects about 335X fainter than the unaided eye, while the XT10 (with similar physical length) provides about 920X the light gathering power over the unaided human eye - in astronomy size can matter!
The Dobsonian telescope: The characteristic simple to use Alt-Azimuth mounting, use of a lightweight primary mirror and modestly priced components evolved in the 1970's with San Francisco sidewalk astronomer John Dobson. His goal was to get the most telescope possible into the hands of the amateur observer for the lowest relative cost. This arrangement has become known as the "Dobsonian" or "Dob".
The Dobsonian telescope consists of an optical tube assembly riding on a wooden alt-azimuth platform. The optical tube may be made of tube up to 18 or 20" in diameter. These tubes are typically made of Sonotube/cardboard, or plastic, or rolled metal. The Orion XT telescopes employ a rolled metal enameled tube finished internally in an anti reflection paint. This tube holds optical collimation well even with temperature or humidity changes. This thin wall tube permits the designer to select a smaller secondary mirror/obstruction. And this keeps the tube lighter weight and more compact than heavier Sonotube tubes. In the case of the better made larger Dobson telescopes (12-1/2 inch and larger), a Truss arrangement is employed in order to facilitate disassembly into a more manageable and compact package. Our best-made Dobson telescopes up to 10 inch aperture are those offered by Orion. While our larger Dobson telescopes include the Truss tube telescopes made by Astro-Systems.
Working with Gravity: The center of gravity lies directly over the center of rotation in both directions, so no matter to where the telescope is pointed, the weight is evenly distributed through the mount to the ground. This characteristic, and sound design results in almost complete elimination of unwanted vibration and oscillation; the inevitable downfall of many poor telescope mounts. Whereas in many economical telescopes the image seems to bounce around forever after the scope has been touched, this is not the case with well made Dobsonians.
In addition to getting some help from Newton's Law, Orion engineers developed the CorrecTension Friction Optimization system. This is a mechanism to adjust the tension or drag on the large five inch diameter altitude bearings to compensate for varying loads of eyepieces, cameras, finders, etc. A durable Nylon cord strap is attached to make it easy for the operator, even with a gloved hand in Winter to attach or release the springs. Throughout the range of movement, it remains free of annoying "sticktion" - moving smoothly and precisely from one position to another.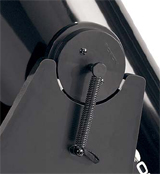 Left: The adjustable tension, spring loaded Trunnion arrangement of an Orion Dobsonian telescope. Note the 5" diameter Nylon altitude bearing surface riding on Teflon pads (19,941 bytes). Click on image for enlarged view (81,980 bytes).
The XT10 Base includes a convenient Eyepiece Accessory Tray. This standard eyepiece holder since October 2002 is provided with slots for up to three 1.25 inch accessories, and one of 2" diameter. Furthermore, this tray is held in place by two keyhole shaped screw holes so that customers may easily slide the tray up and out to remove the tray for transport or if desired. To keep dew or other contaminants from marring eyepieces set on this tray Company Seven suggests you keep eyepiece caps in place and consider the use of dew prevention devices including our Kendrick heaters.
A Hands-On Telescope: The Dobsonian is a telescope you can push around - literally. You point it by simply nudging the tube up or down, and left or right by hand. Trunnions on the tube rotate on 5 inch diameter low-friction plastic bearings, allowing the telescope optical tube assembly to move up and down (altitude). The Base rotates horizontally (azimuth) around a center pivot. The motion on both axes is "buttery smooth," letting you guide the scope with just the lightest touch from one part of the sky to another. You do not need to loosen and tighten clamps when targeting objects, as you must with other mounts. Dobsonians are not equatorially mounted and so they are generally moved only by hand. While it is possible to add motors and computer control (to automatically find and track stars) it is generally not necessary or cost effective on smaller Dobsonians. Some companies do sell Dobs complete with tracking systems however, even these factory made tracking Dobsonians are not completely satisfactory for deep-sky astrophotography.
Nor do Dobsonian telescopes have setting circles for locating objects by their cataloged coordinates. Company Seven does offer optional electronic Encoder and digital display devices as aids to celestial navigation. Many people find the beauty of a Dob is in their no-frills simplicity - they just work. The Dobson design remains the first choice among serious deep sky observers, and it is not uncommon to find custom or home made 8" to 36" aperture "Dobs" in use at dark sky observing sites around the world.
The Orion SkyQuest™ Dobsonian telescopes sold by Company Seven in the 6" to 10" apertures provide excellent affordability and simplicity of operation, this makes these Dobsonians a great first telescope for entry into the hobby of amateur astronomy. Larger Dobs, though bulkier to transport and often requiring a step stool or ladder to reach the eyepiece, remain highly popular among experienced observers. Compared to similar-aperture Newtonians on their heavy equatorial mounts (and at times awkward eyepiece position), Dobsonians are delightfully economical. Experienced amateurs often claim that the best combination of portable telescopes for most persons pursuing astronomy would be an 18" to 20" Dobson, with a 6" Apochromatic Refractor!
Noteworthy features of the SkyQuest™ XT10 include:
A set of accessories provided to get you up and running on the first night out!


Orion 25mm Plossl Eyepiece (50X providing 0.90 Degree Field of View)
Orion 10mm Plossl Eyepiece (126X providing 0.39 Degree Field of View)
Orion 9x 50mm Finderscope
Quick Release three point Spring Loaded Adjustment Finder Mounting Bracket
Collimation Cap (slips into focuser to help collimate telescope)
Eyepiece Holder with three holes for 1.25" and one for 2" eyepieces or accessories
Easy On-Off Plastic snap-on OTA Cover

Innovative Design!


Lightweight rolled metal tube construction with cast Aluminum end rings
Exterior is finished in durable Black gloss Enamel, interior in antireflection Black
CorrecTension Friction Optimization system providing adjustable yet smooth friction/drag on Altitude Bearings
Low-mass molded expertly finished Parabolic Primary Mirror made of Pyrex® a glass optimized for optical use
Primary and secondary mirrors are aluminized and over coated with a transparent Silicon Monoxide protective coating assuring good longevity
Adjustable Mirror Cell to support the Primary Mirror; redesigned in 2002 to provide maximum ventilation for faster cool-down time, and added easy spring-loaded collimation thumbscrews
Optics hand finished and tested on a 125 line Ronchi
Silky smooth cast and machined aluminum Focuser, with collimation adjustments
Focuser Drawtube Lock
Slip Fit 2 inch to 1.25" Reducer
Convenient grip/carrying handle on the Base