Regional Non-Profit Astronomy Associations, Clubs, and Societies.
Updated As Information Is Provided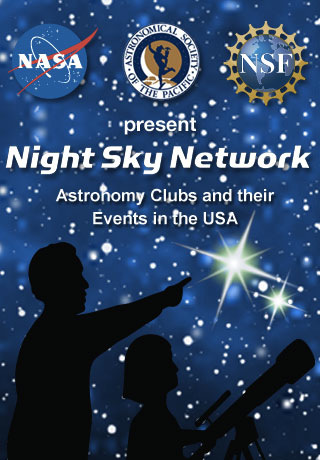 The following are non-profit organizations for the advancement of the science and hobby of astronomy, education of their members and the public. You are encouraged to seek counsel and experience through participation in their meetings, lectures, classes, practical activities (star watch activities, national and international travel expeditions), and lecture series. You'll find many free events where you can take your family, friends, or a special someone for an unforgettable event.
Right: 'Go StarGaze' software application to help people find astronomy clubs and activities in their region (66,843 bytes).
Finding an astronomy club is easier than ever since there are resources including the Internet and applications that you can run on your computer or telephone that will help you find clubs and their activities. One of these is the application Go StarGaze, this connects you to astronomy clubs in the USA and their public stargazing events. This free application is available for download from http://itunes.apple.com/us/app/go-stargaze/id380833895?mt=8.
Another resource for those in the Washington, D.C.-Baltimore, MD region is http://www.astronomyindc.org. The AstronomyInDC.org web site lists, in an easy to view format, a monthly calendar with scheduled events sponsored by astronomy organizations in the area.
Air & Space Museum Einstein Planetarium at
Contact: Mr. Fean O'Brian at 202-357-1529
National Air & Space Museum, Room 3368
Washington DC, 20506


Hot Line "Dial a Phenomenon": 202-357-2000


Analemma Society
Contact: Mr. Charles Olin at 703-759-6616
Analemma Park, Great Falls Observatory
Springvale Road
Great Falls, Virginia 22066


For the education of children and adults in science through astronomy.
Operating at Great Falls Observatory and assisting local schools.


AACC Astronomy Club. (formerly Anne Arundel Assoc. of Amateur Astronomers)
Contact: Deborah Levine, Astronomy Professor at 410-777-1280
Anne Arundel Community College
101 College Parkway
Arnold, MD 21012


Observing open to the public 2nd Sat. of month, call 410-777-1820 in advance for weather updates.


Baltimore Astronomical Society
Contact: Lawrence K. Brady, BAS: 410-545-5919
Maryland Science Center, Inner Harbor
Baltimore, MD


Meet at the Science Center.


Greenbelt Astronomy Club
Contact: Russell Waugh at 301-918-8750
or George Gliba and Lynne Gilliland at 301-345-4760
Howard Owen Science Center
Greenbelt Road at Soil Conservation Road
Greenbelt, Md. 20770


Open to the public, meet and observe in Greenbelt
* Newsletter/brochure posted at Company Seven


Harford County Astronomical Society
http://www.harfordastro.org
Contact: Grace Wyatt 410-836-7285
or Tom Rusek 410-734-0435
P.O. Box 906
Bel Air, Maryland 21014


Observatory at Harford County Community College


Howard Astronomical League
Contact: Mike Hall at 410-247-8965
on-line at www.howardastro.org


Meet third Thurs. monthly at 7:30 pm, at the Howard County Parks
Robinson Nature Center, 6692 Cedar Lane, Columbia, MD 21044
Observe at Alpha Ridge Park, Carr's Mill Park, H.C. Nature Conservancy

* Brochure posted at Company Seven


International Occultation Timing Association
Contact: David or Joan Dunham at 301-474-4722


Johns Hopkins Applied Physics Laboratory Astronomy Club
Contact: Bruce Gotwolls at 301-953-5000


For Laboratory employees and contractors only.


NASA Goddard Space Flight Ctr. Astronomy Club
Contact: Fred Schumann at 301-513-7782
or Don Haxton at 301-286-2983


Open to NASA GSFC & NASA Contractor Employees Only


Maryland Science Center
Baltimore, recorded "Star Line" at 410-545-5918


Supported by Baltimore Astro. Society (above)


National Capital Astronomers, Inc.
Contact: Jay Miller 240-401-8693
National Capital Astronomers Computer Bulletin Board


Meet at University of Maryland Observatory, Adelphi, MD
in Washington, D.C. and at sites in Virginia
Telescope Making Class (Tues & Fri): Guy Brandenburg 202-635-1860
* Newsletter posted at Company Seven


NOVAC - Northern Virginia Astronomy Club
Based in Fairfax County, Virginia
Contacts by E-Mail: membership@novac.com, outreach@novac.com
or on Facebook at groups/novac.astro


Open to the Public; meet on the second Sunday of the month 7:30 - 9:00 pm, meet at George Mason University/Fairfax,
the meetings are streamed online, and often are hosted at their YouTube Channel.
Refer to their site novac.com for meeting links.

Observe at Crockett Park (phone 540-422-8870), and Sky Meadows State Park in Delaplane, VA (540-592-3556),
Members meet at additional locations in Virginia, Maryland and West Virginia.


RAC - Rappahannock Astronomy Club
based in Fredericksburg, Virginia. Online at www.raclub.org
Contacts: Jerry Hubbell, President, E-Mail: president@raclub.org
or Glenn Holliday, Vice President, E-Mail: vicepres@raclub.rog


Open to the Public. Meet at Central Rappahanock Library (540-372-1144)
downtown Fredericksburg on each 2nd Wed. night monthly.
Observe at Caledon Natural Area in King George (540-663-3861),


The Shenandoah Astronomical Society
serving the northern Shenandoah Valley of Virginia and West Virginia
Online at www.shenandoahastronomical.org
Contact: Dane Toler, E-Mail: dtoler2@comcast.net or phone 540-636-9383


Open to the Public. Meet at Lord Fairfax Community College in Middletown, Virginia
(near Front Royal and Winchester) at 7 pm on each 2nd Monday night monthly.
Observe at several parks in the region, check their Web site for info.


SMAS - Southern Maryland Astronomical Society P.O. Box 373
Marbury, MD 20658
Contact: Mike Conte at 301-292-0753


Open to the Public. Meet at Nanjemoy Creek Environmental Ed. Center,
and Nanjemoy Creek Observatory, 4300 Turkey Tayac Pl. Meetings and Star Watch activities monthly.


U.S. Naval Observatory at http://www.usno.navy.mil
34th & Mass. Ave., N.W.
Washington, D.C. 20392
Contact: Steve Dick or Geoff Chester at 202-762-1438


Monday night tour and observing at USNO. Support observing sessions
open to the public at "Sky Meadows" State Park near Paris, Virginia


Westminster Astronomical Society
PO Box 1231
Westminster, MD 21158
Telephone/facsimile number 877-794-0606

Based in Carroll County they observe at sites including Bear Branch Nature Center.
General Meetings are at 7:30 pm on the second Wednesday of the every month.
Please contribute information you may have so that we may update this list to benefit all.