"Nighwatch: A Practical Guide to Viewing the Universe"
by Terrence Dickinson, with Foreword by Timothy Ferris
Hardcover Spiral Bound - 192 pages, 4th edition (2006, Third Printing 2008)
Firefly Books Ltd.; ISBN: 1552093026
Dimensions (in inches): 11.25 W x 10.75 H x 0.75
Other Available Editions: N/A

Click on image at left to view enlargement (148,119 bytes)
This is a among the best laid out, and best written budding amateur astronomer's guide to understanding the night sky - it's motions, and how to find one's way around. This is the book that we at Company Seven recommend for buyers of their first good quality telescope. It contains brief discussions regarding the selection and use of binoculars, telescopes, and some related accessories. Among the fascinating discussions is one about the relative size and relation of the planet Earth to our local planets and solar system, its relation to our Galaxy, and so on - one can begin to grasp the scale of the universe.

The spiral bound arrangement permits one the easy use of the included, simple to understand star charts of the night sky. These charts provide the basic information one will need to find their way around to the more obvious features of the night sky; and yet the charts are not cluttered with information, nor do they cover all areas of the night sky and so you may wish to buy a more detailed chart later as you progress into the hobby). The most important information on the charts can be read with red flashlights commonly used by amateur astronomers (to preserve their "night vision"), the less important items are printed in red and these "disappear" under the red light used by most experienced amateur astronomers (such as the Rigel Systems "Skylite") - cool! With the spiral binding one can leave the chart page open flat to just that part of the sky one is interested in. And the chart page material is resistant to the mild humidity which might be experienced over the course of an evening.

This is one of the few books which Company Seven suggests to those who wish to start into astronomy by naked eye, or with binoculars, and are considering whether or not to buy a telescope. It is very well illustrated, simple to comprehend so that any elementary school child who can read could enjoy it and learn from it, and yet an adult would find it does not feel like they are reading a simple "Dick and Jane" novel. Among the information added to this edition is a new chapter Southern Hemishere Night Sky, a good introduction to those who may live in or who will visit down under. Nightwatch is beautifully supported with more than 200 color illustrations (by Terrence Dickinson and by Victor Costanzo), with breath taking astrophotographs (many taken by amateur astronomers a number of whom are customers of Company Seven, or by others using equipment we offer!), and simple to comprehend drawings.
Table of Contents:
Foreword by Timothy Ferris
Preface
1. Discovering the Cosmos
2. The Universe in Eleven Steps
3. Backyard Astronomy
4. Stars for All Seasons
5. Stargazing Equipment



6. Probing the Depths
7. The Planets
8. Moon and Sun
9. Solar and Lunar Eclipses
10. Comets, Meteors and Auroras
11. Photographing the Night Sky
12. Southern Hemishere Night Sky
13. Resources
Index

Price $29.95 (U.S.D.); please add $8.00 for domestic postage, or $18.00 for international postage.

The Author: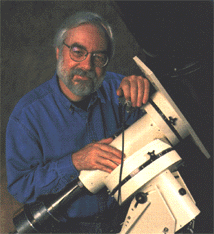 Terrence Dickinson with one of our Astro-Physics Model 1200 German Equatorial Mount.
Terrence Dickinson: a leading astronomy writer is the author of fourteen books. He has received numerous national and international awards for his work, among them the New York Academy of Sciences book of the year award and the Astronomical Society of the Pacific's Klumpke-Roberts Award for outstanding contributions in communicating astronomy to the public. In 1994, asteroid 5272 Dickinson was named after him. In 1995, he received the Order of Canada, the nation's highest civilian achievement award. A former editor of Astronomy magazine, Dickinson was an instructor at several science museums and planetariums in Canada and in the United States before turning to science writing full time in 1976. His articles have appeared in many magazines, and he writes a weekly astronomy column for The Toronto Star and a consultant for the Canadian Discovery Channel. He also teaches astronomy part-time at St. Lawrence College, Kingston, Ontario.
Dickinson traces his interest in astronomy back to the age of 5, when he was fascinated by the sight of a bright meteor. At 14, he received a good quality 60mm refractor telescope as a Christmas present and since then has owned more than 20 different telescopes. Today, he observes under sixth magnitude night skies, and enjoys astrophotography (having taken most of the pictures in his "Nightwatch" book from his backyard). He lives near the village of Yarker, in rural eastern Ontario where he enjoys dark night skies above his backyard roll off roof observatory crammed with telescopes and astrocameras.

Terrence is most familiar to amateur astronomers for his books including:
The Backyard Astronomers Guide; Firefly Books, 3rd edition 2008.

Exploring the Night Sky: The Equinox Astronomy Guide for Beginners; Camden House, 1988.

Exploring the Sky by Day: An Equinox Guide to Weather and the Atmosphere; Camden House, 1988

The Universe and Beyond (Third Edition): Camden House, 1999

The Astronomy Calendar color illustrated wall calendar published annually


Contents Copyright 1994-2000 Company Seven All Rights Reserved