Above: The portion of the January 1959 two page advertisement that introduced the Criterion Dynascope RV-6 telescope.
After finally adding a Criterion RV-6 to our own collection Company Seven observed that almost all the early images that we have seen published advertising the Criterion RV-6 show:
1. both the telescope optical tube and mount appeared reversed,
2. the optical tube shown is not a RV-6. These early images may have shown a mock up of the RV-6 or a poorly scaled image,
3. the counterweight shaft above and then below the counterweight are different diameters,
4. the counterweight shown would be inadequately light to balance an actual RV-6.
* The "rotating tube" mentioned in these RV-6 advertisements is a term that is by todays standards misleading. The optical tube is held onto the German mount saddle plate by means of two hinged clamping mounting rings. By loosening the ring clamps it was possible to rotate the telescope tube so that during the course of observing one then another objects in various areas of the night sky, the focuser with eyepiece could be rotated to a more accessible position. In practice, the early RV-6 tube exteriors where very textured, and this made it impossible to rotate the tube unless the ring clamps were loosened almost fully. By the 1980's rotating ring hardware sets were available for amateur Newtonian telescopes that were more practical moving smoothly and with clutches for adjustable drag or locking into place, and these were more precise at keeping the telescope tube optical axis more closely parallel to that of the mount's axis of rotation.
The Criterion RV-6 was delivered or it could be picked up at the factory assembled with the optics collimated. It was provided with a 6x 30mm Finderscope, with a rack and pinion 1.25 inch Focuser to accommodate the customers choice of three eyepieces, with electric motorized clock drive, Right Ascension and Declination Setting Circles, and a complete money back guarantee.
The price of $194.95 in 1959 had about the same buying power as $1,419.00 in 2008. Annual inflation over this period was about 4.13%. So the customer could choose to pay the instrument in full, or pay a deposit with the balance paid in monthly installments over 6, 12, 18 or 24 months.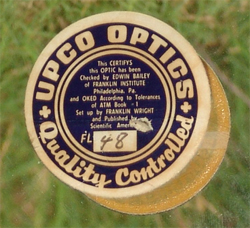 Optics Several optical shops became established in the late 1940's and early 1950's founded by craftsmen who learned their skills working in the armaments industry. These shops produced consistently good industrial quality optics at a comparatively modest cost, and it was these companies who made the optics sold to Criterion as well as to its competitors including Edmund Scientific, and Cave Co. Our Criterion RV-6 Dynascope Restoration Gallery with images by Mr. Tom McDonough shows a certification label of one of these subcontractors (UPCO OPTICS) attached to the Primary Mirror. Criterion would continue to source their optics design services and components from optics fabricators in the USA until Criterion began to explore ways to make optics for their "Dynamax 8" catadioptric telescope introduced in 1971.
Right: Image by Mr. Tom McDonough showing the "UPCO OPTICS" label on the back of his Criterion Dynascope RV-6 Primary Mirror (64,089 bytes).
The Primary Mirror of the RV-6 in Company Seven's collection has no identification of the source of the mirror, but has focal length 50" etched on the back surface.
Click on image to enlarged the view and read the print (120,247 bytes).
A good measure of the success of the Criterion telescopes of this time were the high performance of their optics. While meeting the optical prescription of the proper curve is important, it is critical that the surface be polished to be consistently smooth as well. In all fairness it is not as complicated a matter to figure (grind and polish) the Primary Mirror of a reflecting telescope at f/8 so that it will perform well enough to impress most buyers as it is to make a mirror do well at faster ratios of f/6 or f/5 since the mirrors of an f/8 reflector can made almost spherical. And the comparatively long focal ratio means the telescope can provide stunningly clear images across the field of view even when operating with comparatively simple eyepieces. The Criterion Primary Mirror substrate is Pyrex® which is arguably better than necessary for a small f/8 telescope, but it is a choice indicative of caring by management and not of pinching pennies.
One of the older employees of Company Seven commented "I never saw a bad set of optics in those early Criterion telescopes".
It may be that when we were young we were naive, or it may be these were well made optics - that truth is: this will not matter since
these telescopes served their purpose, and did so affordably.
Right: click on this image to see the full page advertisement of 1960 showing the Criterion Dynascope RV-6 Telescope apparently with a white OTA (60,316 bytes).
Click on image to see enlarged view (399,423 bytes).
Eyepieces The brochure accompanying our RV-6 listed these as choices of Achromatic Ramsden and Orthoscopic eyepieces: AR 18mm - 65x, AR 12.7mm - 100x, AR 9mm - 150X, OR 6mm 200X, or OR 4mm 320X. The Carl Zeiss designed Achromatic Ramsden (sometimes termed 'Modified Achromatic' and similar to the Kellner) are good economical general purpose eyepieces when made well. While the Orthoscopic (another Zeiss design) may be highly regarded for its uniformity of magnification across the field of view, combined with very good to superb contrast and definition thereby making it a good choice for observing planets for example. The telescope in Company Seven's collection came with the original three 1.25 inch diameter eyepieces wrapped in tissue within one cardboard box.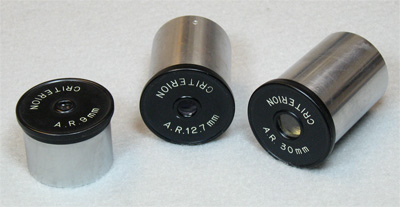 Left: Original eyepieces provided with the RV-6 Dynascope in our collection:
Criterion A.R. 30mm - providing about a 1 degree actual field of view at 42X
Criterion A.R. 12.7mm - about ½ degree actual field of view at 100X
Criterion A.R. 9mm - ¼ degree actual field of view at degree 150X

Click on the image to see enlarged view (100,004 bytes).
There were other eyepieces sold for the Criterion telescopes, these might bear the their Cable address "CRICO" as a trademark. The offerings included some upscale Erfle eyepieces. It is surprising to find this affordably priced telescope was furnished with well constructed eyepieces and of the larger 1.25 inch diameter since at the time and throughout the 1960's into the 1980's most other 'beginner telescopes' were provided with 0.965 inch diameter eyepieces. And it was rare that amateur eyepieces would be found to have been mechanically as well made as these. The interior of each barrel is painted anti-reflection black but we do note however, this telescope's Criterion eyepiece barrels were not fashioned to accept thread-on filters.