Overview: Meade Instruments Today
Meade Instruments Corporation is a highly successful U.S. based multinational consumer optics company that designs, manufactures, imports and distributes astronomical telescopes, telescope accessories, binoculars and spotting telescopes, riflescopes, other optical products. The company's most noteworthy area of expertise involves the incorporation of high quality optical and photographic telescopes with integrated "go to" computer control electronics that offer reasonable solutions as a child's first telescope, or more capable instrument for the adult. Meade's more advanced Schmidt-Cassegrain telescopes are also popular with universities, scientific laboratories, and aerospace firms. Meade telescopes discovered Comet Hale-Bopp, and have flown on the Space Shuttle.
Meade's astronomical instrument line is the most complete in the industry. In fact it is so comprehensive that an individual could buy an entry level Meade telescope or binocular to start in the hobby, then progress through more advanced Meade telescopes through to University level research using only Meade telescopes, accessories, CCD imaging systems, and software.
Facilities Meade Instruments telescopes are designed and then manufactured in their modern 161,000 square foot facilities in Irvine, California and to Meade specifications in Japan, Taiwan (R.O.C.), Mexico


Above: Meade Instruments Corp. headquarters in Irvine, California (166,071 bytes)
The Meade facility in Irvine, California is one of the largest and most advanced commercial telescope manufacturing operations in the world and includes only the very latest Computer Numerically Controlled (CNC) glass and metalworking machine tools, electron beam vacuum coaters, interferometric and laser autocollimator optical testing devices. Keeping up with modern optical technology is an expensive process at Meade Instruments, but one which is absolutely vital to their continuing world leadership in the production of serious astronomical telescopes for the knowledgeable amateur and for the school and university program.
All of the more advanced Meade telescopes including their ETX-90 EC, ETX-125 EC, LX90, LX200, and other models, are manufactured at the Meade Irvine factory. Smaller telescopes, such as Models DS-60 EC, DS-70 EC, and DS-114 EC, are manufactured under exclusive license to Meade designs at their affiliated factory in Taiwan. In either case Meade onsite quality-control engineers trying to assure that every telescope that bears the Meade name meets the desired objectives of its type and price class.
The mechanical components of these telescopes and lenses are designed to assure a perfect alignment of optical components is maintained and that nominal performance otherwise remain un-compromised. The design and fabrication of the mechanical components of these telescopes and lenses is geared to assure a lifetime (and more) of observing pleasure, and they provide a feel and finish that inspires confidence in the product, and pride of ownership.
The more advanced astronomical telescopes made by Meade include the LX series Schmidt-Cassegrain and Maksutov-Cassegrain telescopes, which are more in line with the quality and performance which Company Seven offers.
In October 2002, Alliant Techsystems (ATK) agreed to sell Simmons Outdoor Corporation to Meade Instruments Corporation. The Simmons acquisition gives Meade an immediate in to a riflescope and other sporting optics market.
The Meade targeted hallmarks remain:
Product Quality and Value
Customer Service
Continual Innovation
Over the years since 1992 we at Company Seven have come across some pretty impressive Meade telescopes. We noted how a good Meade 8" SCT could now really hold its own in the views and the mechanical performance. We saw some Meade 12" SCT's that made us want one. We also came to appreciate how much technology Meade had provided to our community. Among the most striking examples to our staff of what our customers were missing is the following image which was published world wide; it remains a source of much amazement in the astronomy community - not to mention the stir it caused among the defense and intelligence communities!

Above: Remarkable Image of Space Shuttle Atlantis Docked with Space Station Mir, 16 November 1995 (110,372 bytes)
Image by Ron Dantowitz, Hayden Planetarium, Boston, MA. Meade 12" LX200 Schmidt-Cassegrain optical system in conjunction with C-Sat satellite tracking software.
At the time of the exposure the spacecraft were 350 miles above Boston traveling at 17,100 miles per hour. The outline drawing at right points out specific features of the two spacecraft,
including such details as the Shuttle's rudder and wing-silhouette. Although Mir's solar panels are only about one meter (39") wide, they are clearly resolved by the telescope's 12" optics.
C-Sat software works with any Meade LX200 or LX200GPS model through a personal computer to locate and track automatically over 3,500 Earth satellites. For further information
access the C-Sat web page at www.skyshow.com. Photo from Meade Instruments Catalog, courtesy Museum of Science, Hayden Planetarium, Boston, Mass. (34,388 bytes)
Click on above image to see enlarged, color retained view (305,961 bytes).
It became clear to us that Meade's LX200 GPS telescope technology was superior to that we could offer at the time, since it incorporates superior platforms (tripod, wegde, etc.) supporting the telescope, and it was more accurate in its set up procedure. And Meade overall, had developed a system of telescopes that had a very good selection of accessories suitable not only for Meade telescopes, but for others as well.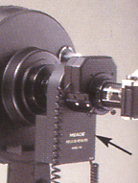 While some of the accessories just served to fill a gap that others might or might not address, some of the Meade accessories were highly innovative. Consider the Meade Model 1220 Field De-Roatator. Meade LX200 telescopes may be operated in the altazimuth mode (i.e., Fork Mount attached directly to a Field Tripod or Pier without polar alignment) for all visual applications and for photographic or CCD imaging exposures of up to about five minutes duration. The majority of LX200 operators use their telescopes in this Alt-Azimuth configuration. So Meade developed the industry's first Field De-Roatator. Their Model 1220 cooperates with the computer controlled drive of the LX200 and rotates the attached camera at a precisely correct speed and direction thereby countering the effects of Field Rotation!
Left: Meade Model 1220 Field De-Roatator attached with optional 35mm SLR camera to Axial Port of Meade SCT (34,137 bytes)
Furthermore, Meade seemed more willing to respond to what the public demanded. When improved electronic focusers which attach to the telescope axial port came into the market. And Meade added the capability to lock the Primary Mirror of their LX200 Schmidt-Cassegrain telescopes.
We have evaluated the new Meade Advanced Systems products and we conclude that Meade knows the future is uncertain in this economy, and so they will continue to innovate while also working to improving what they offer now.
So after two years of discussions, Company Seven is as of March 2003 again offering the Meade Advanced Systems. We realize this puts a privilege and a responsibility in our hands, and so we and Meade will continue to work together to insure "purchased at Company Seven" remains positively meaningful.