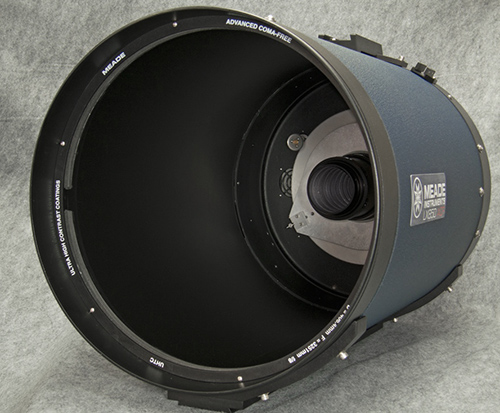 Company Seven remains the only U.S. based retailer (as we are reminded by manufacturers) who actually opens, inspects, and tests the optics and mechanics of every new arriving telescope to insure the system performs as well as that which the factory is capable of making. Our checks also assure it survived any "adjustments" during shipping to us. We work to insure that all components and electronics are included, and are fully operational. And since we do evaluate every telescope that arrives, we do have our finger on the "pulse" of production - we develop excellent experience in detecting any anomaly, even those so mild that the consumer might overlook.

Right: Meade Instruments 16 inch LX850 ACF f/8 telescope optical tube assembly in at Company Seven for service. The optics have been removed for servicing, so here we show the empty OTA without Corrector Lens, Primary Mirror or Secondary Mirror and holder. The Corrector Lens retaining ring indicates "D=406.4mm F=3251mm f/8" (101,114 bytes).

We work diligently to offer sound advice, provide good products, and to insure they are working as well as possible when delivered. The Meade telescopes have improved over time to become more reliable and capable. However, over time is it possible that an adjustment, or cleaning, or a repair may become necessary; when that time comes then our customers can turn to the staff of Company Seven who are highly competent and experienced in diagnosing and repairing problems.

Our staff have been involved in mission critical aspects of highly challenging government and industrial projects, and so servicing a consumer telescope is well within our means. The Meade Instruments management recognizes this by facilitating our ability to service those Meade telescopes sold by Company Seven. The recent improvements in Meade telescopes design and manufacturing, and the support offered by Meade to Company Seven are the reasons why in January 2004 Company Seven chose to reinstate the line, so that we offer many of the more advanced Meade telescopes and accessories. We are not so concerned that every new telescope we receive be as perfect as we demand, but we do need the manufacturer to be supportive and willing to help Company Seven make us both look good to our customer.

And if any Meade instrument sold by Company Seven fails the original owner (in or out of warranty) then it will be to Company Seven that the owner can turn for a quick remedy - almost always at no cost to the owner! If any service or repair becomes needed, then do not hesitate to contact or visit our showroom located between Washington, D.C. and Baltimore, MD. Of course you retain the choice of working directly with us or with Meade directly through their offices in California too. No other Meade retailer in the USA can or would make this promise in writing - and has both the integrity and competence to keep it.