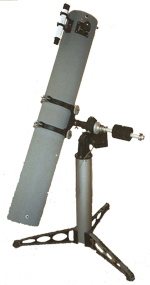 Criterion RV-6 Dynascope® Restoration Gallery
This continues our coverage of the Criterion RV-6 Dynamax telescope that is among Company Seven's museum collection.
The following is a photographic documentary of the extraordinary effort by Mr. Tom McDonough to refurbish his own Criterion RV-6 Dynascope. Mr. McDonough performed the work from May 2, 2004 and completed it by 24 August 2004. Over this time he took images and prepared his article which has since then been posted in the Gallery of the Astronomy Club of Tulsa web site.
Right: Color image of the 1962 Criterion Dynascope RV-6 telescope in Company Seven's Museum Collection.
Note the gray painted tube assembly with white Criterion Finder (23,751 bytes).
We have seen a number of changes of the RV-6 over its production life. Most have been cosmetic and have not substantially changed the telescope. Mr. McDonough's RV-6 is a later model than ours and it differs in some aspects from the older model which has been acquired by Company Seven;
the optical tube of his telescope was originally painted white (later repainted black as seen below) whereas ours is a medium gray

the 1962 model RV-6 in C7's collection has an Electronic R.A. Drive with a Manual Control, this is absent on later RV-6's as shown here

the optical tube of the RV-6 in C7's collection has a Serial Number Plate just above the Focuser, not provided on the RV-6 shown here

the legs of his Pier are natural aluminum while ours are painted black, it is possible these were stripped by a previous owner.
Mr. McDonough informed us in 2008 "the RV-6 is my main scope and I use it quite often. A couple of years ago at a star party I compared Saturn with a 6" f/8 TMB Apo refractor using the same eyepiece and there was only a bare difference in background contrast. Not too bad for a 40 year old scope!" He went on to summarize the expenses for the restoration:
Description Qty Cost
JMI RCF-mini1 Focuser 1 Ea. $ 59.00
Orion Dovetail Finder Base 1 Ea. $ 9.95
SS Washers, 1/4" 1 Pkg. $ 1.34
SS Hex Cap Screw, 1/2 x 2" 1 Ea. $ 6.20
Wing Screw, 1/4-20 x 1/2" 1 Ea. $ 0.90
Cork Sheeting 1 Roll $ 11.57
Computer Power Cable 1 Ea. $ 2.55
Carburetor Cleaner 6 Cans $ 4.68
Acetone 1 Qt. $ 3.27
Steel Wool Medium #1 1 Pkg. $ 2.46
3M Paint & Rust Stripper 7771NA, 4" 1 Ea. $ 5.97
Dremel Cleaning/Polishing Set, Model 684 1 Ea. $ 11.87
Masking Paper 1 Roll $ 1.73
Foam Paint Brush, 3" 1 Ea. $ 0.27
3M Blue Painters Tape 1 Roll $ 3.57
Rubbermaid 75mm Paint Roller 1 Ea. $ 2.94
Klean-Strip Rust Converter 1 Can $ 3.96
Rustoleum Clean Metal Primer, Tan 1 Can $ 3.17
Anchor Saf-T-Gard Enamel 500, White, 46312 1 Pt. $ 4.98
Krylon Ultra Flat Black Spray Paint 1 Can $ 2.37
Rustoleum Gray Hammertone Spray Paint 1 Can $ 4.47


Total $ 147.22


Hours To Complete The Work: Forty Three (43)
As we at Company Seven considered how much time and effort we would need to put in to restore 'like new' the Criterion RV-6 acquired for our collection. the thought came to us that Mr. McDonough had already saved us the effort of doing the work and documentation. And so the decision was made to conserve our Criterion RV-6 as it was acquired, and we asked the permission of Mr. McDononough to host the images he created instead. We put together this article with some additional explanatory text so that others can learn how to go about doing such a project. And maybe, just maybe someone out there will save another Dynascope from being discarded and make it as fascinating to the next generation.
All the images are Copyright 2004 all rights reserved by Mr. Tom McDonough, used by his kind permission.