Trinovid 7 x 42 BN, 8 x 42 BN, and 10 x 42 BN Binoculars
The new generation of the Leica Trinovid line of 42mm binoculars represents their best possible optical performance coupled with an incredibly compact yet rugged body design. This was achieved by the application of state of the art computer aided optical design, and by the use of special high grade optical raw glass materials as well as the high grade structural materials, such as magnesium and aluminum alloys.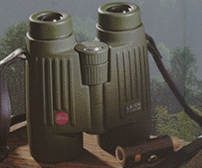 At left is illustrated the Leica Trinovid 7 x 42 BN with eyecups in retracted position; the size and other external features of the 7 x 42 are identical to the 8 x 42 BN and 10 x 42 BN. In addition to the 7 x 42 BN Marine glass which is made available in Blue (with floatation strap and cordura case), all 42mm models are available in Slate Black or in Green.
The Leica Trinovid 7 x 42 BN is an all around general purpose binocular with high light transmission. It features a very large 6 mm exit pupil which makes the unit highly desirable for work in low light environments, and with its very wide actual field of view it facilitates the following of moving objects as the large exit pupil can easily remain positioned over the iris of the human eye even after a strenuous hike or on a heaving deck of a boat. In twilight while in deep woods, or on a boat approaching the coast, one will have optimal visibility.
Furthermore, the ergonomics including: balance, feel, and weight of the 42mm BN series contribute to the users comfort and ability to hold the binocular steady enough to reveal distant details clearly. The remarkably slim and compact housings assure these binoculars can easily be put into a large coat pocket, into a brief case or travel bag, making these a very handy binocular to travel with - having a binocular available is just as important as its optical properties.
To make it even easier to carry and deploy Company Seven offers an optional "holster" custom fitted to hold this binocular. This is made of heavy duty leather, finished in black. It is similar in quality and construction to conventional heavy duty leather pistol holsters. This accessory can be attached onto a belt and it incorporates a leather strap to keep the binocular in place. The holster protects the objective (front) lenses of the binocular, and we include a smaller leather strap to attach the furnished binocular rain guard onto the binocular to protect the eyepieces. The holster provides excellent protection, and ready access to the binocular while hiking or climbing. Furthermore, one no longer needs to carry the binocular with the strap, it now becomes a quick and simple matter to "draw" the binocular and share it with others without the nuisance of having to clear a dangling strap over your jacket hood, hat or sunglass straps.
Go to Leica price list
Back to Leica binoculars page
Back to Leica products page