Trinovid 7 x 42 BN Marine Binocular Set
The new generation of the Leica Trinovid line of 42mm BN binoculars represents their best possible optical performance coupled with an incredibly compact yet rugged body design. This was achieved by the application of state of the art computer aided optical design, and by the use of special high grade optical raw glass materials as well as the high grade structural materials, such as magnesium and aluminum alloys.
Below and to the right is illustrated the Leica Trinovid 7 x 42 BN Marine binocular. Also shown is the furnished Cordura carrying/storage case, and the red Floatation Strap. View an enlarged color image of the Trinovid 7 x 42 BN Marine Binocular (85k).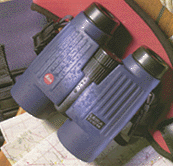 (Click to enlarge)




The Leica Trinovid 7 x 42 BN Marine is an all around general purpose binocular with high light transmission and special features that make this well tailored for use at sea. It features a very large 6 mm exit pupil which makes the unit highly desirable for work in low light or poor weather situations, and with its very wide actual field of view it facilitates the following of moving objects as the large exit pupil can easily remain positioned over the iris of the human eye even on a heaving deck of a boat. On a clear day, or during twilight while on a boat searching for a marker buoy, one will have optimal visibility.

The 7 x 42 BN Marine incorporates the mechanical and optical design features, and extraordinary high quality control standards common to all of the Leica BA series binoculars. The 7 x 42 BN Marine incorporates special scratch resistant, salt-water proof coatings to provide maximum protection even after repeated exposure to heavy seas. The adjustable, sliding eyecups permit easy conversions for spectacle or sunglass wearers. The robust body construction is of die cast aluminum alloy frame with the durable armor plating of marine-blue, shock absorbing polyurethane. True, completely sealed internal focusing and diopter adjusment mechanics prevent humidity and dust from entering into the interior of the body. These and other design features guarantees unrestricted applications in all weather conditions, and makes the Leica Trinovid 7 x 42 BN Marine resistant to a water pressure of up to 0.5 bar, i.e. watertight to a depth of 5 meters (16 feet!); almost unheard of in a center focus binocular!

With it's Central Focus mechanism the 7 x 42 BN Marine is easy to share with others, and it remains an excellent traveling companion while ashore; keep in mind that Central Focus is a feature rarely found in Marine binoculars since the traditional Individual Focus mechanism is much simpler to make watertight.

And should the Trinovid 7 x 42 BN Marine fall overboard, the carrying strap has enough buoyancy to prevent the binoculars from sinking. With the bright Orange -Red color of this strap, the binoculars can be easily identified for recovery even in rough weather.

The Trinovid 7 x 42 BN Marine is also furnished with a rot and mildew resistant Cordura case with snap fastening flap. This guarantees safe storage of the binoculars and protects them from dirt and scrapes. The binoculars in the Cordura case can also be carried on a belt using a loop on the back of this case.

Go to Leica price list
Back to Leica binoculars page
Back to Leica products page