PERFORMANCE
The objective lens of the 85 is of an SD air spaced doublet design where two lenses (crown and flint) are matched to work as one; the positive element is of a fluorocrown substitute with special dispersion glass. This design allows very good color correction - appearing excellent to most people. While spherical correction is very good also, with the air gap contributing to this correction. Images of the stars and the planets are presented in their natural colors, daytime objects viewed at commonly used magnifications will appear quite three dimensional and sharp and high contrast without annoying purple fringes (secondary color) common to less sophisticated refractors.

Left: TeleVue 85mm telescope with lens shade extended, on optional TelePod Mount head (188,904 bytes).
Note one of the two accessory installation slots on the Mounting Ring.
Click on image to seen enlarged view (320,283 bytes)

The objective's four air to glass surfaces have a multilayer antireflection coatings that improves overall light transmission to greater than 94% in the visual wavelengths. So, the system has about 140 times the light gathering power of the unaided human eye making it through the objective lens. On most nights, the settling down time for the lens is on the order of minutes, and even in subfreezing conditions it rarely requires more than 30 minutes to acclimate from typical room temperature.

The lens is so well figured that it is capable of operating at 200X or more cleanly with optional eyepieces; this reaches that threshold necessary to routinely obtain meaningful views of the planets showing several bands and their shades of color (beige, tan, browns) on Jupiter, the Cassini division on Saturn, the polar cap on a fiery red Mars. With an eyepiece that shows 1/2 degree field or so, take a walk on our apparently three dimensional Moon! or follow its terminator throughout the moons phases (optional neutral density filter suggested to tone down its brightness). It can resolve objects on the moon as small as 5.3 km in diameter; it will see the four largest moons of Jupiter and their shadows cast on the surface when they transit past the planet!

All 85 models delivered since February 1999 include a refined TeleVue 2 inch diameter "Everbrite" diagonal (or "zenith") mirror. The "Everbrite" mirror features a very high-tech dielectric coating (developed originally for military optics used in hostile environments such as blowing desert sand) which provide optimum performance and years of use. This new TeleVue 2 inch diagonal has no aluminum or other reflective metal coating. Instead, the reflective surface consists of 52 layers of thin film oxides similar to those used in antireflection coatings. The coatings are deposited by an electron beam evaporator at a high temperature. The result is that reflectivity is above 99% over the entire 4000 to 7000 Angstrom photo-visual range. Thin film coatings have extremely low surface scatter compared to aluminum or enhanced aluminum coatings; examination with a laser source shows approximately a 5 fold improvement in surface scatter.

The mirror diagonal provides a comfortable viewing position for the observer by diverting the image at the rear of the telescope off axis by 90 degrees to the side, with minimal degradation of image quality. The view when using the telescope as it is provided will appear to be right side up, and is reversed left to right; this is not usually a problem for astronomy or nature observing because the image quality provided by the high quality mirror and 2 inch diameters panoramic oculars is exceptional.

While Company Seven does offer optional 45 degree inclined image erecting prisms, these prisms can only accommodate 1.25 inch oculars. Furthermore, the erecting prisms will not provide image quality to equal that of a good mirror diagonal, this is particularly perceptible at higher magnifications. However, for moderate to medium magnification applications where one needs correct images (such as to read numbers, etc.) then the prism should be suitable.


Right: TeleVue 85mm telescope on optional TeleVue TelePod Mount head (151,239 bytes).
Click on image to seen enlarged view (396,622 bytes)
With TeleVue's 2" focuser and a matched wide angle ocular the 85 reveals its extraordinary wide field of view ability showing up to 4.6 degrees at 11X to reveal the entire "Messier Catalog" of deep sky wonders, or to be employed for panoramic viewing of a seashore or countryside. Imagine a telescope that at a dark sky site has the combination of resolving power and field of view to sweep the Milky Way, see the Double Cluster in Perseus (NGC-869), find the Andromeda galaxy (M-31) and see it's ellipsoid shape, and see the form of large Nebulae such as the Veil and North American Nebulae! With a 55mm Plossl our TeleVue 85 can reveal all three stars of Orion's belt, closer in it reveals the jewel like stars of the Trapezium - a birthplace of stars, with a sweeping wisps of greenish gas clouds surrounding it. With a higher magnification M13 (the Hercules star cluster) takes on a "salt and pepper" appearance even from suburban skies on a clear night. By the time one finds a large enough aperture catadioptric, reflecting, or achromatic refractor to see similar detail, then one can only see a fraction of their area due to the relatively high focal length of these competing telescopes; imagine trying to observe the night sky through a straw!
In fact, one of the finest advertisements ever published that reaffirms the value and owning a portable refracting telescope is the book Deep-Sky Companions: The Messier Objects where the author Stephen O'Meara sought to keep the drawings relevant to the amateur. To produce the highly detailed drawings of these celestial objects Stephen chose to observe with the second generation TeleVue "Genesis" telescope (4" aperture, 500mm f5) - a telescope about 17 per cent brighter than the 85, and not as well color corrected. This book has become one of our best advertisements for the versatile, readily transportable compact Apo telescopes. Incidentally to keep things simple, and relate as much as possible to the average amateur observer Stephen chose to use the telescope on the simple but sturdy TeleVue alt-azimuth mount with wood tripod. He equipped the telescope with only a modest selection of accessories: TeleVue 22mm "Panoptic" eyepiece (providing 23X, 2.85 Degrees Actual Field of View), a 7mm Nagler eyepiece (71X, 1.08 AFOV), and a TeleVue Barlow lens to increase the magnification by 1.8X.
The 85 compares favorably against many telescopes in field of view:
1.9 at 22X for a common 80mm achromatic refractor,
1.4 at 31X for a common 8"f6 reflecting telescope,
1.3 degrees at 32X for an 8" Schmidt-Cassegrain (operating with an optional telecompressor lens)
1.3 degrees at 32X for an 3-1/2" Maksutov-Cassegrain.
In fairness, the cost the 85 (equipped with either an optional Alt-Az or Equatorial mount) is positioned at a higher cost than most of the above telescopes. And as a practical matter for some applications in astronomy the nominal match of the "85" exit pupil to an average human eye will be obtained at magnifications of between 17X and 12X, while the best performance will be obtained at all magnifications if a wise choice of well corrected oculars is made - this is not attainable with several of the simpler eyepiece designs. Also consider that an optional good quality "Barlow" amplifying (negative) lens, or long eye relief TeleVue "Radian" ocular (introduced in 1999) will usually be put into use to attain the highest use able magnifications.
For film photography, the telescope (with our optional camera adapters) becomes a 600 f7 ED ultra telephoto lens, showing about 4.1 degrees across the diagonal of a 35mm camera film plane. And for CCD imaging operations the telescope at prime focus can show about one degree across the diagonal of a common 2/3" detector (such as that employed on some of our SBIG CCD systems. Optional techniques and hardware permit imaging of the planets, or of wildlife at much higher magnifications.
With optional 2" and 3" long x 2" diameter extension tubes, it is possible to observe at distances of as close as ten feet for use as a "long distance microscope".
A particular joy of this instrument is that with a suitable mount is at the limit for those who prefer a completely "carryon luggage" degree of portability. Few larger refractors may be carried on, but then these will require a notably heavier mount that must be packaged and checked in separately. The TeleVue 85 can operate with a much lighter weight camera tripod, ideally with a well designed alt-azimuth head such as the TeleVue "Telepod"; such a head design maintains the telescope well balanced throughout its travel to zenith, and this head has adjustable elevation ad azimuth clutches. Furthermore, this is a telescope one can grow with since most of the accessories that one would buy for this telescope are upwardly compatible with any larger telescope that one is likely to buy at Company Seven.
MECHANICAL CONSTRUCTION
The 85mm has a fully machined aluminum front cell to house the objective lens and focuser housing. The objective lens is permanently aligned to the barrel as is the focuser assembly. Unless subjected to gross abuse this telescope can provide several lifetimes of service with no need for any other than cleaning of the front surface of the objective lens using common camera lens cleaning techniques. Company Seven does offer optional highly perfected protective and polarizing filters that can provide protection to the front element of the telescope. But while dew and typical evening frost will not harm the telescope (optional heaters can prevent these nuisances from prematurely shutting down your evening session) the telescope and conventional eyepieces are not waterproof immersible.

Right: TV85 telescope, demonstration of Lens Shade retracted in stored position and then as extended
Mouse over the image to see alternative view (85,288 and 85,928 bytes).

The Front Cell And Lens Shade: The 85 incorporates a retracting dew shield/lens shade. The lens shade blocks off axis stray light from entering the telescope and so in the background is more contrasty and free of ghost images. A side benefit is this reduces the chances of dew build up on the front of the lens when observing in humid conditions.

The dew shield/lens shade of the TV85 is threaded and so Company Seven offers a broad selection of filters, some made to our specifications, for customers who purchased their TeleVue 85 from Company Seven. Our filter selection includes slip-on white light solar filters made of the Baader Astro-Solar film to see sunspots and faculae on the Sun.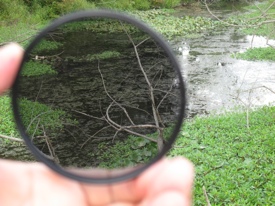 For customers who intend to use the telescope for terrestrial applications including birding or panoramic studies we offer thread-on protective clear filter, these can keep sand or salt spray off the objective lens of your telescope but is not necessary for astronomical uses. Company Seven also offers our customers polarizing filters in choice for either visual or for both visual and imaging applications. Sunlight and almost every other form of natural and artificial illumination produce light waves whose electric field vectors vibrate in all those planes that are perpendicular to the direction of propagation (coming from the source). When the electric field vectors are restricted to a single plane by some means of filtration of the beam, then the light is referred to as plane or linearly polarized with respect to the direction of propagation, and all waves vibrating in a single plane are termed plane parallel or plane-polarized. When light travels through a linear polarizing material only a selected vibration plane is passed by the polarizer, while the electric field vectors vibrating in all other orientations are blocked. Linearly polarized light transmitted through a polarizer can be either passed or absorbed by a second polarizer, depending upon the electric vector transmission azimuth orientation of the second polarizing material.

Left: Polarizing filter hand held over a day lit pond scene (40,578 bytes).
Click on image to see enlarged view (288,522 bytes).

By eliminating the reflection of light off the water surface for example, depending on the transparency of the water it may be possible to see fish, reefs, etc. below. By eliminating the reflection of light off the tiny particles and water droplets suspended in the atmosphere, the polarizer also shows skies as more color saturated and slightly darker. This not only helps one to see more details, but it also reduces eye fatigue over longer observing sessions. The degree of the effect of the polarization depends on the orientation of the sun to the target and to the photographer, and it also varies with the filter's rotational orientation. The polarization effect can suppress specular highlights and glare that might otherwise cause a camera meter to think the filter is having changing its light transmission, but in reality the ND factor of the filter does not obviously change. So for example, if you are taking pictures of a bird standing in a pond situated at 90 degrees (off to your right or left) from the setting sun then there is a great deal of polarized light with specular reflections and glare, so as the filter is rotated the filter factor may appear to vary by more than 2 or 2.5 stops. This will have a dramatic impact in reducing specular highlights and glare and it is that change that will largely account for the meter reading changes. For reasons related to the target-sun orientation, for deep sky astronomy applications the use of polarization filter has no positive effects at all since this will needlessly darken the image.

If one polarizing filter is rotated while facing a second polarizing filter then these will act as a variable neutral density filter not only reducing transmission by their own respective filter factor but also gradually diminishing light that is transmitted and shifting the bandpass into the blue. For this reason we warn our customers DO NOT wear polarized sunglasses or prescription spectacles when using a Polarizing filter on a telescope or camera lens.

Also provided with the basic telescope is a thread on lens cover of machined aluminum in a tube assembly that has an overall length of only 21-7/8 inches with its 2 inch diagonal attached.