Telescope Engineering Company: Product Distrubution Information
TEC offers unique, highly perfected optical systems designed to provide a lifetime of observing and imaging pleasure. TEC and Company Seven Astro-Optics Division offer their products, while our showroom also exhibits them. So with TEC, and with Astro-Physics telescopes and mounts too, Company Seven is the sole distributor of the two most desired Apo refractor product lines in the Americas. Because of Company Seven's technical merit, and dedication to the long term success of our clientele those who buy from us are uncommonly successful and happy.
Company Seven's staff can be your primary source of information regarding TEC products and prices, estimated delivery dates and the status of your order for those orders placed directly with Company Seven. Your support makes resources such as this Internet Site possible. If we can be of assistance to you in any way, please contact Company Seven. Or, to see these telescopes firsthand visit Company Seven's showroom.

Good things are worth waiting for, and proper planning through the process can result in a great outcome. For advice about selecting and configuring a TEC telescope, information about current pricing and ordering, and more about our services too please contact us.

ORDERING A TEC TELESCOPE: to confirm your position in the production queue requires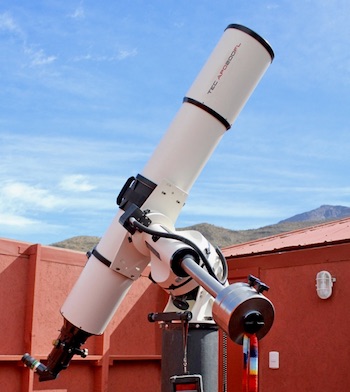 a formal order, and

deposit be provided to Company Seven, we forward this to the TEC factory.
Company Seven's services include (as desired): competent experienced counsel, quality control, instrument documentation, customer programs of instruction, assistance with observatory planning and construction, telescope installation.
For information about current TEC products availability, pricing, advice about configuring, ordering and our services please contact us, or to see a TEC telescope firsthand visit Company Seven's showroom.

Right: TEC APO200FL triplet apochromat refracting telescope mounted onto a Astro-Physics 1200GTO German Mount in a roll-off roof observatory (42,160 bytes).
Company Seven can not only provide the telescope and mount, we can build a home for it on your land.

PICKUP OR PACKING AND SHIPPING
TEC telescope optical tube assemblies and major components are professionally crated. We have good experience with shipping, we understand what can go wrong, and so we have refined our practices to reduce risks in transit. Telescopes ordered through Company Seven can be sent to our facilities for quality control inspection, acceptance testing, then they can be picked up and the customer provided instruction at our showroom near Washington, D.C. Or, we can arrange for delivery to you from our showroom, even complete with installation of an observatory as needed.

Alternatively we can arrange to send the telescope directly to you from TEC in Colorado. When you receive your order, it will become obvious that a great deal of care was also given to the safe packing of each item. It is very rare that any component is damaged during transit, we do insure shipments to provide coverage in rare instances of damage or loss.

TEC REFRACTING TELESCOPE INTERNATIONAL SALES
Company Seven generally serves a worldwide clientele however, unfortunately for some people we do have a verbal agreement with TEC that Company Seven will not deliver new Astro-Physics products into Germany, Austria or Switzerland unless the customer actually visits our showroom (near Washington, D.C.) to accept delivery at the showroom. This policy of TEC is to protect their exclusive distributors in those overseas areas.
When choosing a telescope we encourage you to compare, side by side, the optical and mechanical qualities of our telescopes against other telescopes of similar and greater aperture. And then also, compare the merits of their distributors.