PARTICLE WAVE TECHNOLOGIES - AN INTRODUCTION
innovative and aesthetically pleasing application of technology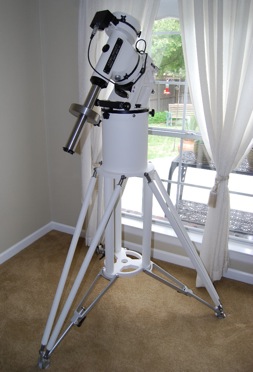 Particle Wave Technologies (PWTEC) is a company propelled forward by their commitment to providing customer solutions through innovative and aesthetically pleasing application of technology. The focus of the company has been literally to support astronomical telescope mounts with rigid, yet lightweight and aesthetically pleasing products. Since these are not mass produced items then there is plenty of leeway to incorporate changes of color, materials (alloys and or composites), and features that are tailored in the USA for the individual customer. Being a limited production commodity however means these products appeal to a most demanding clientele, but one that is patient to wait and get it right - to their satisfaction.
Right: A Pinnacle Tripod supporting the Astro-Physics state of the art 900 GTO German Equatorial Mount (35,175 bytes). Click on image to see enlarged view (189,211 bytes).
The founder of Particle Wave Technologies was known to Company Seven as a customer, having acquired one of our fine telescopes. He was then an enthusiast who envisioned improvements in other components of his telescope system that could compliment his superb Astro-Physics telescope. His company first come to our notice as a supplier of several innovative accessories including: desiccant holding covers, field tripods. These were bought by companies for resale including Astro-Physics - an important endorsement.
Particle Wave Technologies again came to our mind when Company Seven was looking for solutions to support some of our larger industrial and government products. Our requirements went beyond those of our typical amateur consumer and were not constrained by budget; we were pushing the envelope balancing rigidity with light weight while also factoring in resistance to high wind loading and endurance to environmental extremes from seashore to desert environments. With some cooperation PWTEC was able to start with one of their products and gradually evolve it to meet our requirements. We were so impressed with the desire of the founder of PWTEC to work with us to make a successful product that we decided to offer some of his consumer oriented product for sale to our amateur astronomy clients. And so today we consider these to be the most sophisticated and elegant products of their class, well at home with our premium Fork and German Equatorial Mounts mounts by Astro-Physics, Losmandy, Optical Guidance System (OGS), as well as for those who demand better for their Celestron and Meade Instruments telescopes.
To learn more about how these products are developed and precisely manufactured read our illustrated page describing the Monolith Tripod from concept to reality.
These tripods can be employed to support German Equatorial Mounts (above right), Fork Alt-Az mounts, or Fork Equatorial mounts (right below).
Several of the ideas that came out of the joint R&D efforts with Company Seven for our industrial products are now incorporated into the tripods we offer to our amateur customers. The features common to the Particle Wave Technologies platforms include:
• Fully engineered with computer optimized design for maximum strength, rigidity, and weight savings
• Fully CNC machined from 6061 and 7075 aircraft quality Aluminum and 17-4ph Stainless Steel - machined to extremely close tolerances
• Optional construction of some components from composites providing even lower weight
• Corrosion resistant materials and finish
• Modular design incorporating structural reinforced and ribbed for maximum strength, rigidity and weight savings
• Internally baffled to reduce dampening time
• Interference fit, zero play leg pivots - Teflon coated bearings for effortless opening and closing of the legs
• Legs adjustable in spread - tripod can be leveled then locked in virtually any position
• Fully supported leg design
• Four surface positive leg lock mechanism - no knobs
• Fine height adjustment built-into the feet for accurate leveling
• Interchangeable shoes for the feet - adapts to different surfaces
• Lightweight and compact for transport
• Superb machining and assembly quality control
• Stunning looks
• Low maintenance
• Available in clear, red, blue, or black anodized - custom colors available as an option
• Hardware options and accessories include:

Mount Head Pier Adapter so that one PW tripod can be be used to support one of many different mounts

'Skates' Wheeled Tripod Dolly

Leveling Feet, also permit tripod to be bolted down onto a platform

ATA or standard Carrying Cases, or Padded Bags to facilitate transporting and protecting your tripod

MONOLITH Series:

8 or 10 inch diameter post, with optional required PWTEC Mount Head Pier Adapter accepts mount heads with 6 up to 10 inch footprint

12 inch diameter available for mounts such as Astro-Physics 3600GTO by especial order

Standard heights are 24, 27, 33, 36, 39, 42, or 48 inch. Other heights available on request.

Fully supported leg design so the leg stays store out of way into the body of the Monolith

Ergonomically designed carry handle - reversible in orientation to maintain center of gravity if an adapter plate is attached

Convertible to permanent mounting with the addition of the permanent pier adapter

Low center of gravity

PINNACLE Series:

10 inch diameter post, with PWTEC Adapter accepts mount heads with 6 up to 10 inch footprint

Available in fixed (limited height adjustments) or variable height configurations

Open body design not only looks intriguing, but also offers very little resistance to wind loads

Choice of manual or electromechanical elevation control

Electromechanical model accepts optional computer control for local or remote operation

Optional manual or full index Mount Head Pier Adapter (360° rotate pier adapter)

User retrofitable: convert from fixed to variable height, or convert manual to electromechanical




PWTEC Optional Accessories:

ATA Transport Cases custom engineered by Company Seven

DDCAP Desiccant containing port covers for telescopes

Padded Carrying Bags lightweight solution for day to day storage and local moves

Pier Post Extension lightweight bolt-on extension to increase height

'Skates' Tripod Dolly with 6 inch diameter lockable wheels

Skate Accessory Tray


Contents Copyright 1994-2009 Company Seven All Rights Reserved