OGS: Optical Guidance Systems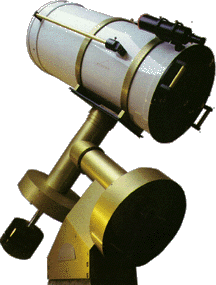 Company Seven is pleased to offer the Optical Guidance Systems custom research grade reflecting telescopes for professional and discriminating amateur astronomers. Unlike the manufacturers of mass produced telescopes, Optical Guidance Systems manufactures precision optical systems in apertures ranging in sizes from ten to forty inches (25.4cm to 101.6cm). Each system is tailored to the particular, and often times demanding customer requirements.
Mechanical components may be fabricated from aircraft quality anodized aluminum, magnesium, carbon fiber, Invar, and stainless steel. While standard construction of the optical tube is smartly engineered to provide excellent durability and performance, we can manufacture a number of components from optional extra lightweight materials to reduce overall weight even further. These systems provide repeatable high performance demanded of the professional or advanced amateur. Their finely engineered and executed appearance provide a confident pride of ownership, and establish instant credibility.
Optical Designs: Recognizing that no single optical design or size is best for all applications, Company Seven can provide OGS Newtonian, Classical Cassegrain, Wright-Schmidt or Ritchey-Chretien systems configured to specifically meet your needs. Where a relatively compact, versatile mirror system is a key requirement then we recommend the OGS Ritchey-Chretien telescope as it combines state of the art electronic and mechanical engineering, compact size, light weight and excellent on and off-axis image quality in one design. It is the optical design of choice for many of the new, "state of the art" observatory telescopes, and remains a popular choice for research applications including LIDAR.
Optics:
OGS instruments are manufactured to a very high optical and mechanical standard. These optics are manufactured by skilled opticians on modern computer controlled polishing equipment. The optician has many years of experience producing consistently fine industrial quality mirrors. The lightweight, conical mirrors are custom-made from near zero expansion ceramic, aluminized and silicon over coated or the customers choice of custom coatings are available too. Each system is diffraction limited, having a final wave front error of at least 1/4 PV and very smooth 1/30 RMS. A Zygo interferogram with fringe analysis is provided to certify the optical quality of each telescope.
The primary mirror is manufactured from Schott Zerodur&reg. The Zerodur mirror substrate is a glass ceramic combining rigidity with thermal stability, and unlike Pyrex and other super-cooled fluids, Zerodur has a crystalline matrix with boundaries smaller than the wavelength of visible light. Thus, over a long span of time the figure remains stable. As all optical systems must adjust to the ambient temperature before images are truly at their sharpest, it will be found that Zerodur will outperform Pyrex where thermal variations are pronounced. At low temperatures Zerodur will stabilize its image faster than Pyrex. Optional substrates can be employed to suit a customers mission requirement.
Some of our available coating options include:
Durable Aluminum Reflective Coating for mirror surfaces

Enhanced Aluminum High Reflectivity Coating for mirror surfaces

Reflective Coating for mirror surfaces with enhanced transmission into the ultraviolet spectrum

Reflective Coating for mirror surfaces with enhanced transmission into the infrared spectrum

Reflective Coating for mirror surfaces with enhanced transmission into the visible spectrum

High Transmission multi-coating over reflective coatings

Durable Silicon Monoxide coating over reflective coating for improved environmental durability

Combining the ultimate in optical and mechanical excellence with sophisticated automated controls, OGS instruments provide superior performance and years of trouble free operation. Whether your interest is in visual observation, photography or electronic imaging, photometry or spectroscopy, we stand ready to assist you with specifying an OGS system as well as most of your possible instrument needs to meet your requirements.

OGS Equatorial Mountings: Optical Guidance Systems manufactures a line of quality, high performance Fork and German equatorial mounts. It is understood how important the mounting design is to the performance of the telescope. An optical system, no matter how good is rendered useless when its support is imprecise and unstable. As a result, OGS has spared no effort in designing and manufacturing mounts which permit you to enjoy the full benefits of any superb optical system.

To support your telescope optical tube assembly, and permit precise positioning and tracking control Company Seven offers mountings including the OGS high performance German and Fork equatorial mounts. With performance features appropriate to an observatory instrument including Oversized precision bearings on all axes, ultra precision cut gear drive systems, over-sized shafts and gears.

Sub-arc second tracking and sub-arc minute pointing become routine when OGS mountings are complimented with our extensive selection of optional control software. Several choices of precision computer controlled drive systems, with digital position readout and sophisticated yet user-friendly control software are available. To keep the observatory control systems user interface uniform, we can engineer simpler or more sophisticated control systems to control OGS mounts. Even when tracking fast moving artificial satellites, acquisition and high resolution observations are effortless.

Selections: Available optional mechanical and optical design features and functions include:
Extended ultraviolet or infrared sensitivity

Thermally Stable Low Expansion Mirror Substrates

Thermally Stable Low Expansion Structural Materials

Electronic Secondary Focus Control

Relaxed Specification Optics for LIDAR or other less demanding applications

Remote control of focus, filter change, and positioning

Computer Controlled or Aided Celestial Navigation and Positioning System

Optional extra lightweight materials to reduce overall weight even further

Photographic and CCD imaging and guiding systems (such as our SBIG CCD systems)

Our OGS telescope optical tube assemblies and mountings are made and assembled in the U.S.A.