Leica Trinovid 10 x 32 BN Trinovid Binocular
The Leica Trinovid 10 x 32 BN is an incredible balance of high hand hold able magnifiction, compact ergonomics, and brilliant optical performance. Originally introduced in September 1998 as the 10 x 32 BA, and improved with the BN series introduced in January 2001, this accomplishment was attained by the application of state of the art computer aided optical design, and by the use of eleven elements of high grade optical raw glass materials as well as the high grade structural materials, such as magnesium and aluminum alloys.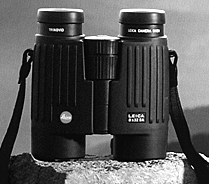 To the right is illustrated the Leica Trinovid 10 x 32 BN with eyecups in the extend position. While shown here in Slate (Black), the 10 x 32 BN is also available in Green.
With an excellent close focus ability of only 2.10 m / 6.8 ft. (even better than the 8 x 32 BN!), a wide angle 10X magnification with a field of view of 360 feet at 1000 yards (6.8 degrees), the binocular can only be surpassed by its larger 42mm and 50mm cousins in light gathering power. Thus, on an average day from daybreak to the borders of dusk, the tradeoff of aperture in favor of portability can easily be reconciled. The 23 ounce lightweight, remarkably slim and compact housings (4.7" H x 4.7" W x 1.8" D) assure these binoculars can easily fit into a coat pocket, or a large purse or travel bag making these a very handy binocular to travel with - having a binocular available is just as important as its optical properties.
With an eye relief of 13.5mm these will accomodate most spectacle wearers (prescription or sunglass). And with an interpupillary adjustment of between 56 to 74mm, and adjustment of +/- 4 diopters these can be easily adjusted to suit most persons.
The Leica durability is legendary, and these continue the trend. Being waterproof to a depth of 16 feet, and dry nitrogen filled so they are also fogproof. Even the temperature operating range of the Leica glasses far exceeds what a human can tolerate; so do not be afraid to store these where the temperature may range from -40 degrees F to +185 degrees F! And thier special lubricants and bearings assure that an operating temperature range is between -13 Degrees F to +131 Degrees F.
To make it even easier to carry and deploy Company Seven offers an optional "holster" custom fitted to hold this binocular. This is made of heavy duty leather, finished in black. It is similar in quality and construction to conventional heavy duty leather pistol holsters. This accessory can be attached onto a belt and it incorporates a leather strap to keep the binocular in place. The holster protects the objective (front) lenses of the binocular, and we include a smaller leather strap to attach the furnished binocular rain guard onto the binocular to protect the eyepieces. The holster provides excellent protection, and ready access to the binocular while hiking or climbing. Furthermore, one no longer needs to carry the binocular with the strap, it now becomes a quick and simple matter to "draw" the binocular and share it with others without the nuisance of having to clear a dangling strap over your jacket hood, hat or sunglass straps.
So for birding, concerts or sports in large venues, far away mountain tops or breath taking close-ups, this is an ideal sight seeing partner for travelers, hikers, and nature lovers.
Go to Leica price list
Back to Leica binoculars page
Back to Leica products page