Gitzo Rationnelle, Ball, and Three Way Heads
Rationnelle Three Way Heads
Pro Video Fluid Heads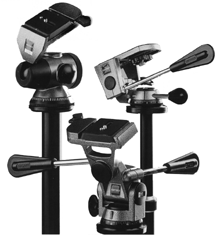 Gitzo tripod Heads are equally as important as the Gitzo tripods in providing rock solid support. The Gitzo heads are carefully engineered to position the anticipated load (typically a camera) precisely in a convenient position with a minimum of bother for optimum results.

(At right: Gitzo Ball, Rationnelle Three Way, and Rationnelle Low Profile Heads.)
There are three specific ranges of heads designed to cover all photographic possibilities, and many visual capabilities and eventualities. These are the:

Ball Head
Rationnelle Three Way Head
Low Profile Heads
Offering between them a varied range of support and flexibility, each head is carefully designed and crafted to take specific pay loads to work in combination with the equivalent Gitzo tripod.
Differences between the Heads are: designed motions, tripod Series, maximum load, platform and size, pan, tilt, side to side movement, and head weight.
Optional Gitzo accessories suitable for these heads include:
Adapter Plates; a selection of Quick Release Plates.

Model G1539 and G1584 Double Platforms

Model G236C Extra Low Center Column

Model G321 and G421 Leveling Bases

Model G1586 Location Shoe (set of 3)

Model G065 Monitor Platform

Model G583 Offset Bracket