Gitzo Tripods
"Table" Series 00 and "Weekend" Series 0 Tripods
"Studex" and "Inter Pro" Series 3 Tripods
"Pro Studex" Series 4 Tripods
"Tele Studex" Series 5 Tripods
The common differences between the tripod models are primarily payload ability, although the physical size and weight of the tripods vary dramatically from one model to another even within the same Series:

Series Name
Series Reference
Diameter (Inches)
Maximum Load (lbs.)
Table
00
5/8 (0.63)
6.5
Weekend
0
3/4 (0.75)
5.5
Sport
1
7/8 (0.88)
10
Reporter/Mountaineer
2
1-1/8 (1.13)
13-1/4
Studex & Inter Pro Studex
3
1-1/4 (1.25)
19-3/4
Pro Studex
4
1-1/2 (1.5)
22 to 26
Tele Studex
5
1-5/8 (1.63)
22 to 44
Standard or Performance Tripod styles: Gitzo offers two basic styles of tripods, each with very distinct benefits.
Standard style tripods have one fixed position of leg spread of 24 degrees. This ensures the Center Column is always vertical at any given leg extension, this is also very steady.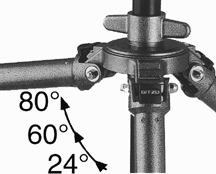 Performance style tripods are fitted with sliding stops which enable th tripod legs to be individually set at different angles; this can provide more flexibility to photographers operating at very low angles, or to anyone operating on very uneven or rocky terrain. There are two set angles on the Series 0, 1, 2 and 3 Studex of 24 degrees and 60 degrees. There are three set angles on the Inter Pro Studex Series 3, 4, and 5 series of 24 degrees, 60, and 80 degrees.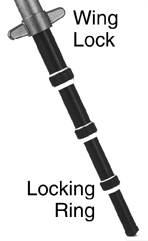 Twist Lock-Offs: All telescopic movements of leg extensions, and of adjustment to a Central Column glide effortlessly into position. The cushioned locking rings and wing locks ensure no slippage whatsoever, yet all are quickly released with great ease. The illustration at left shows a tripod leg with periscoping sections, and a wing lock at the top, and locking rings for the extended sections below.
Extra Height: Many of the tripods are quickly and easily fitted with either a sliding Rapid reversible column, or with a geared column for fine elevation adjustment. Either can be precisely and easily locked at the desired elevation.
y
All of our Gitzo tripods are fitted a the top platform with a reversible fixing screw (illustrated at right). This arrangement will allow the attachment of threaded accessories or heads which employ either the 3/8 inch or more common 1/4 thread.