Fujinon 15x 60 mm HB Binocular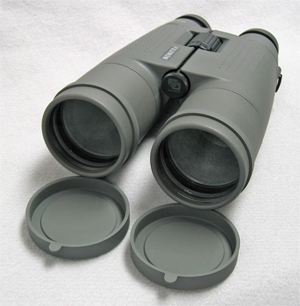 Fujinon is a well regarded maker of medical, photographic and sports optics products. Their HB series of binoculars are their result of efforts to develop a product line suitable for the demanding applications of the naturalist and hunter where the binocular may be subjected to shock, vibration, and environmental extremes hence their HB (Hunting Binocular) suffix. These are center focus roof prim arrangements offering a good balance of optical performance with cost, waterproof Military Spec. robust construction. The 15x 60 HB is the largest member of the series meeting the demanding needs of those who must smaller objects nearby, or study farther objects over great expanses. The 15x 60 mm HB is a good choice for law enforcement long distance surveillance, coast watching, mountainside observing, and low light nature observation. They are comfortable to grip and balance well in the hand, and these feel reassuringly firm in the hand complemented by their non slip coverings and recessed thumb pads. However, for extended sessions these are more at home on a tripod. And also because of it comparatively high 15x magnification it is not recommended by Company Seven for use on unstable platforms including small water craft.

Right: Fujinon 15x 60 mm HB Binocular view from front with provided Objective Covers flipped open (114,098 Bytes).
Click on image to see enlarged view (284,214 bytes)

This can also be used for several astronomical applications although the purist who can own more than one binocular should consider the similarly priced and better performing Fujinon 16x 70 mm FMT-SX individual focus binocular. With the 15x 60 HB the planet Jupiter appears as a small disc surrounded by four dots its larger moons, Mars is a distinctly red disc, and the elongated disc of Saturn can be identified too. One can identify many features on the moon and explore the terminator. The 15x 60 mm HB takes one from a naked eye visual magnitude limit of about 5-½ to reign deep sky objects as faint as magnitude 11 or so depending on the observers' eyes and local seeing condition. We have offered some better binoculars than these - maybe 20 or even 40 percent better such as the Carl Zeiss 15x 60 B/GA, but at 100 percent or more the cost; the Fujinon HB should be a serious contender for your dollar.

These employ a refined doublet objective lens arrangement feeding high transmission roof prisms. Fujinon's multilayer electron beam deposited antireflection coatings are applied to all air to glass surfaces assuring a high percentage of light throughput and the elimination of ghost images or glare. The prisms have permanent phase correcting coatings to insure all visible colors of the wavelength pass through more uniformly.

The front end is matched to a pair of well corrected eyepieces providing enough eye relief to suit most who wear prescription or sun glasses. The eyepieces of the 15x 60mm HB are constructed of five optical glass lens elements providing a field of view of 4 degrees, most of this uncommonly sharp and clear more so for a binocular of this comparatively moderate cost. These display less pincushion distortion than most competing models in their class so one has to work to see what little there is of it - but if you look carefully when panning then a slight bending of the image may appear towards the edges of the field of view. The Fujinon 15x 60 mm HB provides an actual field of view of 4 degrees making it fairly easy to acquire and center a distant target in the eyepiece; keep in mind that even the best competing 15x Roof and Porro prism models do not exceed 4.5 degrees.

The color correction of the HB is quite good too. When carefully focused on a black bird in a tree contrasted against a light blue sky you will not observe any obvious secondary color fringing. The terminator of the Moon for example is sharp, crisp, and three dimensional contrasted against the blackness of space. The end result is a high degree of contrast, clarity and sharpness across most of the field of view with striking three dimensional images.

Central Focus: the focus is controlled by turning the large knurled wheel closest to observer on the Bridge of the binocular. The Diopter adjustment is set with the smaller wheel just forward of the Focus control. This arrangement makes it a simple matter to share the binocular among several people.

Right: Fujinon 15x 60 mm HB Binocular Focus and Diopter adjusting wheels. Eye Cups shown extended (90,215 bytes).
Click on image to see enlarged view (162,496 bytes)

To adjust focus and diopter settings:
1. For those with eyes that do not differ in correction (perfect vision) adjust the Diopter Dial to center post between the + and - indicator by the small centering post. Then turn the focus dial as needed to adjust for near or distant objects.

2. For those whose eyes differ in correction* and who wish to do without prescription glasses, look through the binocular at a target and adjust the focus dial so that the left eye sees the image sharp and clear. Then while concentrating on the view through the right eye, turn the Diopter Dial back and forth (taking care not to touching the focus dial) until the image is most sharp and clear. Alternatively, those who know their prescription can dial this difference between the left and right eye (+1, 2, or -1, -1-½, etc.) into the diopter scale.

* Persons with astigmatism may have to use prescription glasses with any binocular to obtain the best result.
The HB central focus mechanism works smoothly and does not feel cheap or plastic.
The eye relief (distance from the eyepiece lens to the eye) of 16.3 mm is adequate for those who do not need to wear glasses and will accommodate many spectacle (prescription or sun glass) wearers too. In our experience the 15x 60 mm HB eyepieces are by design very sensitive to having the observer properly lined up on axis to the eyepiece and at the nominal distance from the eye lens. If one moves in too close or pulls away too far from the eyepiece then vignetting or shading of portions of the field of view will become noteworthy distractions. The eyecups extend and retract to suit the observer, and these have détentes which can hold the eyecup at the desired extension. With a little practice one will find their nominal eyecup orientation and eye placement.
The HB meet the US military specifications for water proofness. This rating is a measure of the binoculars' capacity to survive immersion in water at depth for a period of time. Our sense is the binocular will tolerate more shock, vibration and water immersion than the owner will. Furthermore, the metal and alloy materials used in the construction are nonferrous and so the binocular will not distort a magnetic compass.

Given reasonable care, then these binoculars can provide a decades of good service that is simply no likely to be matched by comparatively priced center focus models.
The 58 to 74 mm interpupilary (IP) spacing adjustment is made by pulling the hinged barrels together or apart. These motions are done smoothly with some mild effort, and stay where you leave them set. The seals and lubricants permit focus and IP spacing changes in temperatures ranging from from a low of -20 and + 50 degrees C.
Tripod Adapter: There is a good amount of area on these to grip comfortably, and to balance well in the hand. At 15x and weighing a bit more than 3.6 lbs. / 1.6 kg, these binoculars are hand hold able by most adults of average height and good health for brief periods of time. But over any length of time minor trembling or fatigue will take their toll. The solution for the magnification and weight issue is to attach the binocular by means of a Tripod Adapter onto a suitable tripod and head.

Right: Fujinon Tripod Adapter provided with the 15x 60 mm HB binocular set (77,013 Bytes).
Click on image to see enlarged view (122,938 bytes)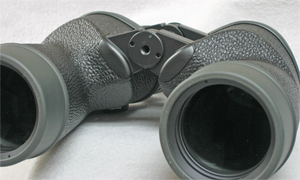 Fujinon recognized the desirability of having this accessory, and to their credit they include the Tripod Adapter as standard equipment with the 15x 60 mm HB. The binocular as it is supposed to be sold with the tripod adapter is how Company Seven provides it. However, the gullibility of the often short sighted American consumer has never been underestimated by E-Tailers some who pull the item and then offer a Tripod Adapter as an option instead. Of course since most E-Tailers never look at what they sell they may simply be ignorant and not unethical.
Left: Tripod Adapter socket on the 7x 50 FMT-SX (similar to that on the HB) with protective cover removed (46,652 Bytes).

The front of the 15x 60 mm HB binocular Central Axis Bridge incorporates a ¼ inch - 20 tpi threaded socket which will accept a the provided Tripod Adapter as well as most other third party L bracket style adapters. This binoculars' tripod socket is provided protected by a thread on plastic cover. Using this accessory one may leave their binocular fastened onto a suitable tripod and head, set up conveniently by a window for astronomy or panoramic uses or for looking at a bird feeder, etc.
For nature watching or other surveillance uses the common camera tripod and head work just fine with the 15x 60 mm. But for astronomical uses, most camera tripods are not well suited and so for these sessions Company Seven recommends an articulated parallelogram stand such as our Universal Astronomics UniMount™ Light Deluxe. Such a stand, when installed onto a suitable field tripod provides a most comfortable observing experience. Stands such as the UniMount™ do this by allowing the user to position a counter balanced binocular high enough to provide more comfortable head positioning; one could even be reclined in a lawn chair while observing objects overhead.

Fujinon makes an optional Magnification Doubler, a 2X amplifying lens that can be attached over one eyepiece to turn the binocular into 30x 60 mm spotting telescope. Simply unscrew and remove the binoculars left eyepiece assembly and in its place thread in the doubler. This accessory only is compatible with the 15x 60 mm HB.

Filters: Unlike some of their other other models Fujinon made no provision for these binoculars to accept filters over the eyepieces. However, to support those who buy the Fujinon binoculars from Company Seven we do a pair of Solar Filters made to fit over the objectives to permit the safe observation of Sun Spots.

Cast alloy construction, sealed with the interior filled with dry nitrogen prohibits fogging or corrosion of the interior optics.

Baffled and antireflection covered interior construction prevents ghost images and reduces possible effects of glare all accomplished without any loss of contrast or definition. Observations of even the brightest objects (the Moon, etc.) against the background of the night sky show no ghosting or flare.

Complete Rubber Covering: the HB binoculars are fitted with a textured covering. Their color is a very neutral dark gray with a hint of green. The binocular housing, focus mechanism, and eyepieces are sealed against water and the environment. The rubber coverings are provided for convenience of the user making the binocular more comfortable to hold in environmental extremes, and as a bumper protecting the metal parts from scrapes and minor dings. Company Seven can service any Fujinon we sell, and we can replace the HB coverings over time if needed. Note, these coverings are not guaranteed under the terms of the Fujinon warranty.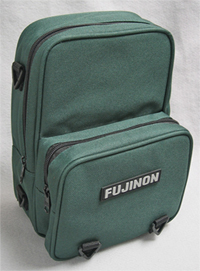 Another nice aspect of the 15x 60 HB is that it is provided with one of the nicer padded carrying pouches. Made of attractive durable woven nylon, this forest green pouch has two zippered compartments. The binocular with strap is accommodated in the larger space. While the smaller compartment houses the provided Tripod Adapter, can fit the optional Magnification Doubler (described above), and it has enough space to fit cleaning supplies, snacks, etc. The pouch is provided with a carrying strap for the top two attachment points. While other straps can be attached below the binoculars' compartment or at the front to suspend even more accessories. Unfortunately this pouch is not made available separately as an accessory by Fujinon.


Left: The carrying case provided with the 15x 60 HB (91,508 Bytes).
Click on image to see enlarged view (237,111 bytes)

The Fujinon binoculars distributed by factory authorized retailers in the USA are provided with a slip on rubber eyepiece cover (sometime called a rain guard), slip on objective lens covers, two hinged straps (for rain guard and strap), padded binocular neck strap, carrying case, instruction booklet, and Fujinon Lifetime Warranty for the mechanical and optical components. For security, the Serial Number is engraved in fine print on metal in a location on the binocular that will not be too easy for the average bad guy to find and erase. And every Fujinon received at Company Seven undergoes a comprehensive testing and approval process, so whatever we deliver will be among the best example that the factory can produce!