Fujinon 70 Series Tripod Adapter
Most amateur astronomers prefer to keep their binocular handy on a neck strap, at the ready to help sight a telescope onto a target or to observer wide expanses of sky however, some will not wish to hand hold a binocular when looking overhead for extended sessions. The solution for the weight issue is the optional Tripod Adapter used with a suitable platform, usually a camera tripod and head. Using this accessory one may leave their binocular fastened onto a suitable tripod and head, set up conveniently by a window for surveillance, for panoramic uses, for looking at a bird feeder, etc.

Right: Fujinon Tripod Adapter shown about actual size (41,288 Bytes).


This Tripod Adapter is a cast and machined alloy bracket made to facilitate the attachment of a binocular onto a typical camera field tripod with head, an articulated parallelogram stand, or onto other fixturing. The adapter has a a ¼ inch - 20 tpi threaded socket in its base to permit its installation onto a camera head for example, and a a ¼ inch - 20 tpi threaded male bolt at its head to attach the binocular. With its tapering narrow profile it is not only attractive, but also permits a wide range of Interpupilary Distance spacing for the attached bincoular.

The ¼ inch - 20 tpi threaded binocular attachment bolt slips through a hard plastic bushing, this permits the user of an attached binocular to pivot the binocular while attached to the bracket. The Tripod Adapter may be left attached onto many binoculars since it may fit into the case. It is also possible to leave it with a Quick Release camera head attachment plate installed at the base for quick installation and removal from the camera head.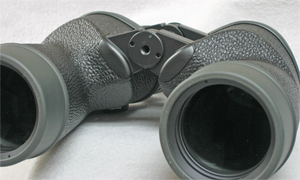 Left: Fujinon 7x 50 mm FMT-SX Bridge showing a ¼ inch - 20 tpi threaded Tripod Adapter socket (46,652 Bytes).

This component is compatible with many binocular models of up to about 80 mm aperture that incorporate a ¼ inch - 20 tpi threaded socket at the forward end of their central axis bridge. However, some larger binoculars or people with very narrow IPD spacings may require a different bracket; if you have any questions about compatibility of this hardware with your binocular, then please contact Company Seven.
While there are many simple cheap "L" shaped adapters, and some poorly engineered adapters made, Company Seven recommends and stocks the adapter made by Fujinon for most which can accept it.
Note most camera tripod and head combinations do not work well for astronomical applications with binoculars. And so for extended astronomical observing sessions Company Seven recommends an articulated parallelogram stand such as our Universal Astronomics UniMount™ Light Deluxe. Such a stand, when installed onto a suitable field tripod provides a most comfortable observing experience. Stands such as the UniMount™ do this by allowing the user to position a counter balanced binocular high enough to provide more comfortable head positioning; one could even be reclined in a lawn chair while observing objects overhead.

Fujinon 70 Series Tripod Adapter Specifications
Magnification
7 X
Weight
1,360 g. (48 oz.)
Height
19 cm (7-½ inches)
Width (at base)
218 mm (8.6 inches)
Depth (at base)
70 mm (2-¾ inches)
* Specifications are subject to change without notice.