DISTRIBUTION OF FUJINON BINOCULAR AND TELESCOPE PRODUCTS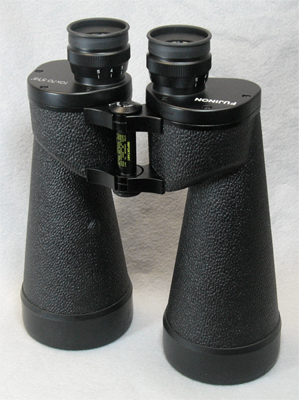 Company Seven's regularly stocks much of the Fujinon products that we describe on line. And every Fujinon received at Company Seven undergoes a comprehensive testing and approval process, so whatever we deliver will be among the best example that the factory can produce!
Right: Fujinon 10x 70mm MT-SX binocular (100,741 Bytes).
Incidentally, the MT-SX binocular in this image FAILED Company Seven's inspection process and was returned to the factory - can you find the anomaly?
A few other shops out there claim they check what they sell, yet few return anything to the distributor. Where will you buy your own Fujinon?
Click on image to see enlarged view (224,216 bytes)
Please feel free to visit our showroom to see these products, or contact us to place an order for delivery world-wide. Our staff will be your primary source of information regarding products and prices, estimated delivery dates and the status of your order for those orders placed directly with Company Seven. Your support makes resources such as this Internet Site and our showroom possible.
Company Seven is a registered U.S. Department of Defense contractor registered with DLA and with ORCA.
Click HERE to learn how to order products from Company Seven.