| | |
| --- | --- |
| | |
THE VERY LAST CARL ZEISS 15x 60 B/GA BINOCULARS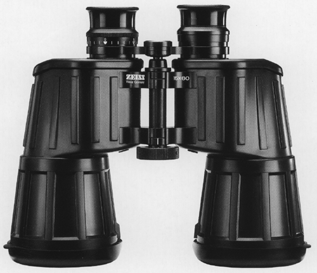 Our notice of July 1998: After being in production in one form or another of 15x60mm for more nearly thirty years, Carl Zeiss and Company Seven have announced that they are offering a limited number of new 15x60mm B/GA binoculars which regrettably will be discontinued when we are sold out. These last production 15x60 B/GA are now being completed at the factory in Germany and with their new wide field high-eyepoint eyepieces are scheduled to arrive in September 1998. However, we are accepting orders now and we do encourage those who want one to act promptly. Company Seven knows this instrument is for those who wish the best compact medium aperture binocular in the world" for astronomy, nature watching, coast watching, etc. This is a personal pick of Martin Cohen, the most discriminating Director of Company Seven Astro-Optics Division. As inventory begins to run down, then we reserve the right to reserve sales only to Company Seven's established clientele, and to members of the "Zeiss Historica Society".
The Zeiss "T*" multi coatings insure that transmission is better than 90% across the visual spectrum passing through the already incredibly transparent 60mm diameter doublet objective lenses made of premium cut block glass, through the prisms, and superbly corrected long eye relief eyepieces! The result is optimum image brightness, brilliance, resolution, and color fidelity - even in poor lightng cndition these scream! The precisely machined and fitted components will provide several lifetimes of service; in twenty or thrity years of use ithey may requrie a cleaning and relubrication - but then they will probably feel as new again!
Imagine clearly identifying Saturn at only 15X, or watching the phases of Venus, following the four brightest moons as they orbit Jupiter, find most of the "Messier Catalog" of deep sky wonders (galaxies, nebulae, star clusters, etc.) and the occasional passing comet. Or walk along a park, studying distant birds and wildlife. An excellent choice for long distance surveillance, and coast watching. Very rugged, corrosion resistant contstruction - yet surprisingy well balanced and lightweight for hand hold ability. All with the ease of a central focus, high resolution field glass that easily accommodates one who chooses to wear sunglasses or prescription spectacles.
Company Seven will include fitted objective covers which fold away between the objective barrels of the binocular when not in use, a standard Zeiss carrying strap, and Zeiss rain guard. These instruments are fully registered with Zeiss for support in the U.S.A. or internationally.
If you have to ask the price then you can not afford it but for the record: the price will be $2,295.00 each.
Additionally, Company Seven will offer options for these binoculars which include:
Carl Zeiss Tripod Adapter for European and U.S. Tripod Standards for $120.00
Ultra lightweight, compact and portable carbon fiber field tripod with head for $875.00
Portable field tripod with parallelogram head and counterweight for $495.00
Carl Zeiss Wide Leather Strap $30.00
15 x 60 B/GA Specifications
Magnification
15 X
Objective Diameter
60mm
Exit Pupil
4.0mm
Closest Focus Distance
Appx. 15.0m (50 ft)
Actual Field of View
4.6 Degrees
Weight
1,576 g. (55.5 oz.)
Height (Eyecups Extended)
192mm (7.56 in)
Width (@IPD of 65mm)
219mm (8.6 in)


Contents Copyright 1994-2000 Company Seven - All Rights Reserved