from the only full-line Astro-Physics factory authorized retailer in the Americas

Select from the date or topics below to read detailed information: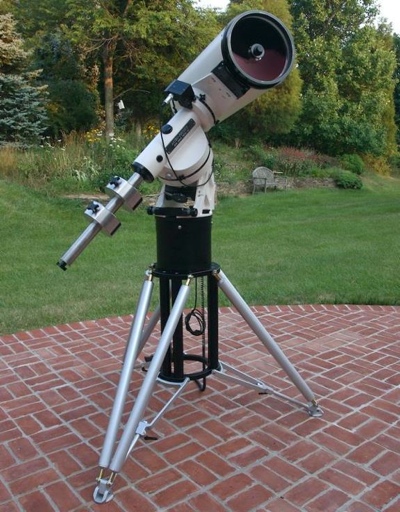 Introduction and General Availability and Ordering Information
The table below indicates whether or not we are accepting new orders for a particular AP product, and if sold out then when our most recent production lots were completed. Planned production runs list the date when the customers who ordered from that respective run may expect delivery. Note it is not unusual for scheduled delivery dates to slip since these are custom crafted instruments and will leave the factory only when all desired parameters are met. Some items listed are practically speaking no longer in production however, on occasion Astro-Physics has reintroduced some products and so as an public service as well as in anticipation we will leave the descriptions of these items on line too.
Right: Astro-Physics 10 inch Cassegrain telescope on Astro-Physics 1200 GTO German Mount supported by PWTEC Pinnacle field tripod.
PWTEC tripod choices also include the Monolith (90,261 bytes).
Click on image to see enlarged view (123,402 bytes).
Waiting List Procedure:
We maintain waiting lists of customers who seek to be invited when new production runs of a particular telescope or mount is announced. You may make a request to register on our waiting list by contacting Company Seven on line, or by E-Mail (sent to "info@company7.com"). Since we file these electronically please mention the item you wish to register for in the E-Mail subject header.
Be sure to include your name, address, day and evening telephone numbers, and E-Mail address. Considering the relatively long lead times for some products it is imperative that those who are on our waiting lists provide as many placed and ways to contact them, and over time they must insure their records are up to date. Double check the E-Mail to make sure you provide a correct return E-Mail address, and make sure that your E-Mail filter will accept notices coming from '@company7.com'. If you have a change of E-Mail address, or telephone, etc. then please inform us so that we may amend the record accordingly.
Allocation Process at Company Seven
In deciding how to allocate our telescopes and mounts Company Seven does not necessarily follow strict chronological order; we accommodate persons based on a number of considerations including customer history with Company Seven, whether or not they need a telescope or mount to complete a system they have ordered from us*, their proximity to our region, and health. We also strive to place some percentage of our larger instruments into places where they may do the best public service. We are also concerned about the second hand "scalping" (ordering to then resell at a profit while bringing no real value to a transaction) of these products and so we try not to place our instruments with those who have demonstrated such tendencies. Company Seven strives to insure those who have patronized Company Seven or who otherwise really will appreciate the instrument can acquire one.
Since Company Seven maintains a low profile in the marketplace our waiting lists are not as long as those elsewhere. So the ♥ symbol will appear on the schedule tables below next to those items for which we no longer have a long waiting list, and so we can deliver either immediately from stock, or soon from either the current or next production lot.
Ordering & Waiting Procedure:
Enter the waiting list as mentioned above. Those people who are notified when we are accepting new orders should act very quickly to formalize an order. If you receive an invitation to order but do not really want the product for your own use then please simply decline the opportunity and we will pass it on to someone else who has been waiting patiently. Of course, you may cancel an order at any time prior to delivery with no penalty.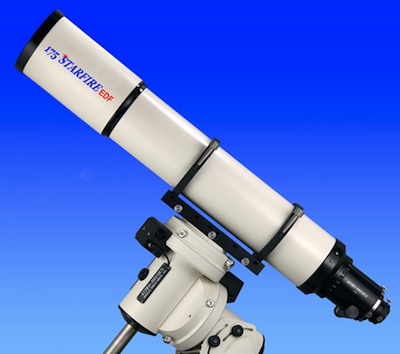 Until the lists abate, a customer who is offered an opportunity to buy should order only one mount or telescope from the same production lot. For example one should not order a telescope from Company Seven while simultaneously ordering another directly with the factory.

Right:Astro-Physics 175mm EDF Apo Telescope on 1600GTO mount head, both introduced in 2012 (31,734 bytes).

Once your order is placed, sit back and relax anticipating the arrival of a true expression of fine craftsmanship and your rights to brag about how long you had to wait for yours. It has been common experience among our clientele that the time will go by faster if you can find a way to put it out of your mind; sending frequent E-Mails or calling asking for the production status will not make the work go any faster and tends to make the agony appear prolonged. The owner of Company Seven once ordered a 7" f/9 Apo telescope in February of one year for himself and later forgot about it so that by April of the following year, while reconciling orders, he was questioning whether or not he had actually ever placed that order with the factory! After being reminded that he had placed the order, he was condemned to be in agony with anticipation from then until delivery later in the year; incidentally this instrument is now at the University of Maryland Observatory. Remember: "Roland Christen will send no product before its time..."

*Deliveries of Orders:

There are people who want to buy both a new Astro-Physics telescope and mount at the same time. This is rarely possible because neither the order taking or the deliveries of telescopes and mounts are coordinated. The production of telescopes and mounts are planned separately - each is offered independent of the other. If you do have an mount and telescope on order then we will do our best to work with you to coordinate delivery but usually each item ordered will be delivered when it is completed, regardless of whether the corresponding mount or telescope is ready as well. We urge you to order whatever is offered to you as it is offered, then if you end up with a mount or telescope and need the other component Company Seven will work to fill your requirement from our next available production lot.

International Sales:

Company Seven generally serves a worldwide clientele however, unfortunately for some people we do have a verbal agreement with Astro-Physics that Company Seven will not deliver new Astro-Physics products into Japan, France, Italy, Germany, Austria or Switzerland unless the customer actually visits our showroom (near Washington, D.C.) to place the order or to accept delivery.

Most Recent Availability Information:
Catadioptric Telescope Optical Tube Assembly
Accepting Orders?
Planned Delivery Date
7 Inch f14.5 Mak "FastMax" Maksutov-Newtonian
No
10 Inch f14.6 Mak Maksutov-Cassegrain
No
12 Inch f3.8 Mak Riccardi-Honders Astrograph
Yes
2017
12 Inch f12.5 Mak Maksutov-Cassegrain
No

German Equatorial Mounts
Accepting
Planned Delivery Date
Model 400 GTO
Discontinued
Model 600E GTO
Discontinued
Model Mach1GTO ♥
Yes
December 2016
Model 900GTO
Discontinued
Model 1100GTO (info and images sent with invitations to order) ♥
Yes
December 2016
Model 1200GTO
Discontinued
Model 1600GTO (info and images sent with invitations to order) ♥
Yes
December 2016
Model 3600GTO
To Be Announced
2017
Notes:
♥ = No long waiting list remains! Company Seven can deliver either from stock, or relatively soon from pending or next production lot.

Company Seven does routinely take in used Astro-Physics telescopes and mounts, and so we at almost any time of year may be able to help those who have historically chosen to buy from Company Seven.