155mm f7 STARFIRE EDF APOCHROMATIC REFRACTOR ASTROGRAPH
WITH 4" FOCUSER AND 4" FIELD FLATTENER LENS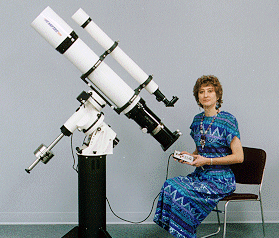 This 155mm f7 StarFire EDF (6.1" aperture) was designed to be the ultimate astrograph while providing uncompromising visual performance. Outstanding photographs published in Sky & Telescope, Astronomy and various international astronomy magazines can only hint at the detail of the original prints and negatives. The 30" x 40" prints of the Lagoon/ Trifid and Horsehead Nebulas that are on display in our showroom show incredible pinpoint star images from one side of the print to the other with no sign of image degradation. Truly amazing! Photographic spot diameters measure 15-20 microns over a 5 degree field (4" circle). The fast f7 focal ratio captures elusive and faint deep-sky objects easily with incredible detail. This lens has outperformed mirror type astrographs twice its size, as we had predicted.
The EDF is superb as a visual instrument as well. It is easily capable of high-power observations of the moon and planets. Secondary spectrum is nearly absent at any power. Deep-sky views are equally impressive due to the very high transmission of the three glass types.
In the astrographic configuration, the lens is a 5-element design in 2 groups (3 elements in front, 2 in rear). The heart of the front triplet apochromatic lens is an ED glass and 2 crowns. This combination totally eliminates all secondary spectrum, coma and spherical aberration. The rear lens is a 2ement field flattener that eliminates astigmatism and field curvature. In the visual configuration, the rear 2-element lens is removed and replaced with a standard visual adapter. This adapter allows all our usual accessories to be attached, as well as all standard 2" and 1.25" oculars.
The tube assembly comes fully baffled for a 5 degree 4" field. The giant 4" focuser is silky smooth and can be locked for long time-exposure astrophotography. Although it is possible to attach your own custom-made film holder, we have determined that the most practical camera back is the Pentax 6 x 7cm medium format camera. Field coverage is 3 x 3.5 degrees. After 4 years of field research, we've chosen this camera because it holds the film critically flat without the use of special vacuum attachments. This is not the case with other, less expensive film backs; the Pentax allows the user to critically focus directly on the ground glass with a high-power magnifier, assuring the highest possible resolution.
Another feature is the extra large opening and minimum back distance to the film plane which minimizes the inevitable vignetting of the light in the extreme corners of the format. All the important color and black/ white films are available in the 120 format, which is not the case with large formats. It is for these reasons that we have standardized on the Pentax 6 x 7 and offer all the attachments necessary to use with the 155mm EDF.
The Astro-Physics giant 4" focuser is truly versatile. The 4" ID of the drawtube will allow maximum coverage of the Pentax 6 x 7 cm negative for medium format photography. The inside of the drawtube has a series of knife-edge baffles for maximum contrast. When you wish to use your 35mm camera with the Astro-Physics telecompressor for even faster exposures (f5.2), you can attach the 2.7" reducer and you are ready to go. The 2" and 1.25" adapters will allow you to use all of our standard accessories to maximize your visual and photographic applications.
| | |
| --- | --- |
| Color correction: | Less than 0.01% focus variation from 405nm to 706nm (r to h wavelengths) |
| Clear aperture: | 155mm (6.1") |
| Focal length: | 1085mm (43") efl |
| Resolution: | 0.74 arc second |
| Coatings: | Multi-layer, overall transmission greater than 97% in peak visual wavelengths see table at right |
| Magnification range | 20x to 600x |
| Tube assembly: | White, 6.5" aluminum tube, baffled, flat black interior, engraved push-pull lens cell |
| Focuser type: | 4.0" I.D. Astro-Physics rack & pinion focuser, 4.5" travel, 2.7", 2" and 1.25" adapters, 2.5" extension |
| Telescope length: | 41" (1,040mm) with dewcap fully retracted |
| Tube weight: | 27 lbs. (12.3 kg) |
| Field Flattener: | 4" diameter 2-element with multi-coatings |
| Carrying Case: | Foam-fitted, vinyl-covered plywood case |
| Carrying Case dimensions: | 44-1/2 x 10.5 x 10.5 inches |
| Carrying Case weight: | 15.5 lbs (7 kg) |
| 35mm Photographic field at prime focus: | 1.3 x 1.8 degrees @ f7 |
| 35mm Photographic field with Telecompressor: | 1.7 x 2.4 degrees @ f5.2 |
| 35mm Photographic field with 2x Barlow: | 0.6 x 0.9 degrees @ fl4 |
| 6 x 7 cm Photographic field at prime focus: | 3.2 x 3.7 degrees @ f7 |
| Maximum Photographic Field: | 5 degrees, 4 inch circle |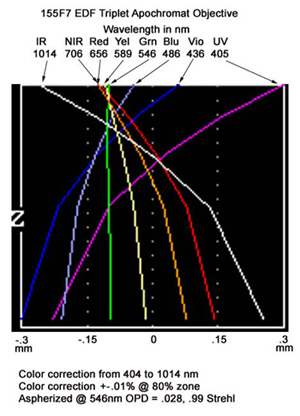 Left: Color correction of the Astro-Physics 155 mm EDF Apo telescope (69,285 bytes).
Click on image for higher quality, enlarged view (178,123 bytes).