Vixen Ash Wood Tripod
It has long been a request to provide a rock solid hard wood tripod for the GP and GP-DX mounts and as announced in 2003 - we've got it! This tripod is solid, providing excellent dampening and resistance to flexing. It is also a well made and a handsome piece of furniture to behold.
The two section extension legs are made of Ash, a durable and attractive hard wood used to make Baseball Bats for example. Heavy duty legs are secured to a platform which accepts the Great Polaris mounts. Each two section tripod leg has two tightening clamps to guarantee stability, and a large metal accessory tray is included. Some simple assembly is required however, no tools are needed to assemble it in the field. This is the perfect tripod for any Vixen mount and it can be purchased separately or packaged with a new GP or GP-DX mount.
This is the same wood tripod and provided with the well regarded TeleVue Gibraltar mounts, and it is is the basis for the TeleVue Alt-Az mount for their 5 inch Apo, the 127. Made in the USA.
Solid ash wood legs legs, tray and GP-type mount adapter included.
Model # AM-WT-5000 (in Green finish)

Left: Vixen Ash Wood Tripod (40,563 bytes).
Shown with optional GPDX equatorial mount.
Click on image to see enlarged view (66,042 bytes)

Company Seven can retrofit your TeleVue Gibraltar Ash or Teak wood tripod to accept the Vixen GP or GPE series heads in Green or White. And as a courtesy to our customers, we also offer a retrofit hardware kit that we can send to you so that you can do it yourself. Please contact Company Seven for further information.
---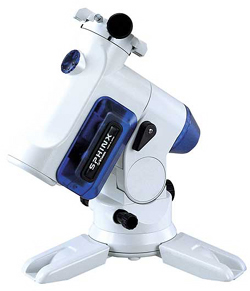 SX Tabletop Compact Tripod

This tripod is included as a standard component with the Vixen SPHINX SX compact mount set. It is also available as an option for the standard SXW system or head. This platform is designed to provide an extremely compact form for use of the SPHINX mounts with shorter length telescope optical tube assemblies when set up onto any flat, stable surface.

The SPHINX mounts makes this stand even more practical for tabletop use since the mount counterweight shaft can be retracted into the mount head Declination Axis housing and locked at any point along its length. Note that shortening the exposed counterweight shaft length may require the use of an even heavier Counterweight to achieve proper balance of the payload on the mount since the shortening of a shaft provides less leverage.

Weight: 1.4 kg / 3.1 lbs
Model # MT-SX-2511


Left: Vixen SX tabletop tripod (32,648 bytes).
Yes, we know the photo does not show the tripod alone, but it looks so cool with the SPHINX SX Mount!
Click on image to see enlarged view (51,165 bytes)