---
The Solarview Ltd. SF/DSF series of Fabry-Perot etalon based filters have become known among the more astute in our astronomy community as the 'Rolls-Royce' and 'Ferrari' of this class of hydrogen-alpha solar filters. The SF/DSF are filter sets that rely on the customer (or Company Seven) to provide a suitable telescope optical tube. There is some assembly required of the systems in the field, only minutes really, but there are customers who want to go out and observe quickly and for comparatively brief sessions. These are people who really value ease of setup and portability above all else; and they would rather pay a premium for a superbly constructed portable solar telescope that is handy enough to travel with instead of paying less for a much larger solar telescope that may show no more in terms of actual solar definition. These are the clientele for which the Solarview (SV) series solar telescopes were developed to satisfy. So the proof is there for anyone to see, these offer an impressive balance of easy portability and fine results, and that are attainable by those on the budget of mere mortals.
Right: Solarview SV50 solar telescope (34,645 bytes).
The take anywhere SV-50 provides 50mm of unobstructed aperture which delivers a high contrast image full of intricate detail. Its larger brother, the SV-60, is still extremely portable and yet provides an extra 10mm of aperture in a slightly longer package. Although 10mm may not sound much, it means that the SV-60 has 40% more area than the SV-50 and therefore delivers images which show even finer detail and with notably brighter views too. Because of the additional light throughput of the SV-60, at similar working magnifications the SV-60 will allow you to employ faster shutter speeds thus improving the chances of freezing the better moments of atmospheric steadiness. So Company Seven recommends the SV-60 over the SV-50 for our customers who may pursue imaging (film, digital, or video) applications.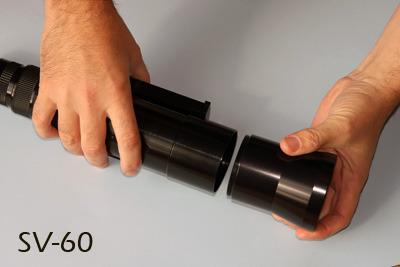 Both the SV50 and SV60 instruments are built upon achromatic objective lenses with a focal ratio of f/8. Being achromatic lenses, the degree of color correction is not as critical to a solar telescope that transmits light only in one narrow portion of the spectrum; what is more critical is that the quality of the figure, polish and antireflection coatings of the lens are good. So the SV-50 provides a working focal length of 400mm while that of the SV-60 is 480mm. Basically speaking, if you used the same eyepiece with both scopes then the SV-60 would show an view that is 20% larger in terms of magnification. But either telescope is still capable of operating at comparatively moderate magnifications, this is particularly beneficial during observing (or imaging) sessions where the atmospheric steadiness conditions are poor as this can minimize the visual impact of scintillations. Of course either telescope is capable of operating at the higher magnifications too, well high enough to not only fill the eyepiece or camera with the full disc of the Sun but close in on particular regions of activity.
Left: Solarview SV60 solar telescope showing extension section (34,645 bytes).
The additional tube length required for the SV-60 to achieve f/8 is provided by an extension piece which assembles onto the main tube body. This quick and easy to assemble extension, allows the SV-60 to be carried around in the same size carrying case as the SV-50 even while retaining its greater image scale.
The etalons used in both scopes have a bandpass of 0.7 Angstroms which makes them ideal for viewing both surface and prominence detail. A thumbwheel tilt mechanism is provided to allow you to adjust the tuning of the etalon slightly. This may come in useful to study material which has been ejected from the Sun's surface at such a speed that the light it emits has been (Doppler) shifted slightly away from the main h-alpha wavelength.
All optical coatings are ultra-hard, this means that they will not degrade over time as softer coatings can.
"..impressive balance of easy portability and fine results, and that are attainable by those on the budget of mere mortals"
For proof of concept simply look at some of the images of the Sun taken with the Solarscope SV-50 telescope by Ninian Boyle: