Precise Spectrographic Systems for Scientific Observing & Imaging
Company Seven has nearly four decades of experience providing for the amateur and professional astronomy communities; we are just about the longest-lived astronomy specialty store remaining in the Americas, all the while operating as a licensed business under the same continuous ownership. We are among the few factory-authorized representatives for this product line in the Americas, importing directly from Shelyak. Most people in the Americas and particularly those in the middle Atlantic States, will appreciate and benefit from the support that Company Seven's staff provides: we can be your primary source of not only the hardware but of instruction, and for service after the sale.

We invite you to visit Laurel, Maryland showroom to see Shelyak products and other materials, we host many visitors who are traveling into the New York to Washington, D.C. region and our showroom is only minutes from Baltimore-Washington International, Washington Reagan, and Washington Dulles International airports. You may join us on occasion see the Shelyak Instruments in action when you attend some our daytime solar observing sessions hosted at our showroom or evening star watch activities.

Once you have been duly impressed then you can order your own Shelyak instrument. This can be done with a simple phone call or E-Mail, or visit to Company Seven. We will be happy to help you learn more about the systems and understand their differences; after considering your requests and particular requirements we could recommend what will best suit your intended applications. Furthermore, Company Seven can provide fine new or used telescopes that can be employed with these instruments, and we also design and sell custom Airline Transport Association (ATA) approved custom cases to accommodate our Shelyak Instruments.

Company Seven is also a U.S. Government Contractor, registered with SAM and the CCR, and we are a TSA Known Shipper. As such it is a simple matter for government agencies and laboratories to attain advice, hardware, and services from Company Seven.

Your support makes resources such as this Internet Site possible. If we can be of assistance to you in any way, please simply telephone Company Seven at 301-953-2000 or send E-Mail to Company Seven.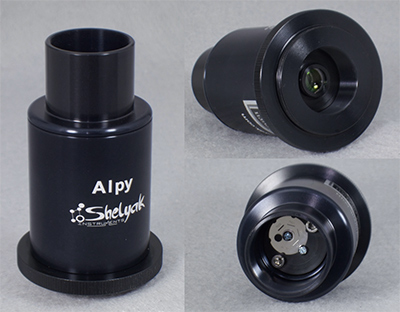 COMPANY SEVEN: QUALITY ASSURANCE AND SUPPORT
As Shelyak instruments arrive at Company Seven each is inspected and tested to assure proper function, this is part of our routine of quality assurance for our customers. This work that we do puts our team at a distinct advantage in terms of experience and working knowledge over 'E-Tail' oriented retailers who tend to drop ship products or simply turn around sealed packages to their clients, both that add no real value to a transaction.
Right: the handy and economical Shelyak Alpy 600 Spectrograph undergoing quality assurance inspection at Company Seven (65,087 bytes).
Click on image to see enlarged view (183,200 bytes).

Another distinguishing characteristic of Company Seven is that after you acquire your Shelak equipment then from us then should it ever require routine cleaning or repair, or upgrading of a component either under warranty or not, then Company Seven will be your service center as well - of course you retain the choice of returning it to the factory in Europe too. Anyone who made the wise choice to order theirs from Company Seven will see benefits that no other retailer in the Americas is qualified to provide.
PACKING AND SHIPPING
When visiting Company Seven is not practical for you then we can deliver the Shelyak instrument to you, to almost anywhere on Earth. When you receive your order, it will become obvious that a great deal of care was also given to the safe packing of each item; it is very rare that any of these most durable components is damaged during transit.

Shipments originate at Company Seven facilities near Washington, D.C.
Click HERE to learn how to order products from Company Seven.