"A manufacturers warranty is the tangible expression of their confidence in the product. Martin Cohen"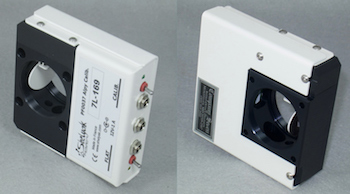 The warranty that accompanies each Shelyak Instruments system sold by Company Seven is extended solely to the original purchaser of the product. Company Seven warrants its Shelyak Instruments products to be free of manufacturing and workmanship defects when used as directed under normal use for a period of two (w) years from the date of purchase. Company Seven and Shelyak Instruments will repair or replace such product or part, of which upon inspection by us is found to be defective in materials or workmanship. This does not include postage or insured shipping fees, if applicable.
Right: Shelyak F0037 Alpy Calibrator undergoing acceptance testing at Company Seven (41,418 bytes).
The Warranty provides the original registered owner, while the unit remains in custody of the original registered owner:
The product is warranted against defects in workmanship or material.
Any storage case and its foam liner are excluded from this warranty, though Company Seven ATA cases include their own more rigorous warranties.
The plan does not cover loss of the equipment (by theft, etc.), or damage by vandalism, accident or fire.
Recovery is limited to the repair or replacement of the product with the same model.
If the damaged product is discontinued then it may be replaced by a similar model.
Any evidence of disassembly, tampering, shock or impact, or improper cleaning technique voids the warranty AND MAY RENDER THE EQUIPMENT UNSAFE TO USE.
This warranty does not obligate Company Seven or Shelyak Instruments to reimburse the original purchaser or any user of the equipment for any related expenses, loss, incidental or consequential damages which may arise in connection with the loss of use of the equipment.

Those of you contemplating the arrival of a new system can take comfort with the fact that before you ever see your new Shelyak Instrument the experienced technicians at Company Seven will have inspected it, and verified the proper performance and cosmetic qualities of every newly arrived component. We do this to insure you obtain the most perfect example of the product that our experience shows is possible. This guarantee comes from Company Seven, a proven and highly credible presence operating under the same management in the astronomy and defense communities for decades.
Furthermore, for those astute enough to select to purchase from Company Seven we offer cleaning or adjustment services that may alleviate our customers concerns about doing so themselves or having to pack and return an instrument to Europe.
Those who acquired the unit through Company Seven may obtain remedy under warranty or routine servicing by simply returning the instrument to Company Seven in Maryland. To arrange any return for remedy or for routine maintenance and cleaning visit our showroom, or contact us by phone (301-953-2000), or E-Mail, to obtain a Return Authorization.
Return to our Shelyak Index Page