QUESTAR LIGHT WEIGHT RANGER 3.5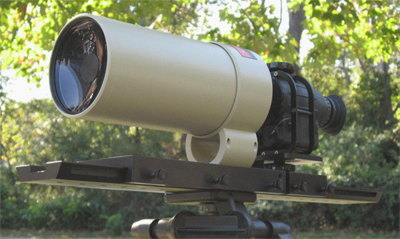 The Ranger 3.5 is an ultra telephoto lens with an effective focal length of 1175mm at f13.2 capable of showing a bicycle spoke one mile distant, and it weighs only 2.6 lbs (1.2 kg). The Questar Ranger 3.5 model is based on the ultimate compact spotting telescope design - the Questar 3-1/2" Questar Field Model. Essentially the Ranger is a simplified version of the Field Model in that the Ranger is provided without the Control Box that would otherwise integrate a Finder and capability to change magnifications quickly. This makes this unit less costly, more compact and lighter weight than our conventional Questar 3-1/2 inch aperture telescopes. It is a good choice for installations and uses and where high resolution is required but where the operator will not need to make quick changes of magnification.
Right: Ranger 3.5 on our optional Camera Cradle PN 53600 and with optional NV Sight attached (109,781 bytes).
Click on image to see enlarged view (218,524 bytes).
The Ranger is provided with a C Mount for attachment of an optional Video Camera, Night Vision Sight, etc. It can accept other optional hardware and eyepieces that will permit a broad range of visual uses, and CCD or film photography too.
The Ranger is the telescope for those who require the same high resolution quality of view as the other Questar 3-1/2" models but do not need the built in features of these Questar telescopes. The simpler design of the Ranger also results in an even more rugged telescope. Particularly good uses of this telescope include video nature observing and surveillance. The instrument can operate with oculars attached form visual uses, CCD or film cameras, or night vision devices. As a visual telescope with the optional Questar Image Erecting Amici Prism the Ranger is a 1,475mm system providing from 46X to 185X views; other optional accessories can extend either range even further.
Specifications:
Optical Characteristics:
Design: Maksutov-Cassegrain Catadioptric
Effective Aperture: 89mm (3.5 inches)
Nominal Effective Focal Length: 1175 Photo-Visual
Standard Corrector Lens: BK7, durable MgF2 Anti-reflection Coated
Optional Corrector Lens: Fused Silica, durable MgF2 Anti-reflection Coated
Standard Primary Mirror: Pyrex substrate
Standard Primary Mirror: Zerodur substrate
Primary Mirror Diameter: 96mm (3.78 inches)
Secondary Mirror Diameter: 29mm (1.14 inches)
Standard Mirror Coatings: Aluminum coated with SiO overcoat
Optional Coatings: High Transmission Broad-Band and Low Reflection
Mechanical Characteristics:
Barrel: Aluminum with press fit corrector cell
Barrel Length: 26.3cm (10.35 inches) with C-Mount
Barrel Length: 30.6cm (12.05 inches) with optional image erector and eyepiece
Barrel Diameter: 10.8cm (4.25 inches)
Baffle: Wire helix in central tube
Mirror Mount: Stainless steel sliding tube matched to central plate, integrated with mirror mounting thimble
Focus Mechanism: Manual 24 pitch ground stainless steel focus rod; direct acting on mirror thimble, spring loaded
Optional Focus Mechanism: Electric variable speed, with limit switches and joystick control
Mounting Positions: One each 1/4"-20 TPI and 3/8"-16 TPI
Finish: Aluminum components anodized; exterior surfaces Polane T polyurethane, light gray.
Weight: 1.18 kg (2.6 lbs) with furnished C-Mount
Weight: 1.48 kg (3.25 lbs) with optional image erector and eyepiece
Package Weight: 4.9 kg (10.75 lbs) complete with carrying case
Performance:
Optional Effective Focal Length: 480mm at f5.4 up to 3100mm at f35 with optional lenses
Visual Magnification: 20x (2.15 degrees field of view) to 294X (0.28 degrees)
Nominal Focal ratio: 13.2 at 1175mm (variable)
Focus Range: 6 Meters/ 20 feet to infinity
Optical Resolution 1.0 Arc Second
Standard spectral response: 350nm to 1.5 microns
Optional spectral response: 200nm to 3.5 microns.
For current dimensions and a construction overview of the Questar Field Ranger sold by Company Seven download the Questar illustrated two page brochure from Company Seven's Library. Download size is 2,617,602 bytes (in Acrobat Reader ".pdf" format).