QUESTAR BIRDER
"it is simply amazing to resolve details as fine as a bicycle spoke one mile distant on a calm day!"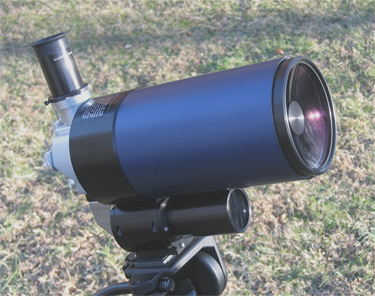 The Questar is the standard against which all other field and surveillance telescopes are judged. Not too many years ago "Audubon" magazine judged the Questar Field Model the best nature watching scope overall. The Birder is an evolution of the Field Model that incorporates modifications of value to the most demanding Bird and Nature observer. Otherwise the Birder has all the other controls of the conventional high resolution models, giving the observer access to three magnifications per eyepiece used and providing the photographer with two ports for camera attachment.
Right: Questar Birder Telescope with 32mm Brandon Eyepiece, and Lens Shade retracted (115,785 bytes). The high magnification finder below the optical tube of the Birder is the most obvious difference between it and it's cousin the Field Model.
Click on the image to see an enlarged view (357,908 bytes)
On a calm day these instruments can clearly resolve a bicycle spoke one mile distant, or show fine details in a US dollar bill fifty or more feet away that could not ever be seen naked eye - even if the observer were holding the dollar in hand. With a capability to show fine details far away, or closer objects in striking clear detail the useful applications also include: law enforcement, defense, the reading of utility pole information or hazardous material plaques from great distances and more. The true color apochromatic quality of the image allows one to define the colors and subtle tones on a distant bird feather, or identify the contents of a clear plastic bag being handed from one person to another. We at Company Seven are often pleased to see the Questar Birder and Field Model appear in movies, and used by experts who appear on televised nature programs showing rare birds clearly identified. And we are just as amused to see criminals appear on video in court.
Each Questar 3-1/2 astronomical, Field and Birder Model telescope incorporates a Control Box which is engineered for the convenience of the user. The Control Box provides the operator of the telescope can find and focus an object while observing through a low power Finder. Then with the turn of one lever and the Focus control, one can observe the object through the telescope at low magnification. Then with a turn of a second lever and slight turn of the Focus control, once can observe a target at high magnification. So, without having to look away from the eyepiece the Questar provides the observer with three separate magnifications.
The view through the Questar is presented oriented right side up, but reversed left to right. This does not inconvenience serious observers since clarity and overall quality of the view is unrivaled by any other compact field telescope. However, this aspect may become a nuisance if one is tasked to regularly read small numbers or letters in the distance and so you should make a little practice time in advance of a trip in order to be better able to read backwards quickly. One may buy the optional Questar Image Erecting Amici Prism or in line Erecting Prism (shown below) for times when an image erect and correct left to right view are desired.
The Birder is provided with a 270 mm high magnification finder telescope installed at the 6 o'clock position, parallel to the main optical tube. Suggested by Birders, this replaces the 100 mm finder as is normally provided with other Questar 3-1/2 consumer telescopes. This ease of use will allow someone operate with the 32mm ocular for example (one of several available) at 8.4x with the finder, then switch to 40x through the telescope, and then select 65X resolving feather edge fine details at 20 or 2000 feet all without moving away from the eyepiece! The Birder optical tube can be rotated in its collar clockwise and counterclockwise to position the eyepiece at more convenient positions. The Birder Finder differs from standard Questar finders in that it can not be used unless the barrel is rotated so that the eyepiece is at the 12 o'clock orientation as shown in the images on this page; changing the barrel orientation does not prevent one from looking through the main telescope however.
A precise Rapid Focus gearing is included to facilitate the observing of faster moving objects and speeds changing focus when changing magnifications with the incorporated Barlow Lens. This choice is optional on the Field Model and other consumer 3-1/2 models, although Company Seven can provide a Birder Model with the conventional fine focus gearing for those who anticipate astronomical applications.
In addition to the standard machined aluminum thread on lens cover, the Birder is provided with lightweight black flexible covers to protect the corrector and finder lenses. These covers can be put into place and removed quickly in the field. To reduce the risks of losing a cover in the field, Company Seven recommends our customers perforate each cover at center with a small hole, then feed a knotted string through the cover securing the strings to the Birder optical tube.
The Questar 3-1/2 astronomical and terrestrial telescope barrels incorporate a slip on Dew Shield covered in a rolled aluminum sheet that is finished to match the optical tube of the telescope. The Dew Shield is lined with a felt like material so that it moves smoothly, and without scraping the barrel.
At first glance most people think of this as a lens shade however, the Questar telescopes are so well baffled against off axis stray light that these telescopes need no lens shade. From some distance one could be studying objects adjacent to a bright streetlight at night, and suffer no glare at all. Company Seven does recommend all users of these telescopes slip the Dew Shield forward somewhat since this will serve to:
reduce the chances of accidentally reaching around the front and contaminating the Corrector Lens with finger prints or worse,
cut the amount of pollen or other airborne contaminants that may blow across and adhere to the Corrector Lens,
reduce the possibility of Dew or Frost condensing from humid air onto the Corrector Lens.
Left: Questar Birder Telescope with Dew Shield retracted (115,785 bytes).
Note the high magnification Finder attached and below the optical tube of the Birder; this is the most obvious difference between it and it's cousin the Field Model.
Click on the image to see an enlarged view (357,908 bytes)
You will want to insure you keep sand and other contaminants from getting between the optical tube and the Dew Shield so that these do not scrape into the optical tube covering.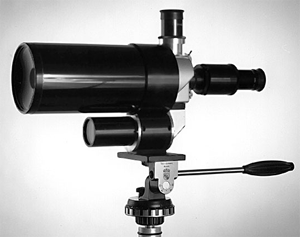 Among available options is a thread on anti-reflection coated Protective Flat Window to prevent the scratching or soiling of the corrector lens surface. The Birder weighs less than 4 pounds, 13 pounds with the fitted Field Case. Company Seven recommends a suitable optional Field Tripod and Head incorporating a 1/4 inch 20 tpi mounting bolt to support the Birder telescope; please contact Company Seven to discuss the available choices. Or plan a visit to our showroom to see a Questar and try one out first hand.
Right: Questar Birder with optional in line Image Erecting Prism attached to Axial Port and tripod.
Click on the image to see an enlarged view.
These telescopes are designed so that one may attach a film or video camera onto the axial port and employ them as high resolution ultra telephoto lenses. As an ultra telephoto lens the Birder Model is 1400mm f14.6, although our included extension tubes or optional lenses allow this to be increased, or with telecompressor lenses reduced. A camera coupling set is included while a selection of photographic or CCD camera adapter rings are among available options. An added feature of the Questar Control Box functions is that while looking through the camera or taking images, one can simultaneously observe the target through the eyepiece when set to the finder mode.
For a good overview of the decision making process of buying a Questar we suggest you read our article Selecting an Astronomical Questar Telescope. While this is geared more towards the astronomical 3-1/2 inch models furnished with a Fork Mount, there are good explanations of the various configurations and explanations of the major optical and accessory choices which apply to most other consumer models (Field, Birding, and the larger 7 inch models).
QUESTAR BIRDER SPECIFICATIONS:
Optical & Mechanical Characteristics:
Design: Maksutov-Cassegrain Catadioptric
Standard Corrector Lens: BK7, MgF2 AR Coated; multilayer dielectric coatings optional
Primary Mirror: Pyrex substrate, aluminum coated with SiO overcoat; Zerodur substrate optional
Primary Mirror Diameter: 96mm (3.78 inches)
Standard Secondary Mirror: aluminum coated with SiO overcoat; silver with ThF4 overcoat optional
Secondary Mirror Diameter: 29mm (1.14 inches)
Effective Aperture: 89mm (3.5 inches)
Finder Focal Length: 270mm (8.4x with standard 32mm ocular)
Integral Barlow: typically between 1.5X to 2X (Company Seven will provide the data after testing)
Barrel Material: machined aluminum
Barrel Finish: satin Medium Blue or Black Anodized finish
Focus Mechanism: manual, with high speed gearing
Finish: aluminum components anodized natural, dark blue, or black
Weight: telescope weight is less than 4 lbs, or 13 lbs for the complete set in it provided case
Carrying Case: waterproof hard plastic construction, 18-1/2 x 14-1/2 x 8 inches / 47 x 37 x 20 cm
Performance:
Focus Range: 6 Meters/ 20 feet to infinity*
Optical Resolution 1.3 Arc Second
f-ratio: 14.4 at 1,280mm
Spectral response: 350 to 1500nm, optional systems with wider spectral response available.
* Focus distances may vary somewhat with eyepiece choice, and users need to correct for less than perfect vision.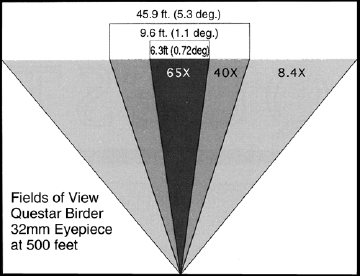 The Birder is provided with the customers choice of one Questar Brandon eyepiece of either 32mm, 24mm, 16mm, 12mm, or 8mm focal length. Options made available to Company Seven's customers include more sophisticated third party eyepieces that will provide wider fields of view, and greater eye relief to better accommodate those who wear sunglasses or prescription spectacles. We also offer optional filters (polarizing, color, solar) for visual and photographic applications.