QUESTAR EYEPIECE CANISTERS / METAL PROTECTIVE TUBES
"something old is new again....more of Questar's best 50 year old tech!"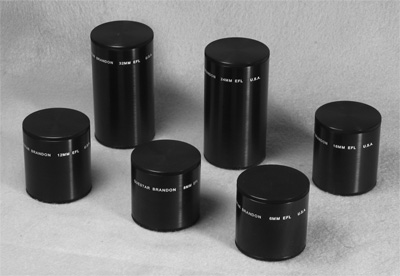 Reintroduced in August 2009 - another resurrection of a fine old Questar tradition from 1971. Each metal canister consists of three parts made to accommodate one of the six current standard production Questar Brandon eyepieces thereby protecting each from impact and moisture. The canister will also accommodate older Questar Brandon eyepieces or those eyepieces offered in the Questar Brandon Eyepiece Presentation Set; these are made without the thread-on eye cup as they were made in the 1970's.
Right: complete assortment of Questar Brandon Eyepiece canisters (28,962 bytes)
Click on the image to see enlarged view (101,346 bytes).
The Questar Brandon eyepieces are 1.25 inch diameter eyepieces suitable for use either as slip fit, or with with Questar telescopes and their photographic accessories owing to their unique outer threaded barrel. The modern Questar Brandon eyepiece is made very much as they were in 1971 when the Questar Corp. first elected to include these eyepieces with their telescopes. The set originally included 8 mm, 12 mm, 16 mm, 24 mm and 32 mm focal lengths however, in April 2006 this was expanded by the addition of the 6 mm Questar Brandon. These are sold individually or can be purchased in a limited production arrangement organized within a beautiful plush lined solid walnut presentation case. Originally these were made available with a finely crafted metal canister, a three part arrangement consisting of a precisely machined metal cylinder, with a thread-on metal lid, and another thread-on lid for the bottom but threaded with a male fitting to accept the Questar Brandon eyepiece. The eyepieces each are threaded for Brandon filters so the bottom lid of the case is threaded make to fit the eyepiece filter thread.

The canisters each share the same 44 mm diameter but differ in overall length so that it is easier to differentiate one eyepiece from another. These cases are made to hold only the Questar Brandon eyepieces with 29.85 mm dia. x 32 tpi filter threads, they will not work with 1960's Questar eyepieces or with modern conventional slip fit eyepieces that have 1.25 inch diameter x 42 tpi (28.5 x 0.6 mm) threads.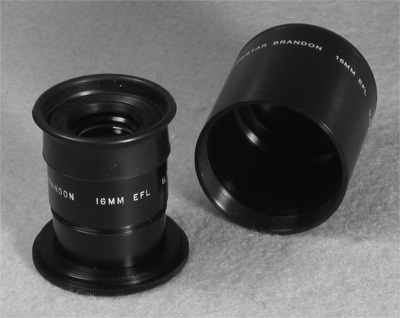 The Questar Brandon eyepiece canister is precision machined from aluminum stock. Each component is anodized in a black finish. Each cylinder is laser engraved "QUESTAR BRANDON" with the focal length "Xmm EFL" and "U.S.A.". The lettering is filled in white so the 24 mm for example reads "QUESTAR BRANDON 24MM EFL U.S.A." as does the eyepiece. The interior is fully anodized black too.

Left: Questar Brandon 16 mm Eyepiece threaded onto the canister cover (32,306 bytes).
Note the thread-on rubber eyecup typical of the modern Questar Brandon Eyepieces except the 6mm.
Click on the image to see enlarged view (86,475 bytes).