Losmandy Gemini 2 mount control systems; one will have a need for GPS only to expedite set up of some third party software when operating at locations that are far from where one routinely operates the mount system. Even when in distant countries there are alternative ways to set up and index a "Go To" mount. Regardless of that we provide our customers with the option of a plug-in GPS receiver made by Garmin that is the "plug-and-play"* solution for the Losmandy Gemini mounts and is also compatible with most other premium 'go to' mounts. With this option, Gemini will directly read the data via the RS232 output and set your mount's date, UTC time and location automatically a startup.

Right: the optional GPS receiver for the original Losmandy Gemini systems; note how this has two RJ male connectors for Power and for Signal. Otherwise it is
similar to the unit that we provide for the Losmandy Gemini 2 introduced in 2011 (43,545 bytes).

The GPS is an OEM GPS sensor for use in applications that require a small, highly accurate GPS receiver. This 12-parallel-channel, WAAS-enabled GPS receiver is available in CMOS-level serial or USB 2.0 full-speed versions and comes with an integrated magnetic base. The GPS receiver with cable weighs 4.0 ounces (112 grams). The puck-like receiver is 2.4 inches (60.9 mm) diameter x 3/4 inches (19.2 mm) thick and weighs just a few ounces, making it an ideal solution for applications where space is at a premium. The cable allows the GPS to be placed up to ten feet (10') away from the telescope. The head incorporates a magnet so that the antenna can be attached to any steel component; note the Losmandy Mounts and Tripods are machined of aluminum and so the GPS will can not be affixed to either.

The GPS comes completes with non-volatile memory for storage of configuration information, a real-time clock and raw measurement output data for sophisticated customer applications. It can output data in NMEA 0183 format (industry standard) or a proprietary format; provides a pulse-per-second logic-level output with a rising edge aligned to within 1 microsecond of UTC time.

If you already own a personal GPS receiver with an RS-232 port then all you need is an RS-232 cable to plug into the Gemini system panel RS-232 port. For detailed instructions in Company Seven's Losmandy Library on line.

The Gemini 2 system control panel does incorporate two serial ports, one is routinely used by the hand-held controller. So if you order a Losmandy GPS receiver and wish to use it with the 2011 model Gemini 2 set then you need to order the appropriate GPS-2, not the one made for the original Gemini. You could connect a portable self-powered hand-held GPS unit to the Losmandy panel too alternatively you may feed the GPS into a personal computer that is controlling the Losmandy mount, that is if the software has ASCOM or other software are compatible. Using a wireless adapter you could even employ a suitably-equipped smart phone to feed time and location data.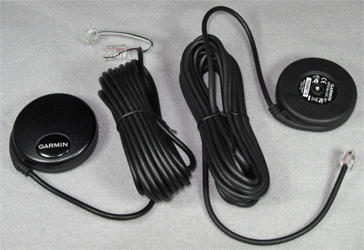 Above: optional GPS receivers for the original Losmandy Gemini system at left,
and for Gemini 2 at right shown upside down to see taped socket (46,664 bytes).
Click on image to see enlarged view (168,634 bytes).
In order to use the GPS option:
Gemini GPS**: Plug the large power RJ male connector into the Gemini feature port, and the smaller RJ male connector in to the Gemini RS-232 port.
Gemini 2 GPS**: Plug in the single connector (carries power and signal) into the Gemini 2 panel.
Make sure that the GPS receiver unit is away from the mount, and with unobstructed line of sight to as much of the sky as is practical.
Turn on the Gemini, wait 3 to 5 minutes.
Turn off the Gemini, wait 15 seconds and then turn on the Gemini.
All information will be downloaded automatically into the Gemini unit.
Unplug the GPS unit. You can do this with out turning off the Gemini.
* This requires the original Gemini system with Level 3, v1.10 or later firmware or any Gemini 2 system that will automatically probe GPS receivers at 4800 and 9600 bit/s.
** Specify Gemini or Gemini 2, the GPS's are not interchangeable.

No other retailer of this products understands it or supports their customers better than Company Seven. And so for customers who have ordered their Gemini and GPS Module from Company Seven we offer additional options including Flange and Automobile attachment hardware. Please inquire.





Contents Copyright 1994-2011 Company Seven - All Rights Reserved