Celestron GP-C8 Schmidt-Cassegrain Telescope
Discontinued - posted for information purposes only
This 8" (203mm) f/10 Schmidt-Cassegrain telescope is furnished with the Great Polaris German equatorial mount and wood field tripod manufactured by the Vixen company of Japan.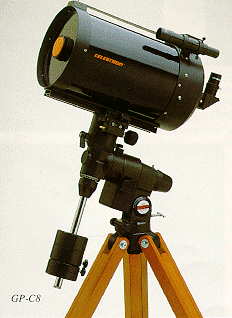 Whether you are looking for a superior first telescope with a traditional German equatorial mount or want to move up to a larger aperture telescope, consider the GP-C8. This system is a good choice for those who require a very compact, and stowable system or for those who intend to employ the GP telescope mount with other optical tube assemblies.
An optional Polaris drive controller/dual axis drive system is manufactured by a third party for Celestron for use with the GP mount. Its advanced motor technology utilizes DC servo motors with remarkable high efficiency allowing the system to be powered by a tiny 9-volt alkaline battery that lasts more than 48 hours. A manual clutch assembly override is provided. The drive voltage is varied using servo-control algorithms to maintain a precisely controlled smooth and silent speed. The sophisticated, yet simple to use and operate system is compact (3.75" x 2.375" x 1.0") and weighs just 5 oz. However, we are displeased with some of the mechnical qualities of that optional dual axis drive system, and considering the relatively high cost of this optional drive system we again urge consumers to consider alternative fork mount telescopes unless you have a specific need for the German mount.
If you are seeking an astrophotographic 8" SCT system, then Company Seven suggests you consider an alternative fork mounted C-8 telescope system as they are more likely to incoporate the better tracking gear systems and clutches which will produce better results, and more advanced electronics which may include Periodic Error Correction circuits that what the CG-C8 telescope drives can never match.
With optional encoder and digital readout CPU devices, the GP-C8 easily converts to a computer aided telescope.
The standard accessories included with the GP-C8 telescope include a 6 x 3O Finderscope, Star Diagonal-1 1/4", Visual Back-1 1/4", and a 26mm multi-coated Plossl Eyepiece-1 1/4" (78x). Weight of the complete telescope is 45 lbs.
Company Seven also offers the option of providing a Celestron 8" optical tube assembly on the better German equatorial mounts such as the Losmandy Model GM-8.
Celestron Schmidt-Cassegrain Telescopes
Go to Price List
Go back to Celestron Products page