COMPANY SEVEN'S IN HOUSE PROGRAMS
The Celestron company has been responsible for a number of innovative products over the recent decades. Many of these telescopes and accessories provide a great value, and a good balance of cost, portability and results. However, these companies are trying to reach a balance between their costs of productions and having something that is attractive to its resellers and its largest pool of customers - the beginner. So consider what Celestron proudly mentions at their web site:
"Celestron sells and markets its products worldwide through a variety of specialty retail outlets and international distributors...Celestron provides efficient and effective logistical support to large retailers such as Costco, Walmart.com, Canadian Tire, American Express, LL Bean, Amazon.com, Ritz Camera, and B&H Photo."
Given the high competence in astronomy and the demanding nature of Celestron's most important retailers, you may understand why Company Seven does not offer a number of the models Celestron chooses to import for them. And even those telescopes that we do select to sell undergo a comprehensive process to evaluate whether or not they provide a meaningful and durable path to success in the hobby of astronomy.
QUALITY ASSURANCE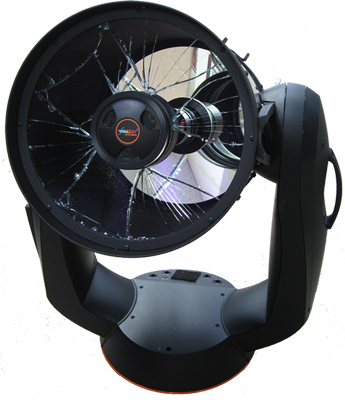 Company Seven has worked diligently over decades to earn and to maintain the trust of our community. At a time when most retailers simply forward a new order to the factory and then have the item "drop shipped" directly to the customer, Company Seven remains more and more unique. To that end we evaluate each newly arriving telescope with the hope that your first experience with our telescopes will be highly gratifying. Company Seven is the only Celestron agent the Americas with the resources of experienced personnel and technology to perform as detailed a survey of each instrument that arrives here for resale. Our testing will reveal the slightest discrepancy so that a problem is not likely to be found by our customer. As the telescope check-out and preparation for delivery are completed; each telescope optics set, mechanics and electronics are checked by technicians with an average of between 20 to 30 years experience. Furthermore, as every telescope is processed, we generate a comprehensive report characterizing recommended photo-visual and CCD performance parameters. This includes suggested ocular and accessory combinations for your particular telescope.
Right: Celestron Nextar 11 GPS telescope with cracked Corrector Lens; if purchased at Company Seven then the owner would never open the box to find shipping damage like this. And even if it were dropped and damaged well after delivery then he could simply return it to us for remedy.
Click on image to see enlarged view (233,861 bytes).
PROGRAMS OF INSTRUCTION
This is another critical aspect of our overall quality assurance program; this improves the chances of long term success by our customers. Please consider that you may wish to visit Washington, D.C. to spend several hours getting "checked out" at our showroom on the use of your new telescope. Company Seven has developed structured complimentary programs of instruction with a course syllabus specific to each telescope. Our customers have found that our materials, combined with such one on one training has proved invaluable to their long term success. Commonly a mid size telescope with a German mount generally requires about a full work day of instruction.
OPTIONAL EVALUATION/CHARACTERIZATION While Company Seven does perform a subjective evaluation of every telescope, Company Seven can also perform optional highly detailed testing which will produce detailed documentation of each telescope optical tube assembly.
While we do not normally put each instrument on an interferometer, one Celestron C-8 instrument that looked to be a particularly good example (on our standard subjective bench star test) was put onto an interferometer (in the relatively demanding wavelength of Green at 536nm); it was found to be a 1/4.6 wave Peak to Valley (1/22 wave RMS) with a Strehl Ratio of 92.5% This is quite good for such mass produced optics, and it speaks well of Celestron's efforts to delivery a good value.
The optional testing will be done on a Zygo Large Aperture Phase Measurement Interferometer and this will provide a very accurate characterization of the telescope. Our normal testing is done at 632.8nm (others available on smaller apertures), with the telescope acclimated at Standard Temperature and Pressure. The test will be performed at full aperture, with the telescope optically aligned and set to nominal infinity focus. The test will provide:
Interferogram diagram

Measure of System Peak to Valley

Measure of System RMS

Measure of System MTF

Measure of System PSF - energy concentration at focus

Measure of System Strehl

Wave front diagram
The testing will be performed as part of the acceptance testing prior to delivery of the telescope to our customer. The test reports will then be delivered with the telescope in the forms of printout, and in Code V and Zygo formats on computer disk.
For detailed information about the cost of this optional Zygo testing please contact Company Seven. Please understand that this is a program we offer only in support of individual telescopes which we sell, or those owned by institutional,industry, or government.
WARRANTY AND REMEDY
Company Seven works diligently to earn and to maintain the trust of our community. To that end we evaluate each telescope with the hope that your first experience with our telescopes will be highly gratifying. However, should an issue arise that may require repair or adjustment, then Company Seven will be your point of contact.
First of all, simply call us with your concern. More often than not, then problem is a matter of operator error or a misunderstanding of directions. If we cannot quickly resolve the issue with a discussion, then we will suggest that the instrument be brought or shipped to Company Seven (or to the manufacturer if that is more convenient to the customer). If we find a fault of the instrument (in manufacture, or a premature failure) then Company Seven will be responsible for fixing it and returning it to the customer - all at our expense. Company Seven will even refund the return shipping costs if applicable.
Company Seven's staff can answer more questions regarding products than you are likely to think of, so feel free to contact Company Seven to discuss your ideas and application suggestions. Or click here to learn about ordering products from Company Seven.