Company Seven / Losmandy CG-11" Schmidt-Cassegrain Telescope
Celestron had worked with the well regarded precision machine shop Hollywood General Machining to refine and produce what became known as the G-11 mount for distribution exclusively by Celestron. On 16 June 1992 Company Seven received the first of our Celestron C-11 telescopes on the Losmandy HGM Model G-11 mount. Soon afterward we published our favorable review of the CG-11 telescope. The CG-11 became the most successful mid aperture Schmidt Cassegrain telescope ever sold by Company Seven. Company Seven continues to regard this telescope as among the best values in a serious, yet one man transportable telescope in astronomy today - the heaviest component being only 31 lbs! The Celestron 11" (279mm) Schmidt-Cassegrain telescope has a focal length of 2800mm at f/10; this provides a significant 21% increase in light gathering power over similar design 10" telescopes, and 89% more than 8" telescopes.
The G-11 mount had also became the platform for Celestron to sell the C-14 telescopes. The relatively primitive and cumbersome fork mount for the C-14 was discontinued. This left Celestron with C-14 OTA manufacturing capacity and with not enough mounts to fill the order. Furthermore, the G-11 really lacked the rigidity in any kind of wind prone site to support the massive C-14 OTA for long term imaging. The G-11 mount was not originally designed to manage the C-14 with wind loads even though the bearings and other components were upgraded over time.
On 19 May 1998 it was announced that Celestron International company would discontinue the sales of the Losmandy Model "G-11" German equatorial mount. The G-11 became the versatile platform of choice for the very popular Celestron CG-11 11" Schmidt-Cassegrain telescope, and later for the Celestron CG-14 14" f11 Schmidt-Cassegrain telescope. The announcement came as somewhat of a surprise since this concept had become so popular here that we found the backlog of orders with the Celestron company could exceed four months. The delay had to do with the shortage of mounts coming from Losmandy; Celestron rarely seemed to run short of C-11 or C-14 optical tube assemblies - this may have been due to either Celestron not ordering enough mounts, or that Losmandy could not make enough. Celestron has since introduced the new "CI-700" mounts (made in house at Celestron) to replace the G-11 mount.
Regardless of Celestrons decision, Company Seven is so much more pleased with the Losmandy mount that we will continue to offer the production Losmandy G-11 mount set up acccordingly with the Celestron C-11 telescope as our own "CG-11" telescope package.
While Company Seven will continue to offer the Losmandy G-11 mounts for other telescopes as we always had in the past, we will continue to offer not only the Celestron C-11 but also the C-9-1/4 inch Schmidt-Cassegrain telescope optical tube assemblies on the G-11 mount set up accordingly too. For those who seek computer controlled "Go To" mounts then we will also offer the C-8, C-9-1/4, C-11 and C-14 systems with the Astro-Physics GTO series of German Equatorial Mounts.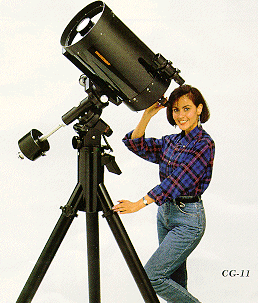 The CG-11 combines the unequaled optical excellence of the Celestron 11" Schmidt-Cassegrain with a superb Losmandy Model G-11 German equatorial mount built for Celestron by Losmandy's Hollywood General Machining. This combination was built for the serious astronomer who wants the maximum in rigidity and it is made in the U.S.A.
It will perform beyond your expectations providing both visual and photographic results guaranteed to impress even the most critical astronomer! In a recent Sky & Telescope review, it was stated, "function and beauty merge in the Celestron CG-11".
The all-machined equatorial mount is a work of art. Both axes are driven by a 5.6" diameter, 360-tooth worm gear. The high precision worms are hardened and precision ground stainless steel, double supported by preloaded ball bearings. 100 oz./in. stepper motor drives provide reliable instantaneous response. The tracking accuracy is excellent.
The R.A. and DEC assemblies incorporate four ball bearings each. These axes are preloaded for zero play and variable friction clutched by a single knob. The 5" diameter laser engraved precision setting circles are readable to 1/4 degree in DEC and four minutes in R.A. The R.A. circle is direct reading indexed to the R.A. gear motion. All these technical features deliver the smoothness, refinement, controllability and precision that you've always wanted in a fine mount.
The CG-11s "Losmandy Model 492" dual axis control electronics are state-of-the-art in features and reliability. Four tracking rates are available: Sidereal, King, lunar and solar. It has three setting rates of 4x, 8x and 16x. Also it has three photo guide rates of +/- 30%, +/- 50% and 2x. The Model 492 electronics have full feature PEC (Periodic Error Correction) built-in. TVC (Time Variable Constant) built-in is a user programmable declination backlash compensation for instantaneous tracking response. Sky & Telescope said, "the drive is so accurate that tracking was superb whether or not the electronic PEC feature was switched on."
A cigarette lighter cord adapter is provided to permit operation of the system from 12 volts D.C.. The hand controller easily fits in your hand.
The equatorial head weighs 31 lbs. and is the heaviest individual component of this portable telescope.
The rugged aluminum adjustable height tripod (33" to 44") has 3" diameter legs, is 48" long and weighs 20 lbs.
The latitude range of this instrument is 12 to 64 degrees.
A total of 22 pounds of counterweight is supplied standard. When adding heavy optional accessories, additional optional weights will be required or a DEC extension is available.
The mount has an optional polar alignment scope available which works in both hemispheres.
With the addition of the optional JMI or Celestron "Advanced Astro Master" digital setting circle aids to navigation and the optional Losmandy Model DSCH optical encoders, you have a computer aided telescope. With an interface cable running to a personal computer operating optional computer software such as "TheSky" one can interface the encoder equipped telescope mount to the computer for a variety of applications.
Since this mount is so versatile, it is also sold separately to handle a variety of instruments.
Standard accessories include a 7x50 Finderscope, Star Diagonal - 1 1/4", Visual Back - 1 1/4" and a multi-coated 26mm Plossl Eyepiece - 1 1/4" (108X). Weight is 100 lbs.
Company Seven actually sells more C-11 and C-14 telescopes than we do C-8's since people who really want their system made well, and properly set up so value Company Seven's support. This can be an observatory class instrument, and there are numerous options which you are likely to choose to buy initially with the telescope, and then many more can be added over time to further increase the versatility of this telescope. Please contact Company Seven for a more in depth reply either by Email, or by telephone, or at our showroom!
Go back to Celestron Schmidt-Cassegrain Telescopes
Go to Price List
Go back to Celestron Products page