Baader Planetarium U-Filter (Venus Filter)
Discontinued 2007, replaced by BPU2.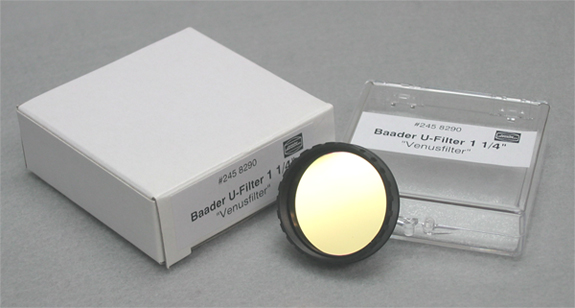 This is a highly specialized, limited purpose filter designed for use by a telescope provided with imaging or other sensor systems that are optimized for uses in the ultraviolet portion of the spectrum. It also may find some uses in laser applications. This is not a filter for visual uses.
The U-Filter is a ultraviolet bandpass filter made so that only light in the 320 to 390 nm portions of the spectrum are transmitted; it will block all else spanning 200 nm to 1.5 microns.
Right: Baader U-filter (101,171 bytes).
Click on image to see enlarged view (205,357 bytes).
This Filter is sold by Company Seven to customers who have a suitable telescope or lens. Suitable telescopes can include reflecting telescopes of 8 inch (20 cm) or larger apertures, or refractive and catadioptric telescopes employing refractive elements made of UV grade fused silica this will include our fused silica Long Distance Microscopes that can provide resolution down to the sub-micron level. The filter can also be employed with specialized camera lenses most notably the famous Nikon UV-105 F4.5 Lens, a limited production conventional and macro lens with high performance spanning from 220nm in the Ultraviolet to 900nm in the Infrared. Please contact Company Seven if you need to buy equipment with these properties.
Filters take away but they can not add - diminishing parts of the spectrum
so that we might reveal what is otherwise obscured...
How Are These Constructed?
The filter is made with a disc of Schott UG-11 optical filter glass that has been ground to be plane parallel and then polished until very smooth. The glass undergoes a vacuum deposition coating process where a twenty layer micron-thin coatings of various elements are applied one upon another in a precise order and thicknesses.
The filter element is housed in a machined aluminum cell, retained by a thread in retaining ring. The filter name, size and part number are in silver, and this mirror like print when combined with its small size make this information difficult to read under dim red lighting. Company Seven recommends our customers keep these filters in well organized accessory cases, so that you know which filter is which. It helps to become familiar with how the elements appear too (read descriptions below).
When viewed parallel to the eye from the female threaded (or field) side, then the filter element appears like a dark gold mirror. When looking from the male threaded (instrument) end then the filter element appears like a deep green colored mirror.
The coatings are calculated to transmit desired wavelengths while simultaneously rejecting all other wavelengths from 200 to 1,500 nm that would otherwise be typical of the UG-11 glass alone.
The Baader U-Filter is made available in a cell diameter of 1.25 (31.7 mm) so that it may be threaded onto most common 1.25 inch diameter female threaded nosepieces of our UV capable CCD or cameras, or sensors. Company Seven can provide adapters that permit the attachment of this filter in line in most other systems too.
What Does This Do For Me?
Before the availability of this filter amateurs interested in UV applications resorted to stacking simpler interference filters, or the use of deep violet colored filters. These techniques attenuate the transmission of the desired wavelengths making these techniques possible only for highly sensitive equipment, ideally employed at higher elevations where there is less atmospheric filtering of UV. And many of these earlier techniques still passed portions of the spectrum beyond that which is desired. And with so many elements in line thereby the filter stacks accumulated errors from less than perfect optical surfaces. These handicaps diminished image brightness, contrast and definition.
The Baader U-Filter makes it possible to obtain photographs, CCD or video images in the deep UV spectral region - a wavelength coverage that up until recently was impractical for most amateur astronomers. This filter provides highly efficient rejection of wavelengths outside the spectral region between 320 nm to 390 nm and this improves contrast.