C-7 Home Page C-7 News Consignment Library Products & Services Product Lines Order Search C7.com

Questar Distribution News Notes & Interesting Articles Overview Pricing Products Service or Repair

Questar Telescopes LD Surveillance Systems LD Microscopes Accessories

QUESTAR SZ180 Motorized Step Zoom Lens



Illustrated above: Questar Step Zoom 180 Optical Tube Assembly (48,532 bytes).
Standard finishes are in White with either Black or White front Window Cell, or all Black
Click on image to see enlarged view (92,859 bytes)
The Questar Step Zoom 180 Multi Focal Length Optical System is a relatively compact and lightweight, fully motorized, parfocusing (as magnification is changed the instrument can automatically refocus to compensate), rugged, microprocessor controlled Maksutov Cassegrain Catadioptric Optical system with a clear aperture of 178 mm and a base focal length of 2400 mm at F/13.5, with a focal length range in steps of between 635 mm to 4800 mm. While the MFL systems are have manually operated control functions, the SZ functions can all be controlled remotely from a simple to learn and use keypad/terminal. The lens is weatherized with seals and "O" rings throughout, and with protective optical flat windows at the front and rear.
The SZ180 system internal optical components and baffling system have been designed to maximize light transmission and minimize all optical aberrations to increase overall system performance to unprecedented 1/6 wave PV minimum; and so it is able to read license plates at 2.5 km and identify ships at 20 km. Each instrument is tested to assure at least 0.7 Arc Second resolution. The enhanced mechanics provide for a rapid focal length and focus transition when in the Parfocal mode, with switching generally not to exceed 1 second.
Resistant to dust and rain, this is the most rugged and sophisticated long range surveillance lens available in the medium aperture market today. The internal mechanics allow this unit to tolerate high G loads while maintaining boresight accuracy at each focal length. It is available in both a permanent site fully integrated system or a rapid deployment configuration for mounting on customer supplied equipment. It is designed for modest power requirements. Optional accessories provide versatility and usefulness to meet most surveillance and many research mission requirements.

Left: Questar Step Zoom 180 System with Control Keypad and optional video camera attached.
Each unit will come with hardware that will allow it to be controlled locally from a furnished microprocessor keypad controller, or from a lap top computer's Com Port, or by modem for longer distances telecommunication. The system software has the ability to control or monitor features such as Focus, Focal Length, Filter Position, Automatic light control (ALC), and more.
The SZ 180 system comes equipped to accept any standard video camera with "C mount" lens thread. The system is equipped with four selectable focal lengths, and up to five selectable filters. This permits the system to operate at relatively low magnifications providing a wide field of view, or zoom in to reveal very fine details in a distant target.
SZ180 Available Effective Focal Lengths:
Focal Length
Focal Ratio
T Stop
635 mm
f3.6
T4.4
1000 mm
f5.6
T6.9
1800 mm
f10.1
T12.3
2400 mm
f13.5
T16.6
3100 mm
f17.0
T21.4
4800 mm
f27.0
T33.2
The system is typically employed with video cameras with 2/3 inch diagonal CCD formats, larger detectors would provide wider fields of view. An example of the range of field of view is illustrated in the following table:


Above: Possible fields of view of Questar Step Zoom 180 System with optional 2/3" video camera
Field of View is from 0 to 70 Meters, Distance from 1 to 5 kilometers
SZ 180 Optical Specifications:
Design Type: Maksutov Cassegrain
Clear Aperture: 178 mm (7 inches)
Effective Focal Length Choices: 635 mm, 900 mm, 1450 mm, 2400 mm, 3100 mm, 4800 mm - 7.56:1 zoom ratio
Corrector: BK-7, magnesium fluoride AR coated
Primary Mirror: 194 mm Pyrex aluminum coated, SiO over coated
Secondary Mirror: 46 mm aluminum coated, on R2 of Corrector Lens
Working Focus Range: 75 meters to infinity
Resolution: 0.7 arc second
Format: Diffraction limited 18 mm @ 2400 mm EFL
Auxiliary Lens: Achromatic, magnesium fluoride AR coated
Filters: Schott colored glass, 400 nm, 450 nm, 650 nm, 750 nm long pass filters
Light Control Filters of BK-7 optical glass. Neutral density 0 - 2.5. Inconel coated
Baffling: Helix, knife-edge stop rings and anti reflective painted
Terminal Keypad Control Description and Functions:
Thirty key hand control unit, with four line twenty character backlit supertwist display
Keypad audible beep, switchable on/off
Communications RS-422 standard, 9600 baud
Distance from terminal to instrument can be up to 4000 feet (1220 meters)
Selection of Focal Length by direct access buttons or sequential up/down
Selection of Filter by direct access.
Bidirectional turret drives rotate in direction of shortest travel to next selected position
Parfocalization software to maintain focus for all focal length changes, selectable on/off
Adjustable focus acceleration and velocity
Last position and motion parameters available as power up defaults
Mechanical Specifications: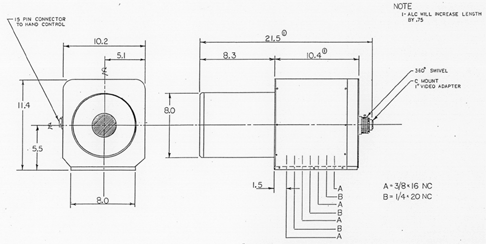 Illustrated above: Questar Step Zoom 180 System Outboard Profile Drawing
Barrel Section: Machined from solid aluminum stock, black anodized.
Front Lens Protective Optically Flat Window, AR Coated
Focus: Transiting mirror design. Mirror housed in Aluminum cell. Mirror nut with three linear bearings, precision centerless ground stainless steel main tube. Two pillow block precision bearings and matching rails, precision ball nut and screw drive. Variable speed DC servo motor with encoder for position feedback to terminal
Turret Section: Lens and filters 140 min (5.5 inch) Dia. solid aluminum spur gear. Machined and anodized. Bronze bushings and roller thrust bearings on 3/4 inch Dia. stainless steel shaft. Up to five colored 38 mm diameter filters and up to five lenses in a spring-loaded adjustable bore sighting cell. Stepper motor and direct tooth belt drive. Electronic plunger solenoid lens wheel position lock for boresight accuracy.
All functions driven by 1.8 degree step motor open loop drive with microprocessor control. Opto interrupter for end of travel and home position sensing.
Cover: Aluminum black anodized form 1/16th inch thick cover skin
Finish/Hardware: All exterior surfaces black anodized. All hardware stainless steel. Exterior is also painted White or Black. Custom colors and exterior materials can be specified.
Mounting: 1/4" - 20 TPI, or 3/8" - 16 TPI mounting holes on bottom of plate. Custom pattern and sizes to suit your need
Dimension: 21.5 inches long (ALC adds 0.75 inch), 11.4 inches tall, 10.2 inches wide
Weight: Instrument 35 pounds, Terminal 1 pound, Power Supply 1.1 pound
Power Requirement: 12 VDC @ 1.5 amp
Power Supply Provided: Auto Switching 90-250 VAC/47-63 Hz. IEC Power input for worldwide use.
Available Options Include:
Day vision color or monochrome camera.
Passive Night Vision electro-optic camera.
Automatic Light Control (ALC): with manual override. Electronic module will automatically react to changing lighting conditions. The gain setting in auto mode is controlled from user interface.
Linear Wedge Filter: Manual neutral density variable light control. Two Inconel. coated linear filters mounted on two pillow block linear slides and motor controlled from user interface. BK-7 optical glass. 0.625" Thick. Neutral density range 0 - 5.0.
Airline Transport Association approved transport case.
Pan/Tilt and Elevation Mount Head, and Portable Pier or Tripod
Video Transmission site to site
High Transmission Coatings
FS Corrector for extended UV sensitivity
Special Purpose Filters
Environmental Enclosure: Environmentally sealed aluminum fabricated lightweight enclosure. This unit includes a 10 inch Dia. coated optical protective flat, .5 PSI two way pressure relief valve, "O" ring and gasket seals, electronic solenoid valve and pressure sensor combination to control internal pressure, brass pressure fitting, sealed BNC connectors and sealed round Bendex connector for power and communication feed. All exterior surfaces are black anodized and Polane painted. Industrial textured white or black paint are standard choices. All hardware stainless steel. Custom colors can be specified.
Peltier heater/cooler: Thermoelectric device (Nema 4X rating) integrated into the enclosure to provide temperature regulation while maintaining the sealed integrity of the enclosure. The unit has several modes of operation. An internal auto protection preset to 35 degrees C and user interface setting control. The system software will monitor the user set values against the internal temperature and automatically control unit. Requires 24 VDC to operate.
Variable Polarizer: Motorized polarizer assembly that can be moved in and out of optical path. When in the optical path Rotation Control will allow the user to change polarizer position to attenuate glare and light
| | |
| --- | --- |
| | Contents Copyright 1994-2004 Company Seven - All Rights Reserved |