COMPANY SEVEN RISER FOR QUESTAR TRISTAND AND ASTROPIER
Company Seven's solution for the Tristand or the Astropier Head elevation limits.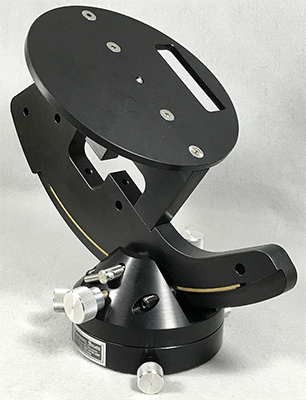 Company Seven's Tristand Head Riser is fully precision machined in the U.S.A. of aluminum, then anodized and finished to exactly match the finish of the Tristand Head. Furthermore, this Riser does not compromise rigidity or stability of an attached telescope.
The Riser adds only about 13.7 oz. (388 gr) of weight, and 2.75 inches (70 mm) of height so this can be left installed to the Head for routine transport and storage. However, if you prefer to carry this as a bit shorter assembly then the Riser can be removed then stored in a narrow slot of a carry case; do remember to pack the Allen Wrench. It requires only a couple of minutes of effort to install or to remove the Riser from the Tristand Head.
For more information about how to work your way through the decision making process of choosing and specifying a Questar 3-½" telescope, the common accessories, and desirable options please feel free to call us or send an E-mail inquiry, or visit our showroom. You may find more help by referring to the articles in our Questar Library section on line.