QUESTAR STEP ZOOM M100 MOTORIZED PHOTO-VISUAL LONG DISTANCE MICROSCOPE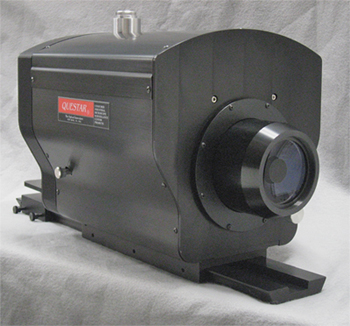 The Questar Step Zoom M100 Multi Focal Length Optical System is a compact, rugged and lightweight fully motorized microprocessor controlled Long Distance Microscope based on the Maksutov Cassegrain Catadioptric optical design. Its processor controls provide the operator the capacity to locally or remotely control changes of magnification, filtering, and focus. It is suitable for visual, film, video or CCD applications.
This system is recommended for applications requiring high magnification and resolution, and which will allow the user to work from distances to the target of between 15cm (5.91 inches)* to 35cm (13.78 inches) the SZ M 100 and the manual version of this instrument (the QM 100) are unrivaled in performance and flexibility. Each SZ QM100 instrument is tested to assure an optical resolution of at least 1.1 microns at 15cm (6 inches).
*With the optional Questar PowerPak 100 then the nearest focus distance can be reduced to 10cm (3.9 inches) providing sub micron resolution!
Right: Step Zoom 100 installed onto optional Camera Cradle, P/N 53600 (106,493 bytes).
Click on image to see enlarged view (296,939 bytes).
Optically identical to the Questar QM 100 long distance microscopes which have manually operated control functions, the SZ M100 functions are all controlled locally through a simple to learn and use Keypad/Terminal. Each unit is provided with hardware that will allow it to be controlled locally from the furnished microprocessor keypad controller, or from a computer Com Port, or by modem for longer distance telecommunication. The system software has the ability to control or monitor features such as Focus, Parfocus, Focal Length, Filter Position, Automatic light control (ALC), and more. The enhanced electro-mechanics provide for a rapid focal length and focus transition when in the "Parfocal Mode" (as magnification is changed the instrument can automatically refocus and compensate for changing apparent brightness), with switching times generally not to exceed one second.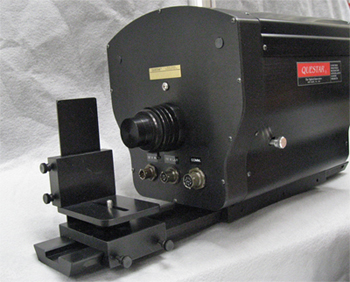 The lens is weatherized and resistant to dust with seals and "O" rings throughout, and with protective optical flat windows at the front and rear this is the most rugged and sophisticated series of long distance microscopes available in the market today. The internal mechanics allow this unit to tolerate high G loads while maintaining boresight accuracy at each focal length. It is available in both a permanent site fully integrated system or a rapid deployment configuration for mounting on customer supplied equipment. It is designed for modest power requirement. Optional accessories provide versatility and usefulness to meet many research, educational, and process control requirements.
Left: Step Zoom 100 installed onto the optional Camera Cradle, P/N 53600 (97,458 bytes).
Click on image to see enlarged view (294,162 bytes).
The SZ M100 system comes equipped to accept any standard video camera with "C mount" lens thread onto the Axial Port. To support the payload of a film or video camera or other instrumentation at the Axial Port we recommend the optional Camera Cradle, P/N 53600. The Camera Cradle permits the focal plane of the film or detector to be held precisely plane parallel to the optical plane of the SZ M100l.
There are three military spec connections at the rear wall below the Axial port of the instrument. As shown in the image at left these connectors are (l to r): 12 volt DC in, 12 volt DC out, and the Communications port for the Keypad/Terminal.
The SZ M100 system is equipped to operate with the choice of four selectable focal lengths and up to five selectable neutral density filters. This permits the operator of the system to study an object at relatively lower magnifications providing a wider field of view, or zoom in to reveal very fine details in a target. The capability to dial in filters provides compensation for changes of apparent brightness, or we can install specialized filters (polarizing, long pass, cut off, etc.) for other purposes in place of the standard Neutral Density filters. Note it is not practical for the end user to change filters or lenses inside the SZ M100 however, this can be requested during the course of a return service visit to our shop.
Object Distance
Numerical Aperture
f/No.
Depth of Field (µm)
35.5cm (14 inches)
0.084
20.4
77
33.0cm (13 inches)
0.091
20.1
65
30.5cm (12 inches)
0.098
19.8
56
27.9cm (11 inches)
0.107
19.4
47
25.4cm (10 inches)
0.115
19.5
41
22.9cm (9 inches)
0.117
20.6
39
20.3cm (8 inches)
0.126
21.1
34
17.8cm (7 inches)
0.129
21.9
32
15.2cm (6 inches)
0.139
22.1
28
10.2cm (4 inches)
0.185
22.0
16
Above: Table illustrating Depth of Field, and f-number of the Step Zoom M100
The forumula used for depth of field calculations is based on the Rayleigh criterion. It is as follows:

(0.5) (0.546 µm) / (NA) 2

For this example the wavelength of light used is at the 0.546 µm HG spectral line.

Perceived depths of field will vary with the user, camera, and wavelength. In general, they will increase when a camera is used.
The system was originally designed to be employed with video cameras typically with 2/3 inch diagonal CCD formats. But there are larger detectors would provide wider fields of view, and higher resolution detectors are available too. An example of the range span of field of view is illustrated in the following table:


Above: Chart illustrating Fields of View of SZ M100 with Auxiliary Barlow and Positive Lenses with 2/3" format camera.

Field of View (from 2.5 to 0mm top to bottom) along the left side, Working Distance (15 to 35.5cm) left to right. Top to Bottom Dashed Lines are: QM-100 with 0.9X Positive Lens (from 1.29mm to 2.29mm), at Prime Focus (1.17 to 2.07mm), with 1.5X (0.77 to 1.41mm), with 2.0x (0.59mm to 1.04mm), and with 3.0x Barlow Lens (0.41mm to 0.72mm).
Working Distance
QM100 Objective
with 0.9x lens
OPEN
with 1.5x lens
with 2.0x lens
with 3.0x lens
with 2/3" Video*
10.2cm (4 inches)
8.13x
114.3
127.0
190.5
254.0
381.0
262.8
15.2cm (6 inches)
6.15x
86.4
96.0
144.0
192.0
288.0
198.8
17.8cm (7 inches)
5.65x
79.7
88.5
132.8
177.0
265.5
182.7
20.3cm (8 inches)
5.21x
73.4
81.5
122.3
163.0
244.5
168.4
22.9cm (9 inches)
4.81x
67.5
75.0
112.5
150.0
225.0
155.5
25.4cm (10 inches)
4.47x
63.0
70.0
105.0
140.0
210.0
144.5
27.9cm (11 inches)
4.17x
58.5
65.0
97.5
130.0
195.0
134.8
30.5cm (12 inches)
3.90x
54.9
61.0
91.5
122.0
183.0
126.1
33.0cm (13 inches)
3.65x
51.3
57.0
85.5
114.0
171.0
118.0
35.6cm (14 inches)
3.43x
48.2
53.5
80.3
107.0
160.5
110.9

Below: Table illustrating visual and video magnifications possible with the SZ M100
using a 16mm eyepiece open (at "prime focus") and with auxiliary lenses.


The magnifications, other than the "OPEN" column are extrapolated data.
*Video magnification assumes 2/3" CCD (measured diagonally) and 14" Monitor.
When comparing video and visual magnifications using the "OPEN" column understand that much of the difference here occurs in the artificial magnification from the CCD to the monitor; this sometimes results in "useless" magnifications.
Although eyepiece magnifications appear to be significantly less than CCD magnifications, comparable resolution is achievable due to the resolution limitations of CCD technology and the exceptional physiology of the human eye.
SZ M100 Optical Specifications:
Design: Maksutov-Cassegrain Catadioptric
Standard Corrector Lens: BK7, MgF2 AR Coated; multilayer dielectric coatings optional
Optional Corrector Lens: Fused Silica (for enhanced UV spectral response), MgF2 AR Coated
Primary Mirror: Pyrex substrate, aluminum coated with SiO overcoat; Zerodur substrate optional
Corrector Lens Clear Diameter: 63mm (2.4 inches)
Primary Mirror Diameter: 104mm (4.09 inches)
Standard Secondary Mirror: aluminum coated with SiO overcoat; silver with ThF4 overcoat optional
Secondary Mirror Diameter: 16mm (0.63 inches) on R1
Front Lens Protective Optically Flat Window, AR Coated
Baffling: Helix in central tube, all interior surfaces black anti-reflection coated
Right: Questar Step Zoom M100 System shown with it's control Keypad/Terminal.
Performance:
Focus Range*: 15cm (6 inches) to 35cm (14 inches)
* Minimum w/optional PowerPak 100: 10cm (3.9 inches)
Optical Resolution: 1.1 microns at 15cm (6 inches)
Format: Diffraction Limited Field 12mm diameter
Field of View (2/3" format): 0.375mm (0.0148 inches) to 8mm (0.315 inches)
Standard spectral response: 330nm to 2.3 microns, optional systems with wider spectral response available.
Optional spectral response with Fused Silica Optics Group: 180nm to 3.5 microns.
Terminal Keypad Control Description and Functions:
Thirty key hand control unit, with four line twenty character backlit supertwist display
Keypad audible beep, switchable on/off
Communications RS-422 standard, 9600 baud
Distance from terminal to instrument can be up to 4000 feet (1220 meters)
Selection of Focal Length by direct access buttons or seqeuntial up/down
Selection of Filter by direct access.
Bidirectional turret drives rotate in direction of shortest travel to next selected position
Parfocalization software to maintain focus for all focal length changes, selectable on/off
Adjustable focus acceleration and velocity
Last position and motion parameters svable as power up defaults
Mechanical Specification:
Barrel Material: Aluminum hollow bar.
Barrel Section: Machined from solid aluminum stock, black anodized.
Cover: Aluminum black anodized form 1/16th inch thick cover skin
Weight: Instrument 12 lbs. (5.45 kg), Terminal 1 pound, Power Supply 1.1 pound
Control Box: Cast and machined aluminum, 24S-T4, corrosion resistant; selectable axial or 90 degree Port.
Focus: Modular transiting corrector cell design. Supported in 6 precision Variable speed DC servo motor with encoder for position feedback to terminal
Mirror housed in aluminum cell on thimble/main baffle tube; adjustable centering.
Two Port Selection: integrated in main barrel housing, sliding internal beamsplitter on precision linear bearing can be "flick knob" controlled. Solenoid control for port selection,, operated from control terminal.
MFL section: Modular design two piece aluminum housing and cover. Single and Double Turret, aluminum, 140 min (5.5 inch) Dia. solid aluminum, Machined and anodized. Stepper motor and direct tooth belt drive. Electronic plunger solenoid lens wheel position lock for boresight accuracy. Bronze bushings and roller thrust bearings on stainless steel shaft. Up to five colored 38 mm diameter filters and up to five lenses in a spring-loaded adjustable bore sighting cell.
All functions driven by 1.8 degree step motor open loop drive with microprocessor control. Opto interrupter for end of travel and home position sensing.
Finish/Hardware: All exterior surfaces black anodized. All hardware stainless steel. Custom paint colors can be specified.
Mounting: 1/4" - 20 TPI, or 3/8" - 16 TPI mounting holes on bottom of plate. Custom pattern and sizes to suit your need
Power Requirement: 12VDC @ 1.5 amp
Power Supply Provided: Auto Switching 90-250 VAC/47-63 Hz. IEC Power input for worldwide use.
Target acquisition illuminator included.
Options Include:
Automatic Light Control (ALC): with manual override. Electronic module will automatically react to changing lighting conditions. The gain setting in auto mode is controlled from user interface.
Linear Wedge Filter: Manual neutral density variable light control. Two Inconnel. coated linear filters mounted on two pillow block linear slides and motor controlled from user interface. Bk7 optical glass. 0.625" Thick. Neutral density range 0 - 5.0.
Adapters available for brightfield subject illumination.
Step Zoom Control Software: permits remote control of SZ through RS-232 port from a personal computer. This software controls all electronic functions of the Step Zoom including: magnification, focus, filter or light control (if so equipped). And added feature of the software is that it (as does the keypad) preserves the parfocus feature so that as one changes magnification the focus will change instantaneously - this is to keep the target in focus throughout the changes of magnification. Compatible with any Microsoft ŇWindowsÓ operating system.
RS-422 Converter Interface (includes 6 foot long standard DB9 cable to connect to a PC). For use with Step Zoom Control Software.
Environmental heater/cooler
Video Transmission site to site
High Transmission Coatings
Optional extended Ultraviolet and Infrared imaging response: from below 200 nm to 3.5 microns
Optional EXFO X-Cite illumination sources and accessories, including the high stability X-Cite exacte system.
Special Purpose Filters
Protective rubber enclosure for the Keypad
Environmental Enclosure: Environmentally sealed aluminum fabricated lightweight enclosure. This unit includes a 10 inch Dia. coated optical protective flat, .5 PSI two way pressure relief valve, "O" ring and gasket seals, electronic solenoid valve and pressure sensor combination to control internal pressure, brass pressure fitting, sealed BNC connectors and sealed round Bendex connector for power and communication feed. All exterior surfaces are black anodized and Polane painted. Industrial textured black paint is standard. All hardware stainless steel. Custom colors can be specified.
Peltier heater/cooler: Thermoelectric device (Nema 4X rating) integrated into the enclosure to provide temperature regulation while maintaining the sealed integrity of the enclosure. The unit has several modes of operation. An internal auto protection preset to 35 degrees C and user interface setting control. The system software will monitor the user set values against the internal temperature and automatically control unit. Requires 24VDC to operate.
Variable Polarizer: Motorized polarizer assembly that can be moved in and out of optical path. When in the optical path Rotation Control will allow the user to change polarizer position to attenuate glare and light.
Pan/Tilt and Elevation Mount Head, and Pier or Tripod
Camera Cradle (P/N 53600) suggested when the customer intends to attach a CCD or film camera. Once the Long Distance Microscope is installed onto the cradle, then the entire assembly can be bolted onto most common fixtures (optical bench, heavy duty Tripod or Tripod Head, etc.).
Positioning Stage: platform onto which the which a Long Distance Microscope (with or without Camera Cradle) can be installed to allow the operator of an experiment to very precisely hold the Long Distance Microscope in place and make fine adjustments to it's orientation relative to the target. The Positioning Stage is provided with tapped and threaded holes to permit their being bolted onto conventional tripods and other platforms. Options we offer for these positioning stages include:



- Manual fine geared control of movements in x, x and y, or x and y and z axes
- Motorized fine geared control of movements in x, x and y, or x and y and z axes
- Encoders with digital display of position in x, x and y, or x and y and z axes.
For additional information about the use of these systems please contact us.
| | |
| --- | --- |
| | Contents Copyright 1994-2006 Company Seven - All Rights Reserved |