QUESTAR QM 200 PHOTO-VISUAL LONG DISTANCE MICROSCOPE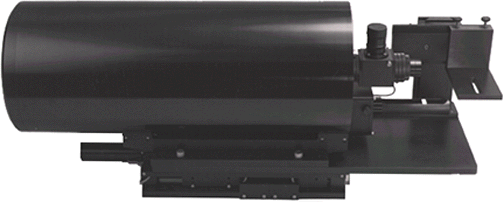 (Pictured above is the QM 200 Long Distance Microscope with it's 90 Degree Port, Questar Positioning Stage with Camera Cradle)

The Questar QM 200 is the largest Long Distance Microscope in our product line. This instrument approaches the resolution of the QM100 with a limit of 1.25 microns at 30.5cm (12 inches) and yet, it can achieve this performance at twice the working distance of the QM100. Furthermore its standard diffraction limited field of view is 16mm, with 25mm attainable with the Barlow lens. And so it is best suited for applications where the demands of relative aperture and resolution wit field of view are made and closer working distances are impractical. The QM-200 is the winner of the "Photonics Magazine" Circle of Excellence Award for 1989.

For applications requiring very high magnification and resolution, and which will allow the user to work from distances of 30.5cm (12 inches) to 76 cm (30 inches), the QM 200 is unrivaled in performance and flexibility.

Specifications:

Optical Characteristics:
Design: Maksutov-Cassegrain Catadioptric
Standard Corrector Lens: BK7, MgF2 AR Coated; multilayer dielectric coatings optional
Optional Corrector Lens: Fused Silica (for enhanced UV spectral response), MgF2 AR Coated
Primary Mirror: Pyrex substrate, aluminum coated with SiO overcoat; Zerodur substrate optional
Corrector Lens Clear Diameter: 140mm (5.5 inches)
Primary Mirror Diameter: 222mm (8.75 inches)
Standard Secondary Mirror: aluminum coated with SiO overcoat; silver with ThF4 overcoat optional
Secondary Mirror Diameter: 28mm (1.1 inches)
Baffling: Helix in central tube, all interior surfaces black anti-reflection coated
Mechanical Characteristics:
Barrel Material: Aluminum hollow bar, machined from seamless stock
Barrel Length: 80cm (22.29 inches)
90 Degree Port: Machined aluminum, corrosion resistant; selectable axial or 90 degree Port.
Tube Assembly Length: 56.6cm (12.11 inches) front cell to focus knob seat
Tube Assembly Diameter: 23.4cm (9.20 inches) maximum overall
Tube Assembly Height: 25.7cm (10.1 inches) base of mount to top of barrel
Tube Assembly Weight: 14.1 kg (31 pounds)
Mount: Machined aluminum, 1/4"-0, 3/8"-0, and 3/8"-16 mounting holes
Focus Mechanism: Internal. Ball slide bearing thimble, moves on stainless steel (s.s.) baffle tube (centerless ground) lead screw mirror transit drive,
motorized with variable speed remote control of focus and of precision focus stage

Finish: Aluminum components anodized natural, dark blue, or black
Carrying Case: ATA, Furnished Standard
Performance:
Focus Range: 30cm (12 inches) to 76cm (30 inches)
Back Focus: 70cm (2.75 inches) minimum, 11.4cm (4.5 inches) nominal, 15.2cm (6 inches) maximum
Optical Resolution: 1.25 microns at 30cm (12 inches)
Format: Diffraction Limited Field 16mm diameter; with Barlow 25mm
Standard spectral response: 330nm to 2.3 microns, optional systems with wider spectral response available.
Optional spectral response: 200nm to 3.5 microns.
Object Distance
Numerical Aperture
f/No.
76cm (30 inches)
0.076
6.6
61cm (24 inches)
0.096
5.2
46cm (18 inches)
0.115
4.3
30cm (12 inches)
0.131
3.8