"Executive Model GEOCHRON" Global Time Display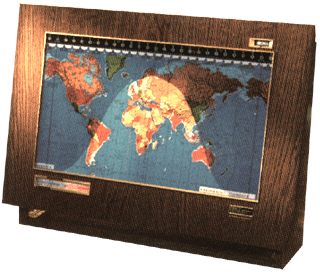 Above: Executive Model in Spice Oak finish (106,136 bytes).
The Executive Model is an attractive, complete Geochron system. The features that differentiate it from the other models include:
1. Natural wood housing trim panel with accent moldings in customer's choice of any one of these stained and lacquered finishes:

2. Customer's choice of Gold, Silver or Black Trim

3. Limited Edition/Presentation Plaque

4. Analog 0 to 60 minute scale for additional reading precision

5. Matching Table Top Display Stand

6. Surface Mount Hardware kit

7. World Watch® software and screeen saver for PC (courtesy of Company Seven)
BOARDROOM MODEL SPECIFICATIONS
Width:
34-9/16 inches (87.8cm)
Height:
22-11/16 inches (57.6cm)
Net Weight:
28 lbs. (13.6 kg)
Stand Weight:
8 lbs. (3.6 kg)
Packaged Weight:
42 lbs. (19.1 kg)
Packaged Dimensions:
42" x 28" x 10"
Dimensional Volume:
71 lbs. (32.3 kg)
Stand Packaged Weight:
10 lbs. (4.5 kg)
Stand Packaged Dimensions:
35" x 10" x 4"
Stand Dimensional Volume:
10 lbs. (4.5 kg)
* Specifications are subject to change without notice.
Please refer to the pages Company Seven has posted for a comprehensive description of the Geochron product functions and optional accessories; this begins at our Geochron Technical Information page. Please contact Company Seven by telephone, or by Email in order to discuss your particular needs or best choices in detail.