"Boardroom Model GEOCHRON" Global Time Display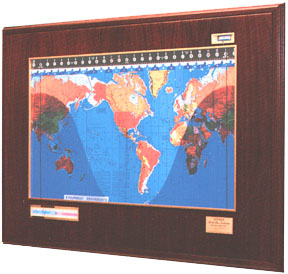 Above: Geochron Boardroom Model in Mahogany finish (79,294 bytes).
The Boardroom Model is the most attractive, complete Geochron system made. The features that differentiate it from the other models include:
1. Natural wood housing trim panel with accent moldings in customer's choice of any one of these stained and lacquered finishes:

2. Gold Trim

3. Limited Edition/Presentation Plaque

4. Alodined Components - since this Geochron is designd to be wall mounted and could rest against an outdoor wall, this more durable form of anodizing waterproofs the interior components to better protect them against corrosion

5. Analog 0 to 60 minute scale for additional reading precision

6. Flush Mount Hardware kit. The recess opening required is 33-5/8" (854.1mm) x 21-3/8" (543mm) x 4" (101.6mm)

7. Surface Mount Hardware kit

8. World Watch® software and screeen saver for PC (courtesy of Company Seven)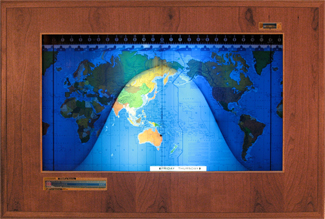 This has been our most popular model for private offices or home. In fact the owner of Company Seven finally fulfilled his dream of having one made for him and now has one made in custom finished Cherry wood for his own home office.
Right: Geochron Boardroom Model in Cherry wood, custom finished to match customers wood sample (90,430 bytes).
Notes:
1. the customer placed the custom Grochron brass plaque on the top inside panel so as not to distract from the wood.
2. this Geochron shows noon just at the east tip of the Australian Longitude in December. It is easy to see why
the days are shorter in the North while longer in the South Hemisphere at this time of year.
Click on image to see enlarged view (330,971 bytes).
BOARDROOM MODEL SPECIFICATIONS
Width:
36-1/4 inches (92.1cm)
Height:
24-5/16 inches (61.8cm)
Net Weight:
30 lbs. (13.6 kg)
Packaged Weight:
42 lbs. (19.1 kg)
Packaged Dimensions:
42" x 28" x 10"
Dimensional Volume:
71 lbs. (32.3 kg)
* Specifications are subject to change without notice.
Please refer to the pages Company Seven has posted for a comprehensive description of the Geochron product functions and optional accessories; this begins at our Geochron Technical Information page. Please contact Company Seven in order to discuss your particular needs or best choices in detail.