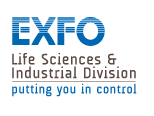 EXFO X-Cite&reg Radiometer
calibrated illumination - for absolute repeatability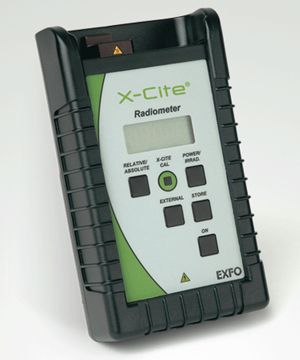 Where critical quantitative measurements of intensities over time are critical, the X-Cite&reg Radiometer enables affordable and continuous calibration of the X-Cite exacte broad spectrum fluorescence illuminator attaining the ultimate degree of illumination repeatability, stability, control and consistency.
Furthermore, the X-Cite&reg Radiometer can be used to test light guide transmission and lamp output of the other X-Cite&reg 120 series illumination systems.
Right: X-Cite Radiometer
Click on image to see enlarged view.
As the output of any mercury lamp will fluctuate and gradually diminish over time, when working in relative units this means intensity settings are not easily repeatable. The X-Cite Radiometer permits the researcher to calibrate the illumination in watts achieving repeatable intensity levels and consistent results. The Radiometer works with the Closed-Loop Feedback circuitry of the X-Cite exacte to continuously measure the lamp output energy. A microprocessor within the X-Cite exacte responds to automatically adjusts the neutral density wedge "iris" within to maintain the desired set point in 1% increments!

The illumination intensity can be adjusted up or down in absolute power levels (watts) and this setting is displayed on the X-Cite exacte panel or remotely via computer.

This CLF function permits consistency of illumination over seconds, hours, days or even a comparative over months - for the life of the lamp. Even after changing lamp modules the system within the calibrated X-Cite exacte can resume to automatically restore and maintain the desired level.

This is more than a comparatively simple power meter, the X-Cite&reg Radiometer is designed so that X-Cite&reg Light Guides communicate directly with X-Cite&reg X-Cite exacte. This is calibrated using a certified transfer standard, traceable to the US National Institute of Standards and Technology (NIST).

Functions include:
Power Measurement
Irradiance Measurement
Relative/Absolute Modes
X-Cite&reg X-Cite exacte Calibration
External Input
Auto Shut-off
Auto Light Guide detection
Calibration Due Message


Features
Benefits
Wavelength Range:
350nm - 675 nm (standard calibration), 250nm to 1µ (with custom calibration)
Measurement Range:
1mW to 12 W
Resolution:
1mW
Accuracy:
±5% typical*
*Calibration:
recommended annually, depot service
Complies with international standards:
CE marked, certified to IEC, Canadian and US standards
Compact:
H 7.5 x W 4.5 x D 2.2 inches (19 x 11.5 x 5 cm)
Light weight:
1 lbs. (450 g)
Warranty:
One (1) year, excluding lamp and light guide



Product Presentations

will be an Adobe Shockwave '.swf' file, so your Browser must be enabled to view these.


EXFO Closed-Loop Feedback (CLF) of X-Cite exacte Stream/play the .swf presentation demonstrating how the EXFO Closed-Loop Feedback (CLF) system incorporated in the X-Cite exacte illumination system can work hand in hand with the X-Cite Radiometer to maintain any set illumination level uniform over time. Adobe Shockwave File Size: 1,324,868 bytes. Contents Copyright EXFO, all rights reserved.




Illuminators in the X-Cite family are:

Contact Company Seven for additional information about these exciting products.




Contents Copyright 1994-2008 Company Seven All Rights Reserved